The Life and Times of Ron English: Part I
Juxtapoz // Wednesday, 03 Mar 2010
1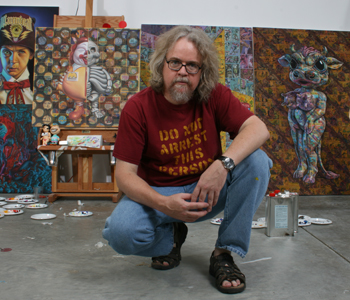 To any contemporary art fan, Ron English is a household name. A true innovator, this artist is one of the few that not only made it through the bustling NYC art scene of the 1980s and 90s, but also continues to push the boundaries of creativity today. Despite all his fame, English is a relatively quiet man. Guest contributor Alexandra Iselin Waldhorn set out to change this by spending a day with the English family.
Ron English: Part 1
by Alexandra Iselin Waldhorn
From his living room, decorated with figurines and a three-foot tall obese Ronald McDonald, Ron English could look out the tall windows and see the Hudson River flowing beneath the quiet town of Beacon, New York. The three-story white house is propped on up stilts, making space for an added bottom floor studio where English creates his sui generis amalgams of rebellious pop art that speak to the sociopolitical issues of the day.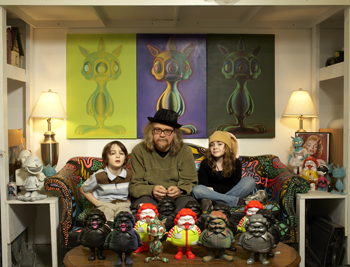 Photo by Adam Amengual.
A little over a year ago, English and his wife Tarssa Yazdani and their kids, Zephyr, 13, and Mars, 11, left Jersey City for the bucolic town, where English continues to paint protest with vivid color and precise lighting.
But aside from expensive canvases reaching tens of thousands of dollars, English, is a political street artist who has pasted illicit posters on over 1,000 billboards across the country.
"It's a second degree felony to make my art," he said about his 30-year career. The tally so far: felonies committed, 2,000; arrests, four. Mussed blond hair the color of wheat parted down the middle grazes English's shoulders and he wears boxy black-rimmed glasses. "Do not arrest this person," his burgundy t-shirt warns in yellow letters. English commits freedom of speech.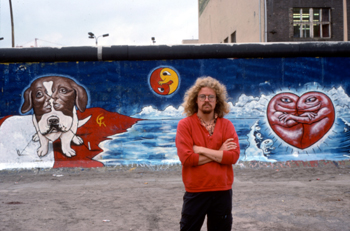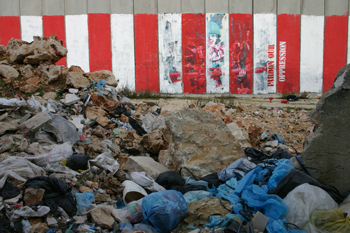 The first groups to twist advertising were the French Situationists, best known for the work of Guy DeBord, and the Punk and Pop movements. But when English emerged in the 1980s with a pioneering way of warping advertisements, he beat companies and their marketing at their own game.
Cultural jamming, as it's known twists icons and imagery as if wringing out a soaked rag, a reverse psychology where the same mercantile methods subvert rather than reinforce their messages. English has hit Coca-Cola, Camel cigarettes, McDonalds, Apple computers and the Christian south, which he toured as Jesus wanting to edit the Bible. "I stumped them," he said, "an old Jesus trick."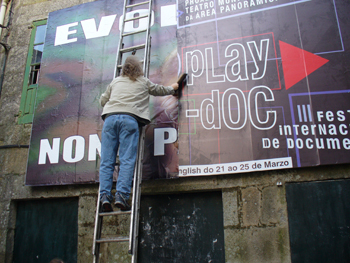 With a bucket of glue and rollers, English has clambered up billboards, giving drive-by America an on-the-road political art show. "I had a crew of 20," English said, "and we'd go from city to city." The billboards pasted were inherently political, as they went up in public spaces, and ephemeral. Pasted on quickly, they're nearly always stripped off shortly after. "If you miss it, you miss it," English said.
English's billboard slogans include, "Jesus drove an SUV, Mohammad pumped his gas," for a new Hummer; "Fat F*CK'D & 50," written next to an obese Ronald McDonald; "One God, One Party, Republicans for a dissent free theocracy." His most controversial billboard that sent twenty livid guys dinking tall cans after him on a Sunday morning in New Jersey: "Get drunk and kill God."
Born in Decatur, Illinois on June 3, 1959 to a family of high school dropouts and outlaws, it would've been acceptable for him to follow the same track English says. But from a young age, when he showed his art in the local mall where it either got bought or stolen, he toyed with an exceptional talent.
"My dad was a barber and he brought me to see an artist who worked next door to him," English said, "I was 9 and I knew he wasn't very good." In high school, he made 8mm films with his friends, a prescient forerunner to MTV's Jackass. He stopped after a friend suffered second degree burns in one of the scenarios.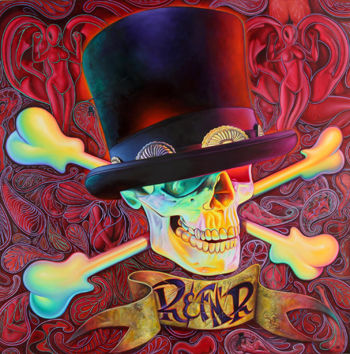 At 17, English left Illinois. "I spent the first day in the hospital, when I was born and the second to last day in the same room," English said, "but the building had turned into a jail." English hasn't been back to Decatur since. "They lost their airport so it would be kind of hard."
He moved to Texas and studied photography at North State Texas University in the early 1980s. Part of the Fabricated to Photographed movement with artists like Cindy Sherman, he focused on warping images in front of the camera, rather than through darkroom operations or camera functions. He'd place cutouts of people or body parts like an embellished arm high-fiving a normal sized hand, in front of the camera to create perspective puzzles. "Everything that happened took place in front of the camera," English said. "But now it looks like my photographs were made with Photoshop." In 1988, he moved to New York City where he led a bifurcated life as a billboard liberator and a Lower East Side party thrower breaking into the New York art world.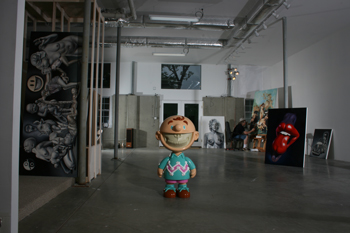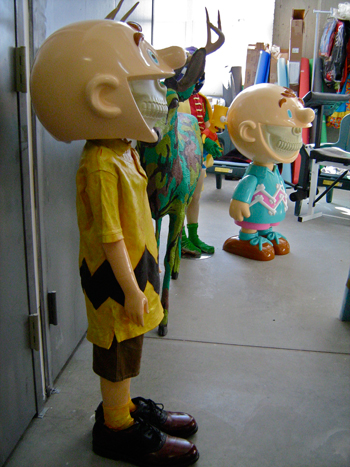 Now at 50, in his serene environment English creates much of his work in his new studio. "Watch out," English says leading the way down the creaking staircase. "One step is bigger than all the others." The bottom floor studio is an airy open space. Cutout pieces of cardboard freckle the floor around a white table where he just made a stencil.
Paintings of three-eyed bunnies, Andy Warhol-style Marilyn Monroe paintings with Mickey Mouse faces for breasts and cowgirls with bovine faces and udders in hallucinatory Technicolor, and dozens of other paintings lean against the walls. A half-completed rendition of Picasso's Guernica depicting skeletal animals, emitting excruciating screams, hangs on one wall above little white plates splattered with bright oils. Opposite, a four-foot model of a cartoonish boy with a skeletal grin stands next to an equal sized deer with a camouflage skin. On the floor, a skeleton in an Army uniform, holding a red toy gun, looks defeated.
His current work, for a show next year in LA, is about death. "Maybe in the spring it will be about re-birth," he said, simply.
English tries to intrigue his wife as he creates each piece. "If I can make her laugh," he said, " I can make everyone laugh."
"He does what he wants, I'm not to blame for that," is Yazdani's response. She sometimes hoped English would abandon his billboard liberations, but she has supported his career. She makes costumes for his stunts and she made three Jesus robes modeled by their kids in English's paintings.
A large canvas of a multi-colored skull smoking a cigarette leaned against a pillar in the middle of the studio. "It's for Slash," said English of the band Velvet Revolver who is one of his customers. "But he doesn't like cigarettes anymore."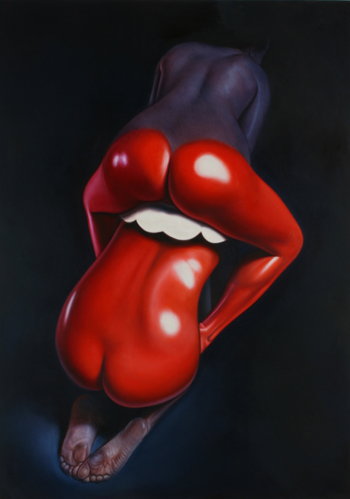 He takes out an unfinished canvas of two naked bodies wrapped around each other. "It's the Rolling Stone lips," he said. It snapped; the trademark image emerged from what at first looked like the two people's flesh. But them, much of what English does requires a second look; he takes images everyone knows and alters them. It's original, intellectual kitsch.
English is quiet as he pokes around the studio, pulling out a few works from a canvas organizer on one wall. But when he works, he's the opposite, "He's like a big kid with ADD," said Jack Napier, founder of the Billboard Liberation Front (BLF) in San Francisco.
Napier knows English from his earlier days when he was known as the "cyclone of billboards." The two were also the masterminds behind crashing Ronald McDonald's 50th birthday in 2005 in San Francisco with an animatronic billboard and thirty people disguised as Ronald McDonald. "The police were shouting, all Ronalds will be arrested," English recounted. "Who did this?" Lost in a sea of red Afro wigs bought on Ebay and costumes Yazdani made, English and Napier slid away among the crowd after mounting a billboard of an Obese Ronald and an Alien with the words "to serve man" written across.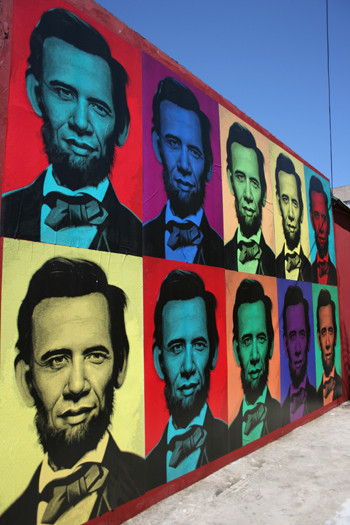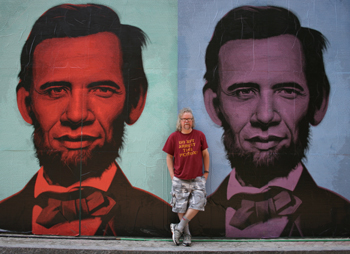 But, the chase is getting old. During the Obama campaign, when English toured his "Rainbow Abraham Obama" – a fusion of the two presidents' faces made during the campaign - like a rock band around the country, he was concerned that he would be seen as the notorious felon artist on the campaign if he maintained his billboard hijacking addiction. So he's spending less time in ad-land. "I sorta stopped doing billboards," English said, "I was like a junkie."
But Mickey Mouse, among other characters, has also caused some problems. "It's a hassle to spend your life in court with Mickey Mouse," English said. "You can only do so much with Mickey Mouse legally." Nevertheless, he's put Mickey on Marilyn Monroe's chest, in a mousetrap, and at Jesus' seat at the Last Supper, among many other places.
Part 2 of this profile is avilable online HERE.