The Headbutt Heard Around The World
Juxtapoz // Wednesday, 14 Mar 2012
1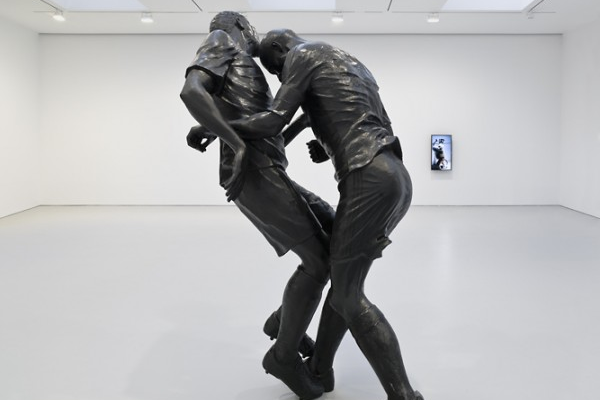 It's such a gigantic shame, though also strangely fitting, that an enormous number of people around the world remember Zinedane Zidane only for his infamous headbutt against Italian defender Marco Materazzi in the 2006 World Cup Final.
A shame because it was the final game of a miraculous career full of sublime beauty and trophies galore - an athletic career on par with anyone in the last century: Jordan, Maradona, Bird, Cruyff, Abdul-Jabbar, Pele, Montana, Federer... even Ali.

Fitting, though, because Zidane had an undercurrent of rage that resulted in outbursts, assaults and red cards throughout his career. It was an anger that in most matches served him extremely well, providing him a deep well of competitive fuel when channeled appropriately, but undermined him at the worst possible moments.

The Materazzi Headbutt, in the world's most important, most watched sporting event, against two massive football powers, in the last match of Zidane's career, has come to mean different things to different people. To some, it represents a choke of epic proportions, a betrayal of his teammates and even of his country. To others, it was a defiant act of rebellion against the brutal style of football that carried Italy to the Final — "Catenaccio" aka "the door bolt" — defined by rigorous marking, injurious tackling and yellow cards that should've been reds. It may have even been a statement against FIFA and their tournaments that allow, even encourage, that type of play. A type of play in direct opposition to the fluid, precise, sentient style that Zidane embodied.

Or maybe it was simply a retaliation for a disgusting remark, against a player whose father, Giuseppe Materazzi, in his role as a much-traveled manager in Serie A, may or may not have encouraged supporters to sing racist songs directed at Zidane during his (brilliant) five year run at Juventus. 

Regardless of the context or the consequences of that moment, it happened. And became the single most discussed, most parodied, most hilariously remixed moment in sports history.
And now it's immortalized in bronze, to be contemplated for eternity, by Algerian-born conceptual artist Adel Abdessemed, on view at New York's David Zwirner Gallery.
— Andrew Bangs

(Seen on The Beautiful Gear)