The Extraordinary Waves of Scotty Carter
Juxtapoz // Saturday, 24 Sep 2011
1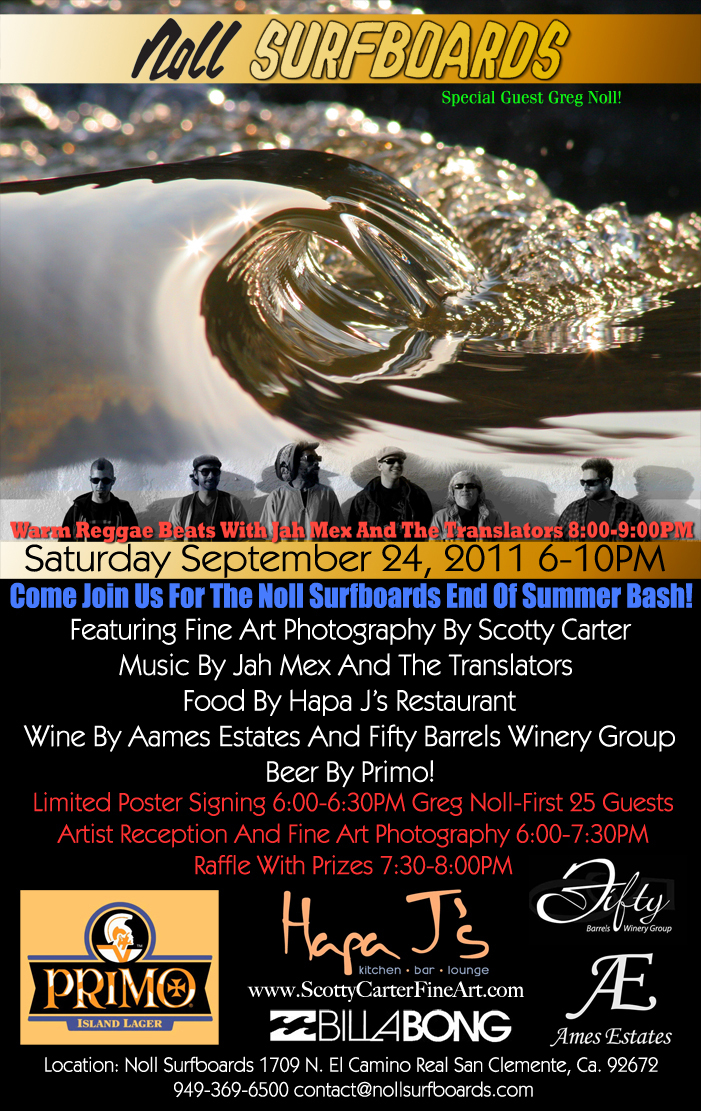 Noll Surfboards features the fine art photography of Scotty Carter's tonight, Saturday, September 24, 2011 at the Noll Surfboards Gallery at 6pm. images of waves transcend any surf-related niche and rise to the level of pure art. The San Clemente flagship store will include live music, Kalua pig sliders, beer and wine, and door prizes.
Thirty pieces of Carter's photography will feature images printed on a variety of surfaces, like 100-percent recyclable and reusable bamboo, metal, acrylic, and canvas.
The Noll Ohana (family) community will spread the stoke by raffling off door prizes contributed by Scotty Carter, Noll Surfboards, and Billabong, while the first 25 people to arrive will receive a free poster signed by both Greg Noll and Scotty Carter.
Scotty Carter's Art
Scotty Carter has been in and around the ocean for most of his life.  Time spent at the beach led to Carter's discovery of a natural environmental process that magically forms unusually perfect waves.  Carter was so in awe of these waves that he spent the better part of the last 10 years documenting them with his camera. While his work is a labor of love, his job is by no means easy. In order for the wave to work, a number of hydrodynamic and atmospheric elements must come together harmoniously, making his collection of wave images intriguing and rare.  Only when sunlight, tide, swell direction, and wave heights cooperate does this mysterious wave come to life.  He won't tell you how he does it, and his competitors snoop around the industry for his secret recipe, Carter happily shares his life's passion at Noll Surfboards, a fitting location with strong roots in American surfing history and culture.
"Recently, the Scotty Carter Fine Art team reached out to Noll Surfboards in San Clemente with the hope of creating a collaborative event.  We felt like the nostalgia and history surrounding Noll Surfboards, as well as its appeal to ocean-minded people and surf culture, would make this a great location for an event.  Jed, Candice, and Steven are amazing and have treated the Scotty Carter Team like family, and we are excited to work with them to put on a nice event to conclude summer!"
1709 N. El Camino Real
San Clemente CA
92672
949.369.6500

contact@nollsurfboards.com

Nollsurfboards.com