The Evilest Place on Earth at SF's Big Umbrella Studios
Juxtapoz // Friday, 12 Aug 2011
1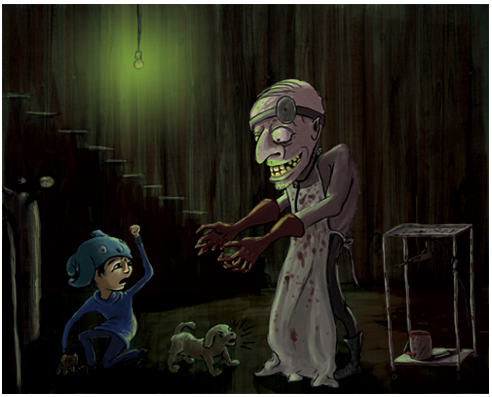 "The Evilest Place on Earth"
Opens August 12, 7pm–11pm
For SF's Big Umbrella Studios Gallery, it's not about who's popular. Or who's biting who's style, who's trendy, or fashionable—what toes they step on. It certainly ain't about art sales. Much less how to fit in the current fine art, high brow, art scene. It's kinda more about how many people can they piss off. A lil'. What magic they can conjure, when everyone facies themselves dangerous mAGICKIANS these days. It's about what Evil means and what that does to the status quo. Roll through, and see how weird, freaky people can get. Come, and prove how absolutely pro-culture, to all the other counter culture schmucks, everyone can be.
What's evil? What's dangerous? Two questions that are subjective and steeped in adversarial denial and angst. Join us at BUS for an exercise in the dangerous and evil. In the vein of the COUM exhibitions, and in honor of people like Genesis Breye P Orridge, Grant Morrison, William Burroughs, Kenneth Anger, Austin Osman Spare, and the likes, the gallery will display artistic visions of topics and content that have been objects of ridicule from the status quo. Art thought low brow to an elitist art world. Art thought queer to a straight world. Art thought magickal to a scientific world. Art thought evil to a world that always wants to be a hero. All in the pursuit of the answer that begs the question: What do you think is evil? Ya haven't seen evil til you've seen your own judgements. Attend and throw around some judgements of your own. Artists and gallery owners aim to please.
Artworks by:
Alex Pardee
Skinner
Sorrow UM
Amos Goldbaum
Cezar Berger
Alexandra Mackenzie
Justin Amrhein
Rick Kitagawa (work above)
Eve Skylar
Grant Gilliland
Raymond Sanchez
Kyle Brunel
Sean Bowman
Shayna Shenanigans
Jeremy Novy
Samuel Ho
Wel Sed
Bud Hauso
Jack Taylor
Joseph Jimenez
Emagn One
Laurel Rogers