The Eagle and the Crane: A Talk About Blending Cultures with Yumiko Kayukawa
Juxtapoz // Friday, 13 Nov 2009
1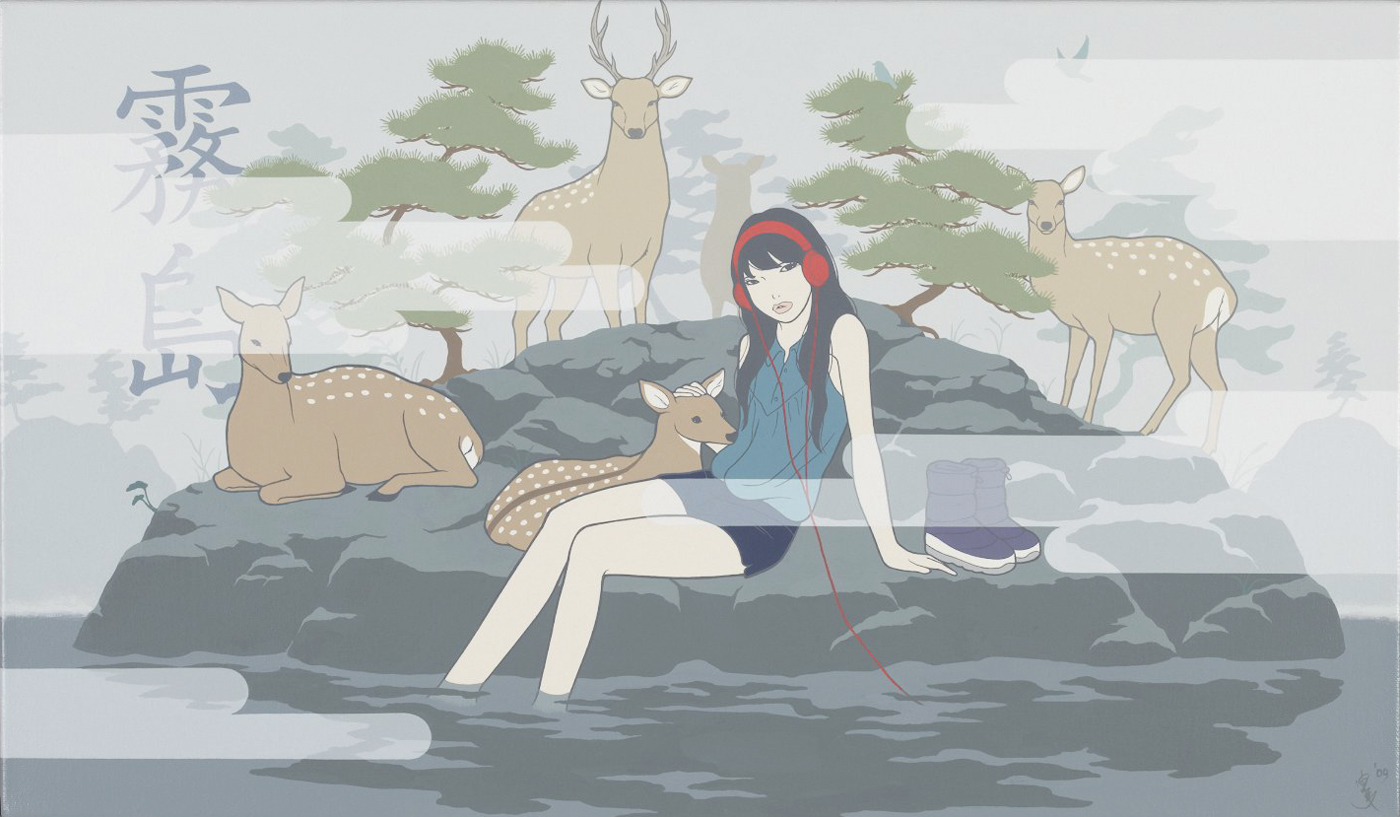 A visit to Japan may not be necessary to understand how inundated Japanese pop culture is with Western Culture. If you have ever heard the earnest crooning of nonsensical English phrases by a Japanese pop star or seen the enthusiastic flash of a peace sign, you probably get the gist.
This is something that I sort of reversely identify with, as a child myself growing up completely enchanted with Japanese culture. Just as some of the youth in Japan attempt to appropriate parts of American culture, I too (and I'm sure there are others!) tried to grasp at the allure of this foreign aesthetic and make it my own. I even went as far as to get a Kanji tattoo as a teenager (yikes).
The two cultures really couldn't be any more different across the board. Values, social mores, customs, even the visual environment and methods of communication seem to be on the opposite ends of the spectrum. But, perhaps that is what makes the cross section of these two cultures, when captured correctly, so perfect.
Yumiko Kayukawa grew up in a small town, Naie, in Hokkaido, Japan's northernmost region. Like many Japanese children, Yumiko grew up with the cultural influence of America. Unlike many others, Yumiko discovered Robert Williams (Juxtapoz founder and underground art legend) at a young age, and began to foster an aesthetic that weaved together pieces of both cultures.
Effectively hitting the nail on the head with her synthesis, Yumiko Kayukawa juxtaposes the in-your-face raunchiness of American culture with the delicate folklore and symbolism of the Japanese aesthetic. Something that not all of us are as adept at.
In anticipation of her upcoming solo show at the Shooting Gallery this weekend, I caught up with Yumiko Kayukawa to discuss this cultural amalgamation and the genius that is her artwork.—Elise Hennigan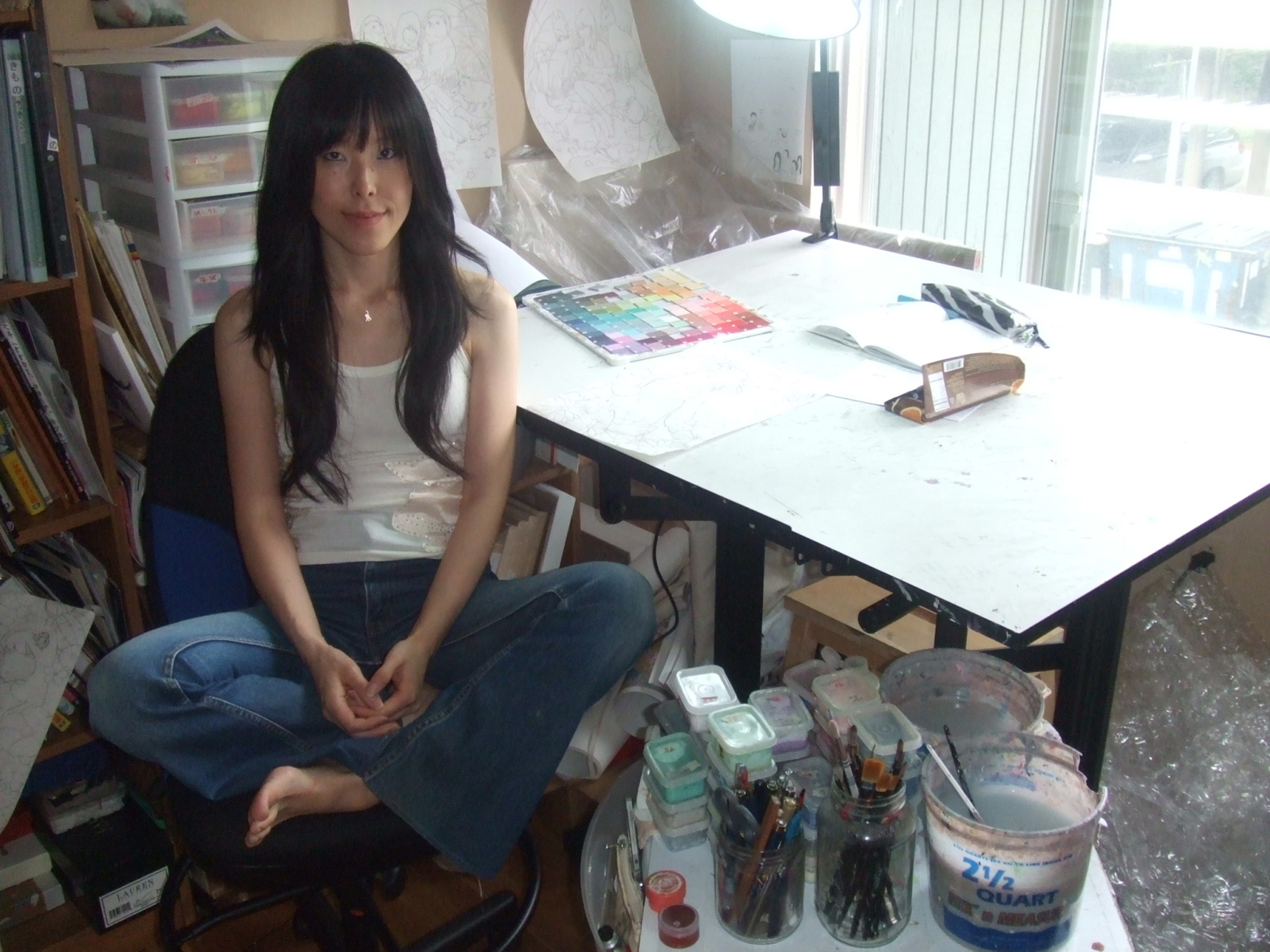 Yumiko Kayukawa
Elise Hennigan: You grew up in a small town in Hokkaido; did you ever imagine that you would create work that would inspire an international fan-base?
Yumiko Kayukawa: I never imagined that I could able to be an artist. My hometown- Naie's population is about 6,500. There are no art gallerys or art based jobs. There is no entertainment—not even a movie theater. My childhood environment was a horse ranch and rice field around us. The town was between some mountains. It was great for my childhood to have this freedom though.
A great thing even in the small town there was pretty good distribution, so I could able to get any information about entertainment from magazines or TV shows. At the age of 17 I was lucky to discover Robert William's  (who I respect a lot) artwork through Guns and Roses' 1st album. I was amazed at how I could be connected to the world even in this small town.
Do you think that incorporating Western imagery and subjects with traditional Japanese, Manga-style illustrations was a natural progression of your work, or was there a point when you consciously decided to integrate the two?
I grew up in Japanese tradition and was inspired by western culture, so it was natural progression at the beginning. I was drawing MANGA for long time and characters in those stories are always westernized but in very Japanese style drawing. I didn't even think it was Japanese style at the time though.
Sometimes later, I found a photo of a rock star dressed in a Kimono. It looked so cool to see a classic flower designed kimono in a rock 'n' roll picture. It opened my eyes to see those "classic" patterns in a different light.
So I started to enjoy consciously putting those two influences together, I realized it's something that mirrors my life.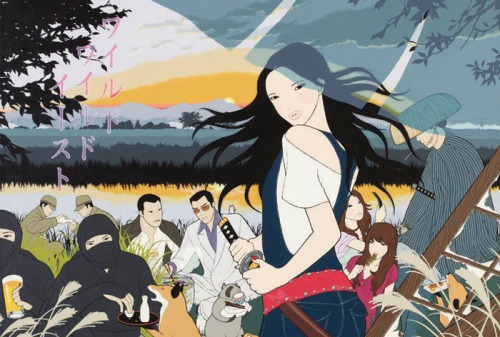 Your upcoming show at Shooting Gallery, "Wild Wild East" references the fusion of these cultures. Is this what the show focuses on?
Yes, That is the main focus. It's been 4 years since I moved to the U.S. from Japan, and I feel my vision is changing little by little.
It's very interesting to live a life I only used to imagine. And see the country I grew up in from the outside. This comparison gives me a lot of inspiration. I also created these pieces with my feelings from experiences living in this new world with nostalgia for home country.
Do you have a favorite Manga character?
I'm a big fan of Manga writer Tsubame Kamogawa, and I love a character named Hizakata Toshizo from his Manga "Macaroni Horenso" in 1970s.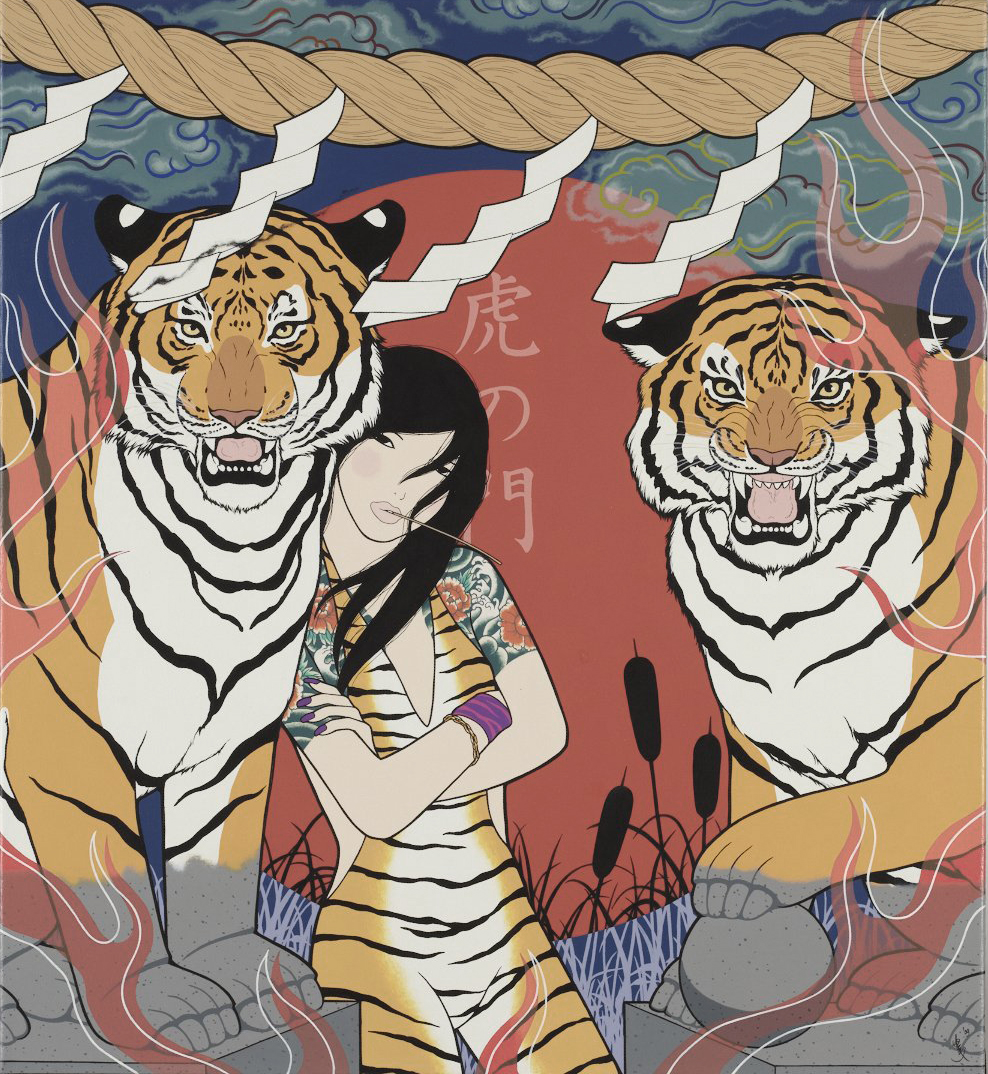 Where do you currently live? How would you describe your studio space?
I live in Seattle, and my studio is a small space next to kitchen in my apartment. I work on an adjustable desk; there is a bookshelf full of picture books of animals and fashion or rock magazines for studying some containers for paints and stretch bars for canvas, etc.
It's a real small space but I'm pretty good at organizing it, as I used to live in a much smaller space in Japan :)
My desk faces a big window, and I can enjoy watching squirrels or birds hang out around the trees outside of apartment.
You incorporate a wide range of symbols in your work, ranging from religious mythology, folklore, pop-culture references, and Kanji symbols. Is there a specific pool of influence that you are referencing with these symbols?
They are all from my experiences or something I feel familiar in my life. I grew up with grannies and they taught me a lot of folklore, and religious based old customs.
Pop culture is something I have been into since I was a little. I was basically a media junky and still am.
A funny thing is that I used to use English words in my artwork when I was younger. Because you know, English is cool in Japan just like Kanji characters are cool here. But of course I have to use my dictionary to find the right word, or ask someone to make it into "cool English". But still, it was never perfect and still not a 100% me. I definitely felt that way when I visited the U.S. for the first time.
Since I started to use Japanese characters in my artwork, it makes me feel like "I rule my world".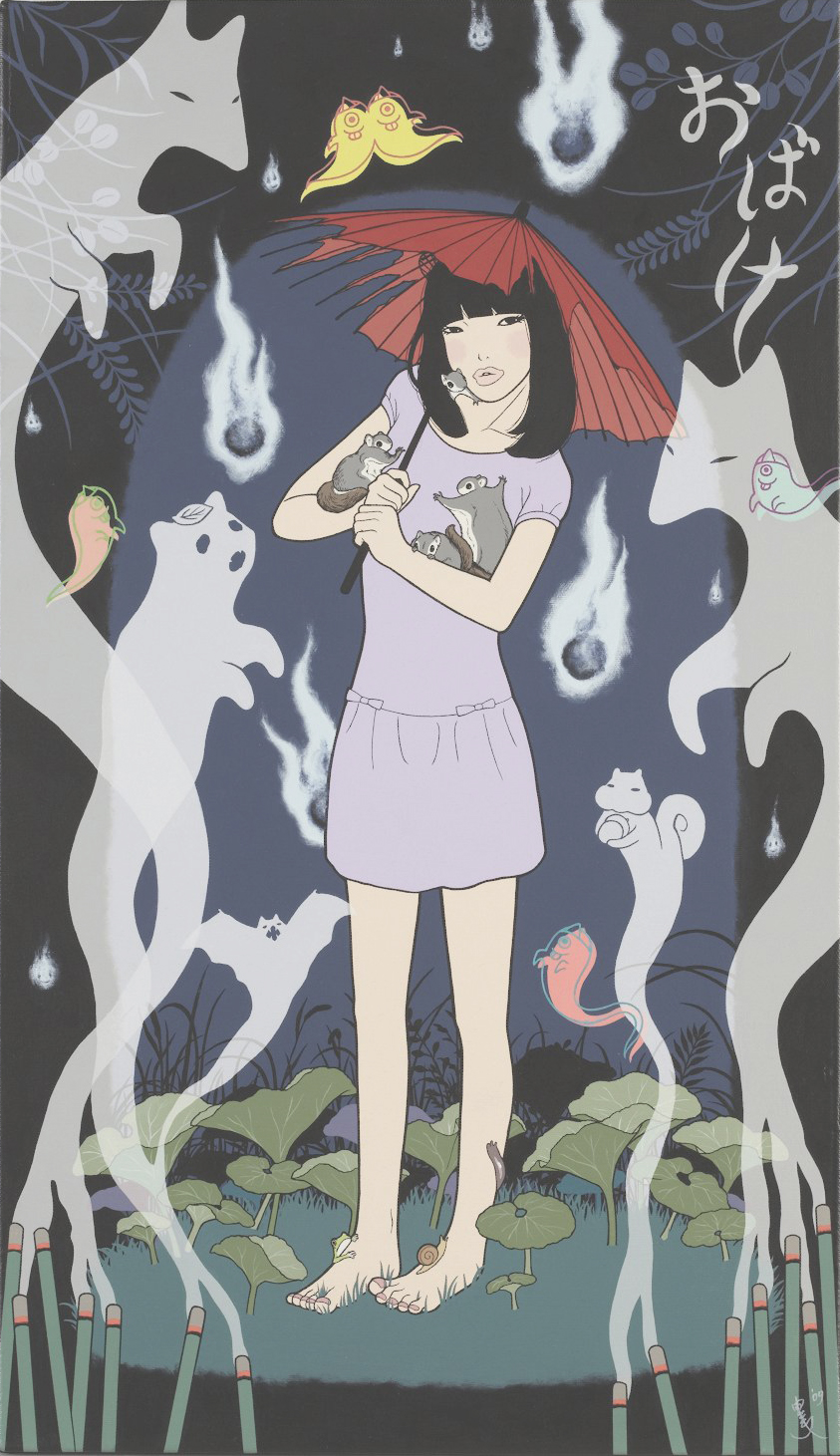 Your imagery typically appears to be particularly narrative based. Do you always have a story in mind when you create your paintings or do you sometimes go for sheer aesthetics?
Most of time I have a story in mind. I was drawing Manga for a long time and it's kind of my habit to create a piece to show a story in one-frame. I usually create a title first, and then design the picture as the story in the title.
For more information on Yumiko Kayukawa, visit her website at: www.sweetyumiko.com