Image Gallery
The Butter-Cow Lady Dies at Age 81
Juxtapoz // Tuesday, 28 Jun 2011
1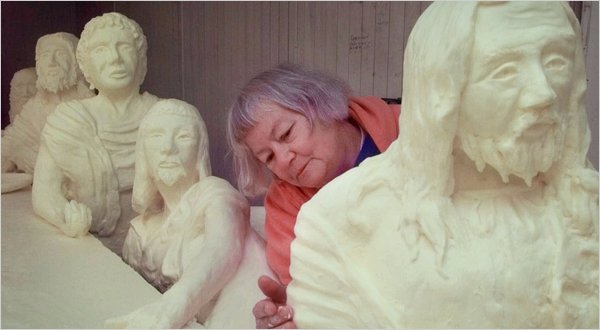 Norma Lyon, aka the "Butter-Cow Lady," who was famous for her amazing butter sculptures, died on Sunday in Marshalltown, Iowa at the age 81. She has sculpted cows, Obama, and her version of the Last Supper, all out of Grade AA salted butter.
As the
NY Times notes
, "From 1960 until her retirement in 2006, Ms. Lyon's butter sculpture was among the must-sees at the Iowa State Fair, attracting lines that snaked around the building where it was displayed in a refrigerated glass case."

Incredible work, and an American classic will be missed.