The BlackDA Leica i9 Concept Camera for the iPhone 4
Juxtapoz // Tuesday, 26 Apr 2011
1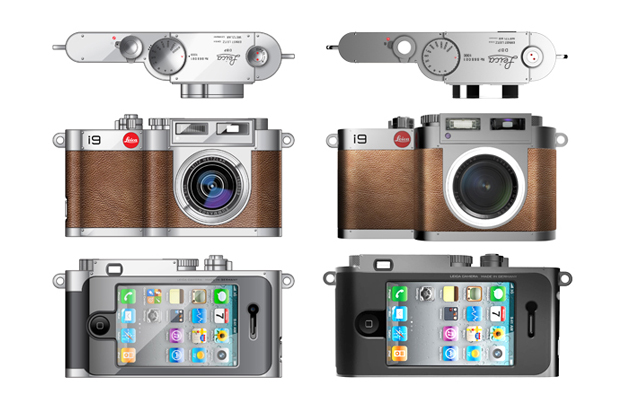 If just to be cocky, pulling out a
Leica camera
attachment for your
iPhone 4
before taking a snapshot at a party would definitely work. And what was a rumor seems to be confirmed by BlackDA that this i9 is to be released.
Here is the full press release from BlackDA, with all the technical speak that you read about:
A better camera phone designed for photographers. The Leica i9 concept offers the unmatched brilliance of Leica's professional CMOS image sensor and lens, made specifically for the unparalleled processing, display and sharing capabilities of Apple's iPhone4.


The i9 was designed with a "Compliment without Compromise" philosophy. If the best camera is the one that you have on you, then the better camera is the Leica i9 concept. The i9 is the only professional camera that's also an iPhone4 case. The goal was to create a camera system that inspires photographers to shoot and share their photos and videos at anytime and anywhere.
The i9 offers an independent professional camera system with an ultra-compact body that doubles as a rugged protective case for your iPhone4. The i9 is a true ready-to-shoot camera with Leica's superior range finder and a 0.3 second start-up. Photos or videos are stored on the i9's internal flash memory (expandable with SD) and then uploaded onto your iPhone4 once the Leica app has launched.


The i9 is the ultimate point-and-shoot camera combining the high performance of a Leica (CMOS image sensor with effective 12.1 MP, professional lens with 8x optical zoom and 35 equivalent focal lengths and ready-to-shoot operation) with iPhone4 (retina display, multi-touch interface, extended storage capacity and mobile/wireless connectivity). Beyond camera features, the i9 and iPhone4 can share their independent batteries for extended operation.


The i9 takes professional photos and videos and allows you to easily compress and share your content to Email, MMS, Flickr, Facebook and/or YouTube directly from the Leica app.
To compliment Leica's timeless design, the i9 includes an interchangeable backing for future generation iPhones. With upgradeable software and a growing list of iPhone features, the possibilities are limitless including a remote voice activated shutter control that as easy as saying, "Cheese!"


Read more on LeicaRumors.com:
http://leicarumors.com/2011/04/25/leica-i9-concept-turn-your-iphone-into-a-leica-v2-0.aspx/#ixzz1KeaOeTv8