Ten Things to Look for (and avoid) When Buying Original Art Prints
Juxtapoz // Wednesday, 15 Oct 2008
1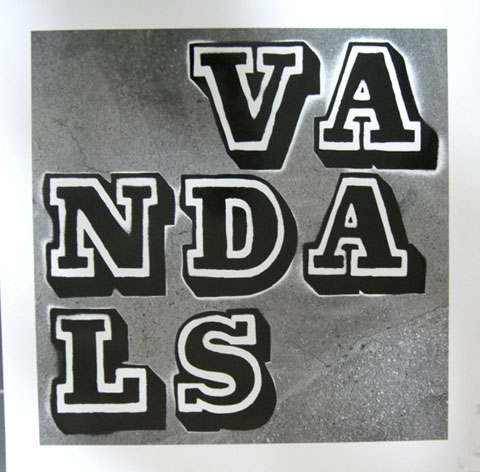 As the world economy catches up with past carelessness and takes a massive belly flop into a pool of recession, we thought it would be helpful to share a few tips on things to look for (and avoid) when buying original art prints to help our loyal readers avoid getting ripped off.

As an example, we've used Eine's famous Vandals print because (1) Eine completely rocks (2) This print is totally sold out so there's no conflict of interest here (3) Eine hand screen-prints all his work (as well as work for all Pictures on Walls artists) so we know this bad boy is an original, and lastly (4) Eine just may be coming up in a feature issue of Juxtapoz (wink, wink.)

So without further hesitation, do yourself a favor and read Ten Things to Look for (and avoid) When Buying Original Art Prints below...
Ten Things to Look for (and avoid) When Buying Original Art Prints

We're seeing the increasing popularity of collecting original art prints, as more people realize that they can own affordable art by famous artists. If you're a new collector entering the market, read this before buying to avoid a costly mistake.

1. DON'T buy a reproduction passed off as an original:

But how to tell? One easy test is to examine the print under a magnifying glass or jeweler's loupe. If the image breaks up into hundreds of tiny dots (called half-tones) then what you really have is a photo-offset lithograph: the most common type of reproduction. A genuine stone lithograph will appear solid and substantial, even under magnification. However, not all types of reproductions have half-tones, so…

2. DO know the exact size:

The measurements of a print are documented in the catalogue raisonné of that particular artist's graphic work. It's a matter of record, and the size should not change from one impression to another.
Etchings are measured by the platemark (the indentation around the image) and lithographs, silkscreens and woodcuts are usually measured by the image size itself (or by the total size of the sheet if there are no margins).
Heliogravure, photogravure or collotype reproductions are often reproduced in a size smaller than the original.
And don't be fooled by age: many reproductions are themselves antique (and quite scarce). So check the auction records and compare to others offered on the market… If the size doesn't measure up, don't buy it!

3. DON'T automatically assume it's a 1st edition:

It may indeed have been printed from the artist's original plate, stone or wood block (and thus would still be considered an original print). But many prints — just like books — went through several editions.
An experienced dealer will know by the type of paper, the presence or absence of watermarks, the total size of the sheet and the overall quality of the impression. First editions are almost always more valuable, so don't assume… Often it requires a bit of detective work.

4. DON'T assume it's a lifetime impression:

An impression printed during the artist's lifetime will usually be more valuable. But remember, the date shown in the image (if the artist dated his composition) is the date of execution, not necessarily the date of printing.
This is certainly true for Old Masters like Albrecht Durer, Jacques Callot and Rembrandt, as prints pulled while they were still living (known as lifetime impressions) are worth far more than those printed in later centuries, and it also applies (to a certain degree) to modern and contemporary artists. But don't avoid posthumous printings entirely — they can be often an excellent value.

5. DON'T be fooled by a COA:

It's the print you're buying and plan to display, not the certificate tagging along with it (no matter how pretty the gold seal looks). Although it has become a trend for dealers to issue their own Certificates of Authenticity, these certificates really guarantee very little and are so easy to print up that they mean little.
Far more useful is anything from the actual publisher of the piece (such as a justification de tirage or colophon). The publisher's colophon is a page found in almost all twentieth century portfolios or volumes containing original prints, especially if they are limited editions. This will state when, where and by whom it was published, the size of the edition and the medium (lithograph, etching, etc.). It will also indicate if any impressions were signed by hand (but make sure your French reading skills are good, as usually only a portion of impressions from each edition were signed). And speaking of signatures…

6. DON'T assume it was really signed by the artist:

Since a print signed in pencil by the artist is worth more than the same composition unsigned, too many unscrupulous people have taken genuine prints and added forged signatures. This is recognized as a serious problem so be very careful when buying "signed" pieces, especially by A-list artists such as Picasso, Miro, Chagall, Dali, Matisse, Moore, Warhol, Lichtenstein, et. al. More than once I've seen fake signatures supported by beautiful COA's! The same goes for numbers — often the forgers don't do their homework. For example, if a print is numbered 17/100 (the 17th impression from a total edition of 100) but the documented size of that edition was only 50, then something isn't right! Do as much research as you can, and if a deal sounds too good to be true, it probably is. Besides, art-savy buyers often purposely look for unsigned impressions of the same print — knowing that aesthetically there is no difference and the savings can be enormous.

7. DO know and understand the medium:

Lithographs, etchings, woodcuts, silkscreens, pochoirs, linocuts, drypoints, aquatints and mezzotints are all prints, but each medium is created differently to achieve a different artistic effect. There is too much to explain in just a few words, but you'll want to study up on this before making any major purchase. Find out if the same composition was first executed in another medium; for example: a print may be a genuine lithograph but if the artist first composed the work as a painting, watercolor or drawing then the lithograph is considered a work "after" the artist, not an original.

8. DON'T assume all impressions of the same print are equal:

Some impressions are strong and lifelike, while other impressions of the same print are are weak. This is especially true of etchings and drypoints, because the etched copper plate can't support many printings before becoming worn down. And while this is a commonly recognized issue for Old Master prints (which have undergone successive editions through the centuries) it also holds true for Modern prints.

9. DO shop around for the best price:

The internet is your friend. Don't pay gallery retail if you can avoid it — check online before you buy and google the artist's name, the title of the piece (if known) and the year of publication, etc. Prints by definition are issued in multiples and you might be pleasantly surprised at how much prices can vary. Just make sure you're talking about the exact same piece… Many prints have generic titles such as "Tete de femme" (Head of a Woman) and often the artist did several variations on the same theme. Again, check the measurements and catalogue reference!

10. DON'T buy fine art solely for investment:

Buy art because you like it. And when it appreciates in value (which it probably will) that's a fringe benefit. But the primary motivation for owning and collecting any type of art should always be aesthetic enjoyment. That much said, I'm very optimistic about the art market in general and the print market in particular. Even in these difficult times, the values rise year-by-year as sought-after pieces become ever more scarce.


Besides being fun, print collecting is really the Last Frontier of art where the average person can own original works by the great artists. There are no Rembrandt paintings to be had — at any price — but you don't have live in a palace to own an original Rembrandt etching. And while only multimillionaires can afford paintings by Picasso, Miro or Matisse, original prints by these same artists can be surprisingly affordable.


Ten Things to Look for (and avoid) When Buying Original Art Prints
by Roger Walton, Director of AffordableArt 101 Fine Prints