Talking with Paul Frank Art Attack! Contest Winner James 'Jimbot' Demski
Juxtapoz // Friday, 24 Sep 2010
1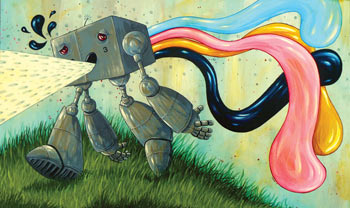 James "Jimbot" Demski is the first winner of the now annual Paul Frank Art Attack! Contest. Truth be told, I was a judge, and I voted for him. You can see him holding up his winning image right down there, and you can see that on the back of the newest issue of Juxtapoz, October 2010.
We chatted with James from his home in Milwaukee, Wisconsin, where he is going to drive a few hours to Chicago to the nearest Paul Frank store and demand to be put in the window display. I made that up, but it's a good idea. —Evan Pricco
Evan Pricco: How did you initially conceive of what you wanted to do for the Paul Frank contest?
James Demski:  Well, I thought about what Paul Frank was about, and I thought to myself "Everything they do is just fun… and what's more fun than a dance party". After that, the rest is history!... I instantly thought of one of my robots dancing with Julius and friends… and providing the music. I worked on a couple of other ideas after that, but I just kept going back to the dance party. Though I must admit, Julius came vary close to donning a superhero mask with one of my robots.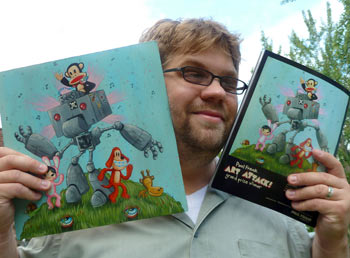 Is it easy or hard to work with an iconic brand image? Is it liberating to be able to use Julius in interesting ways, or is it daunting?
Honestly, it depends on the brand…. but with Paul Frank, it felt really natural with me. I wasn't too worried about working with the brand, and honestly, I thought my style fit right in with the brand style. I guess it helped that I was more interested in having fun with the project than I was worried about it being daunting. I bet if I would have stopped to think about it though, I would have started worrying. Sure, working with Paul Frank is a major deal, but I thought it just felt natural working with their characters… almost like something I could identify with.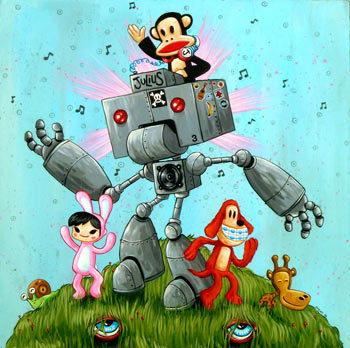 What is your typical working day as an artist? You mention client work to me, what are you working on, and what do you find yourself doing for clients most often?
A typical Jimbot working day starts with seeing my wife off to work, and getting my daughter to one of our family members that helps take care of her during the day. After that, I sit down with a pot of coffee (around 9:00) and start with emails, administrative stuff, plan my day, world domination plans, etc…. there is more to working as an independent artist than just slinging paint (or whatever you happen to work in).
In the afternoon is usually when I get to start working on whatever project I have going on at that time. Usually, this is the fun part, but sometimes it can be not so much fun. It seems like my schedule is always full, though (just ask my wife), and there is always something to work on. Everything I do ranges from catalog work, to t-shirt designs for major companies, to painting, to illustrating children's books, etc…. I try to keep myself busy. I need to though… cause honestly, I do what I need to do to keep on being independent. I became self employed about 3 years ago now, and I don't want to do it any other way! Anyway, I usually finish the day by sneaking down to the basement where I am working on my secret robot army…. But maybe don't print that last part.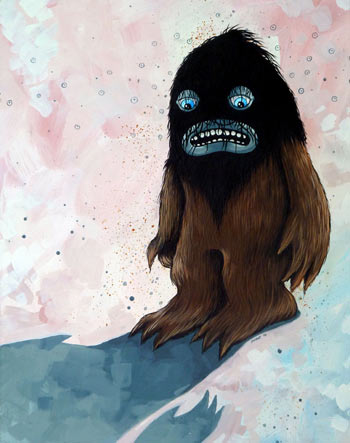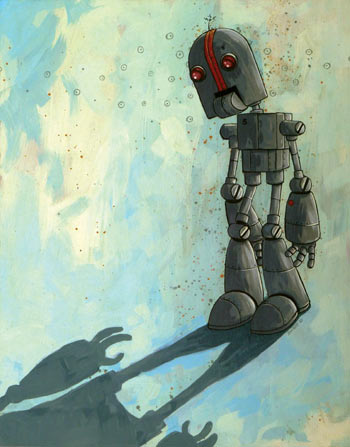 Are you professionally or "academically" trained artist? If so, where did you go, if not, do you wish you went somewhere?
Well, I did go to college for art... I went to the Milwaukee Institute of Art and Design (MIAD), but I don't really feel like my style and voice formed till I was long out of college. I went through all the motions, graduated, and all that good stuff, but I ended up getting really burned out from the whole experience. So I put down the brush and pencil, and didn't pick it up again till a couple of years later. Basically, I took 2-3 years off, going to my day job, paying bills, and playing lots of video games. LOTS. Time went by, and I would dabble here and there, but I didn't REALLY start making my art again 'till I met the girl who eventually became my wife. I guess I just needed that type of inspiration! So back to the original question - Yes, I was academically trained, but I do wish I would have bypassed that, and maybe followed some different paths. Course who knows, college had a part in forming who I am today, so maybe in the end, it was a good thing. Life really is a journey I guess.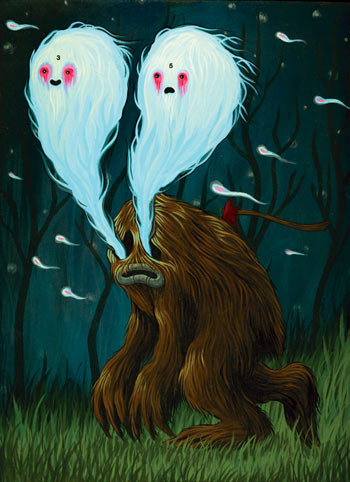 Where do you live? Is there a Paul Frank store you can walk into close to you and be a tad cocky?
I WISH there was one near me. I live in Milwaukee, WI... and the closest Paul Frank store is in Chicago (about 1.5 hrs away.... 3.5 hrs if you include traffic, hahaha!). Believe it or not though, the one I've been to most is the one in Vegas. Wherever I go though, if there is a PF store there, I make SURE to go visit it. How can you not... the brand is so amazing! It has been an inspiration to me for a long, long time! I've always thought to myself "How cool would it be to have a "Jimbot" store!", and that was always inspired by whenever I went in one of the Paul Frank stores. Also though.... even if there was one near.... I don't think I could go there and be cocky. I have a hard time even telling the clerks at the magazine store that the reason I bought 5 copies of the same issue of Juxtapoz was because my work was on the back.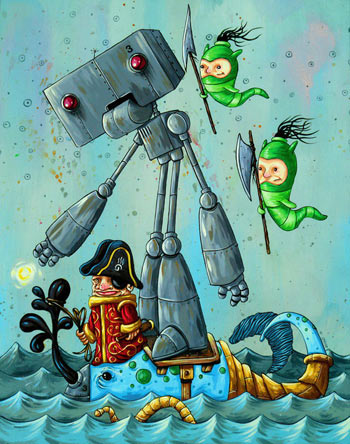 What did your daughter say when you won?
She pointed at Julius and said "Oo Oo Oo"... that's the sound a monkey makes, hahaha. She didn't say much else though... she's only 17 months old. I will, however, be framing the piece, hanging it in her room, and attaching things from this contest to the back of it... like a time capsule of sorts. It's her painting now... I want her to know about this when she is older. Out of all the paintings in my studio, she loves to go to that one, and carry it around. I love that little girl!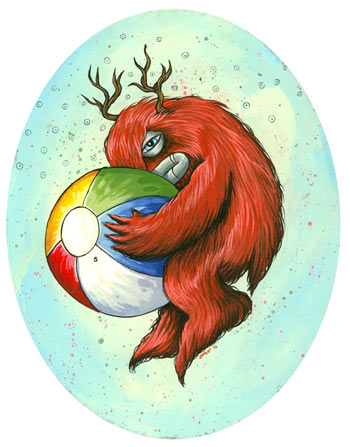 What are you going to do now that you won the Paul Frank Art Attack?
Keep on working, and maybe see if the fine folks at Paul Frank want to work with me.... eh? What do you think, fine folks at Paul Frank? As far as anything else, who knows... the sky is the limit right? This contest was a big deal for me, so I am hoping it will open other doors now.
Your last words...
"I am your robot friend,
I'm here to help you.
You are my robot friend,
We play together"
Upcoming shows:
James has a few upcoming shows, the first being a group show called "Horrorwood" at WWA Gallery in Culver City, C.A.. The next 2 shows are at OH NO! DOOM gallery in Chicago, he first one there is a group show called "Monsters VS. Robots", and the second one is a 3 person show, where you will be able to see LOTS more of my work! All 3 of these will be happening in October-November.
Contact info:
James "Jimbot" Demski