Talking with Justin Giarla about his newest SF spot, 941Geary
Juxtapoz // Monday, 23 Aug 2010
1
In a new piece in the San Francisco Chronicle, friend and entrepreneur Giarla talks about the new 941 Geary spot. First off, it should be easy to locate (the name of the gallery is its exact address) but visitors might be slightly confused when they approach the location, as Giarla chose an old car repair garage to house his artwork. And kept it as authentic as possible, to the point of leaving all original signage on its outside façade, posting no new lettering or signs pointing to the gallery. It's no wonder people show up daily asking for smog checks.
"'They look around puzzled,' he says to Sam Whiting for the SF Chronicle, 'And still ask if they can get their car smogged.'
"941Geary, named for its address, might be the first drive-up art gallery. Giarla himself nearly drove right up the ramp when he noticed the vacancy while taking the alley shortcut to his other space, the Shooting Gallery, on Larkin Street in the Tenderloin.
"'I immediately slammed on the brakes and walked in,' says Giarla, who saw the potential in the brick walls, timber ceiling, concrete floor and 3,000 square feet of space between them. 'I went around the front and got the name of the landlord, and within three hours we were negotiating a lease. I was like, I have to have this.'
Of the interior, Giarla has only added some drywall to the original red brick, giving the space an industrial feel.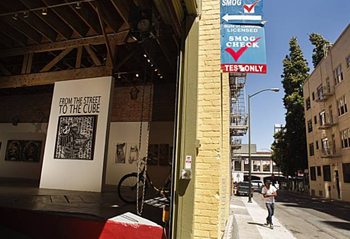 Felony drug conviction
"A graduate of San Marin High School in Novato, Giarla opened his first gallery without having worked at one and without any collectors of art as clients. But he had clients who were collectors of recreational drugs, going back to his bartending years at the Sound Factory, 1015 Folsom and Club Townsend.
"'I started selling drugs to pay the rent and the bills,' he says, 'just so I could keep the gallery open.' This worked for a year until the day, in 2004, he looked up from his desk and saw six or seven men coming toward him. Giarla knew right away they were not shopping for art. The cash product was in a bag and the handgun used to protect the product was in a desk drawer. Giarla did not try to hide either one from the police officers in plainclothes who had come to arrest him.
"He got off with eight months of house arrest, which, if you discount the felony drug conviction that went with it, wasn't hard time.
"He lost his right to vote and one artist over it, but he didn't lose his gallery, and he didn't lose his girlfriend, Kirsten Skipper, now his wife. 941Geary is Giarla's fourth commercial space, to go with the Shooting Gallery and White Walls, side by side in an old pawnshop, and Gallery Three, a storefront on raggedy Sixth Street.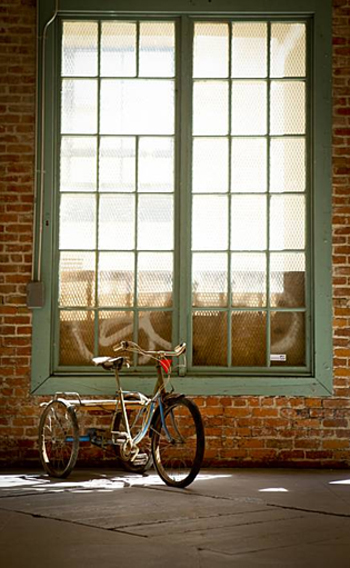 Income requirements
"His monthly nut requires him to move $80,000 to $100,000 in art, whether it's urban contemporary, pop surrealism or lowbrow.
"The current group show is up until next Saturday. Then the garage door rolls down and doesn't roll back up until Sept. 18 for Flotsam's Wonder World, an installation by Mike Shine. This will mark the official opening of 941Geary with the garage-turned-gallery made into a stage for an art 'opera' with film, music, a carnival tent and 200 mixed-media pieces."
Read more on Mike Shine's upcoming Flotsam's Wonder World right here.
More on 941Geary at www.941geary.com