Talking with Jonathan LeVine: the Evolution of a Generation Part 1
Juxtapoz // Thursday, 25 Feb 2010
1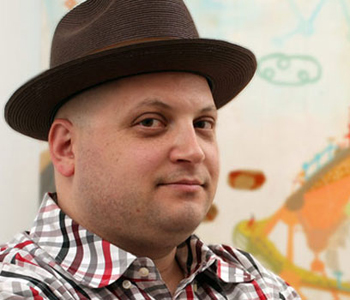 Saturday night the Jonathan LeVine Gallery will celebrate five years in Chelsea with a group show of LeVine artists. To the wider art-world, LeVine's anniversary is simply another opening—a showcase of artists with a particular renegade aesthetic and in some cases (ahem, Shepard Fairey) ever-growing notoriety—or perhaps a lucky milestone in an unfriendly economic climate. But for those who have closely followed Jonathan LeVine's D.I.Y. art-meets-street aesthetic, for those who were paying attention fifteen years ago when a 26-year-old kid first started organizing exhibits at New York punk spaces, Saturday's show is a signifier of what Jonathan describes as "a generational shift." It's redefining art as a cultural institution in a global environment, something "you can't really forecast, but art history isn't going to be written the same anymore. We have the internet now; we have a different society. This thing is bigger than a movement so it's taking longer," Jonathan elaborates. "But when it makes the change, that change is going to be huge."
And in this shift, Jonathan LeVine is a key force. A punk-drumming, zine-crafting fanboy from Trenton, New Jersey, he barely escaped high school with his diploma intact. After bouncing around universities, Jonathan completed a BA in sculpture at Montclair State College. He spent the next few years playing shows in New York and becoming obsessed with underground comics.
"I thought, why don't people see this as fine art? Even though I had gone to school and knew a lot about contemporary art, I didn't connect with it. It wasn't about me, and it wasn't where I was coming from," Jonathan acknowledges. He's perched on the edge of a black leather couch in a bright corner office, but something about the energy of his gestures and his unassuming button-down dispels any "trendy executive" image. Beyond his door, packaging is everywhere and paintings lean against walls, while sprawled assistants work out the installation.
Curating in Bars and Basements: Part 1
Jonathan Levine: the Evolution of a Generation
By Cheree Franco
In 1994 Jonathan approached the owner of Maxwell's, a legendary punk/art space in Hoboken, and asked if he could put together an exhibit. "And the guy went, you know what? Why don't you do them all?" he says, grinning. "All of a sudden I was curating shows. I felt like such a bigshot. So I got friends who did illustration or comics or whatever, I'd drive to Brooklyn and pick up the art. We were hanging from brick walls, hammering masonry nails into mortar, mortar flying everywhere. I had maybe two hours to hang a show, and you know, that's how I learned."
He didn't have a computer—Jonathan promoted his shows with handmade posters in bookstores and coffee shops. Soon he was also curating in Lower East Side venues like Max Fish and CBGB's. He was broke and exhausted, but every time he wanted to quit, an artist or bar owner would talk him out of it. "The bars loved me. I'd bring people in, they'd make money from food and booze, I'd have receipts and invoices. I became this grassroots go-to guy. I didn't know anything about the art business—my parents were like, what the fuck are you doing," Jonathan recalls.
At the age of 30, he moved back to Trenton to live with his mother, work in a bagel shop, pay off credit cards and devour business books. "I have a lot of talents that were right for business, but it was a matter of accepting that about myself," Jonathan confesses. "For a long time I wanted to be a rock star, I wanted the limelight."
He became an entrepreneur instead. He rented the cheapest space he could find in New Hope, Pennsylvania—a tourist town down the Delaware River from Trenton—and opened Tin Man Alley. "It was a tiny basement, no storefront, off the main street. My mother's an interior decorator, helped me set up this beautiful gallery. We put up signage, and I've always been good at promotion. Worst location in town, and I started killing it. My neighbors were like, what?" He was 32, with a college degree, and he'd never had a real job. "But I always knew that I was going to kill it, because I had to. If this didn't work, I was fucked," Jonathan admits. He began signing artists, among them Gary Baseman, Jeff Soto, Chris Mars, Shag and Shepard Fairey.
Two years in, Jonathan moved Tin Man Alley to Philadelphia. "I thought if I couldn't do it in New York, I could do it in another big city, be a big fish in a smaller pond. I knew after the first year, Philly was a bad move. The market wasn't there." But there was a market for Jonathan's artists, and he was selling plenty of work over the internet. This convinced him to start researching New York.
"If I didn't go to New York, somebody would do it before me. And I was supposed to be the guy in New York, because I was the guy here to begin with," Jonathan says, punctuating his words with vigorous thigh-slaps. It took another two years, but by February 2005, Tin Man Alley was history and the Jonathan LeVine Gallery was hot.
Part 2 of this profile is HERE.
The third and final portion is HERE.