Talking with Christian Rich on Music, Art, and Fashion
Juxtapoz // Sunday, 27 Jun 2010
1
What is your creative process like? Being twins, are there ever any sibling disagreements or do you find this unique connection a strength?
Our process is quite easy. We work separately most of the time. This helps us create with no judgments. Once we have something down, then we get back together and tweak the sounds or add hooks. But our disagreements are minimal because we give each other space.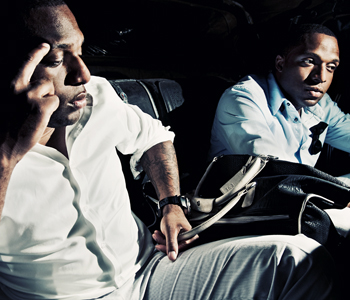 The Decadence features a lot of big players in the music scene right now, like Pharrell, Pusha T, UNI, Shanelle of Young Money, and Bjorn from Peter Bjorn and John. What was it like working with them? How are you the 'protégé's of Pharrell Williams'?
It was great working with every artist on this project. We chose these individuals based on quality. Pusha's collab was one of the dopest because he wrote that verse in about an hour. Y-O of UNI is a good homie as well as Thurzday. Shanelle is a great artist who we have known for a few years so that had to happen.
Being a part of the Neptune-Star Trak family, you are automatically a protégé of Pharrell or Chad, if not both. Along with Shae, they school us on a lot about production and the business in general. Pharrell and Shae are such a blessing because they are just so willing to teach us and we listen.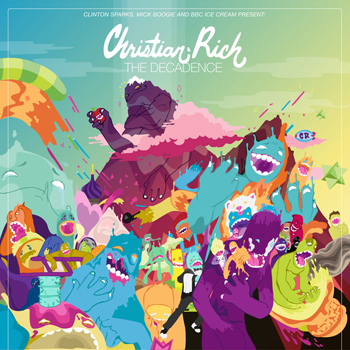 The album artwork for The Decadence is great, what can you tell us about it? Who created it?
A creative named Brandon Breaux in Chicago created the artwork. We told him to create a world describing the definition of decadence. With a few other ideas, he just went and did what he is known to do. He actually designed a few single covers for us.
Can you give us a little insight into the "art based" Hello Virgin video? How has art influenced your direction?
That Hello Virgin video is one of the most incredible videos have seen personally. The video is more of an art promo. The actual video is on its way, but with this piece we wanted to provide a new mindset on how to visualize a song. The director Jesper Lindberg and Per Ferguson used all 3D motion to make the graphics appear realistic. It worked well! But art is what we do. Music is an art form so as we are creatives, we always incorporate art into our musical projects.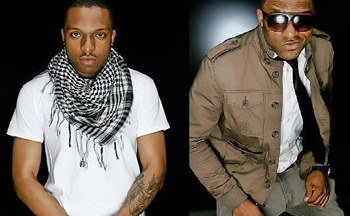 Fashion seems to be a strong entity of CR, how would you describe your style? How has your interest in fashion influenced your music?
We are into quality brands and ideas. We like the James Dean look with vintage leathers and lettermans. But we like the industrial look of G-star raw mixed with European cuts. This sets the tone for our music because we gain perspective from watching different styles. We make our songs with the concept of particular moods and with moods come a style.
With the immediate success of The Decadence, what is on the horizon for Christian Rich?
Many things. We are finishing The Decadence 2.0 which will be on iTunes and in stores. The album includes the Famous Girl video, the Hello Virgin video, new songs, and bonus footage with the Star Trak fam.
We are also designing some items, which include furniture and accessories. We have new productions coming out with Lupe Fiasco, Clinton Sparks and others. We have a few artists we are working with for our label, N.A.S.A LABEL. So we are working...
More from Christian Rich at www.christianrichgoods.com