Talking with Camille Rose Garcia: Last Night in SF
Juxtapoz // Tuesday, 09 Mar 2010
1
First off, we sincerely apologize for the amateur iPhone photo of Garcia, but it gives you some visual idea of her amazing outfit: a loose fitting black top lined with silver sequins, skinny grey jeans, black heels, all topped off with an adorable mini feather black top hat.
Garcia started off by talking of her childhood: a normal life in Orange County's Huntington Beach which, "Of course I hated," she joked. Creativity runs in the family, as her mother is still an active painter and muralist, while she equated her dad's appearance to that of Edward Scissorhands.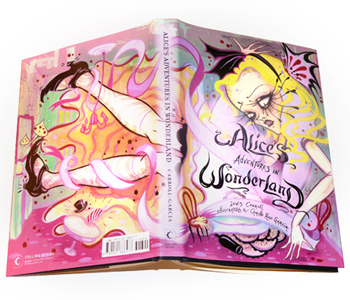 In addressing her illustrations for the re-release of Lewis Carroll's Alice's Adventures In Wonderland, Garcia revealed that she enjoyed experimenting with watercolors during the process, stating that "It allowed me to get a lot brighter and the layering is a whole different process. The scale was also much smaller, as the single page images are 11" x 17" and the two page spreads are 24" x 18", which is far smaller than I'm used to."
Garcia expressed interest in illustrating Carroll's follow-up book, Through the Looking Glass, as she would, "love to illustrate Tweedle Dee and Tweedle Dum," although she admitted her favorite character is the Mock Turtle.
Commenting on the task of illustrating Lewis Carroll's classic book, Garcia stated, "I found it really challenging. I decided to do it all in my style but approached it as an homage to Lewis Carroll in that I would remain as true to his original work as possible."
When asked if she has seen Tim Burton's new film of the same title, she replied that she hadn't but is looking forward to seeing it, although "it should be an entirely new experience, as the film goes far further with Alice's character and doesn't just stick to Carroll's plot."
Though Garcia is from Southern California and has made a career of consistently critiquing the sugary coating for which the sun-filled area is known, she and her husband relocated to Northern California about three years ago. "A few years ago we were up in Northern California, as my grandpa had a cabin up there that we had to sell, and my husband found this falling down cabin. We decided to move and I've found it very inspiring to be in the forest. It's been very positive for my work."
When a fan asked her about the location of her cabin, the artist smiled and replied, "I can't really say. Between here and Portland." Every girl's gotta have their secrets.
Closing on a more serious note, Garcia answered a few questions about the future direction of her toys and 3D figures. "I'm more attached to fabric toys and am moving away from vinyl," she divulged. "I have nothing against vinyl, but most of them are made in China and I cannot vouch for how those products are made. There are not as many regulations about the treatment of workers and the origins of the products and I cannot feel good about my toys being made like that. I'm quite socially and environmentally concerned about the manufacturing of my toys."
More on Camille Rose Garcia at http://camillerosegarcia.com
Future signing dates include:
March 11th, 2010: Portland, Oregon
Powell's Books, 7:30 pm
March 13th, 2010: Seattle, Washington
Roq La Rue Gallery, 2:00 pm