Talking with Calma about New works and the weight of the modern man
Juxtapoz // Saturday, 03 Jul 2010
1

It's been a while since you've shown new work, and your newest were recently shown in a solo show at Choque Cultural in Brazil. Talk a bit about the inspiration for CRAS.
CRAS means 'tomorrow' in Latin. [See our recap of this show here and here]. Some of the pieces for the show create a dialogue with this idea of urgency. Emphasizing to not leave the important things for tomorrow; do what you believe in now. Death is right behind you so open your eyes, live life fully, with a heart light as a feather…life is moving fast.
The other theme in NOVO ASCETICISMO [which literally translates to 'new asceticism'] is inspired by the acceptance of sacrifice the modern man must go through in order to keep on a right path. The media, the big corporations, and the government must not drag down the modern man.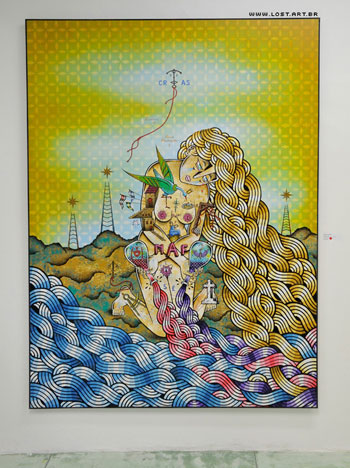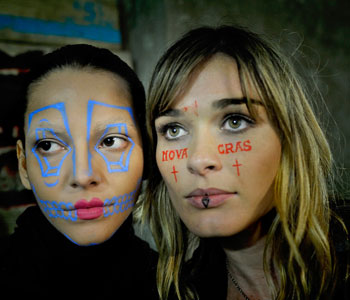 Your work is very detailed. Can you walk us through your process of creation?
I like to draw when the ideas come. Even while I am painting a specific canvas, I stop from time to time to draw. This allows me to put ideas on paper that come to my mind, otherwise, I will keep on thinking about that and I can't focus on the painting process.
I normally have an idea and concept for a piece and start drawing it in a small size, then I draw it bigger and start writing and sketching about the concept and the smaller scenes that would appear inside the bigger one. I will then work on the relationship between the smaller and larger scenes. The process of drawing in large scale with all the details can take 5 to 10 days. After this, I proceed to transfer it to a canvas and start painting. The process of painting a piece like Agricultura Celeste takes me about 30 or 40 days to complete.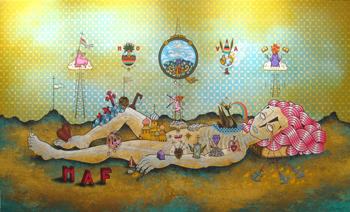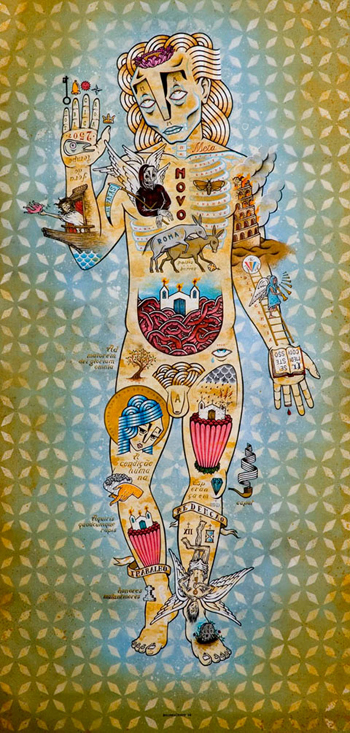 We've never asked you where your alter name, Calma, comes from? Why the name Calma?
When I started using the word 'Calma,' it appeared next to a depiction of something or someone afflicted or disturbed. This was used in posters and paintings that I would put up around São Paulo. It wasn't necessarily something made to be a signature. With time people started associating Calma with me and this is the way it's remained.
The literal meaning of Calma is "Calm down", but at first something else caught my attention; the Latin meaning, which comes from the contraction of Con Alma/C'Alma - it means "with soul".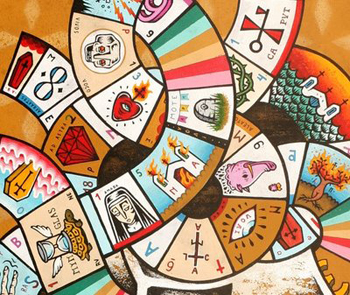 Tell us a bit about the current art scene in Brazil.
Apparently it is looking good, even though I haven't been out much recently. There's a new museum opening at Ibirapuera Park for folk art and that is certainly good news. Also Ramon Martins is opened a massive show at Choque and he got all the five rooms filled with his striking art.
Anything else lined up for the rest of 2010 or beyond we should be on the lookout for?
I was invited to make ceramic sculptures for a show, which will be held at the Museu Afro Brazil and it will be placed at the Ibirapuera Park in Sao Paulo. This is a new medium for me and I am working with a experienced sculptor to get it right, it will also be painted and carved. It should be ready by July. Also (tonight) on July 3rd I will be part of a show at the San Diego Museum of Contemporary Art.
More on Calma at www.stephandoit.com.br