Talking Photography with Amanda Lopez
Juxtapoz // Monday, 01 Feb 2010
1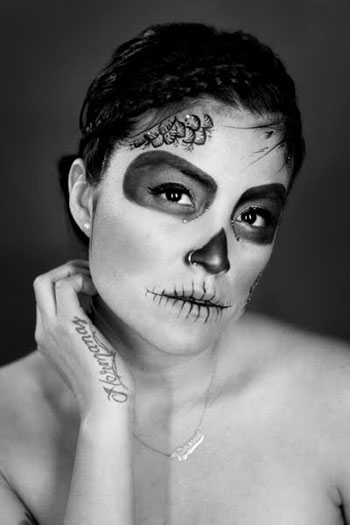 Amanda Lopez
was born and raised in Sacramento, California under the watchful eye of her parents and paintings of La Virgen de Guadalupe. Her father lent her a camera at the age of 17, and photography soon became her savior.
In anticipation of Lopez's upcoming solo exhibition CaliLOVE at Upper Playground Sacramento, we threw a few questions to this talented photographer.
Tell us a bit about yourself/background. How did you get into photography?
I grew up in Sacramento, CA in a super strict Mexican Catholic household. My parents kept a close eye on my siblings and I but always encouraged us to explore our interests. Both my parents are creative and artsy in their own right so they nurtured my interest in the arts.
I started out wanting to paint but quickly discovered I wasn't very good so when I got to high school, I decided to try photography. That first class changed my life. Encouraged by my photo teacher Mr. Tafoya and armed with a camera given to me by my dad, which by the way remains in my arsenal of camera equipment, I began to explore different types of photography and quickly discovered my interest in portraiture.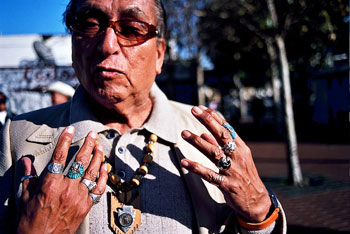 Your work has an obvious Dios de Los Muertos look. Why this theme?
The CaliLOVE show is inspired by Dia De Los Muertos and really came together in October of '09 when my homegirl Mayra Ramirez curated a show at 510 Studio in Oakland and asked me to be apart of it. The line up she organized was ridiculous. Mike Giant, Miguel Bounce Perez, and Angel Diaz were some of the artists showing so I knew I had to step my game up.
So, I recruited my talented friends Jenni Tay to do makeup and Justin Downs to do the hair and we set out to create 3 new portraits for the show. The images were well received so when I got the confirmation that I'd be showing at Upper Playground in Sacramento, I decided to continue on with the series. Thus far, I've shot 11 new images for the show.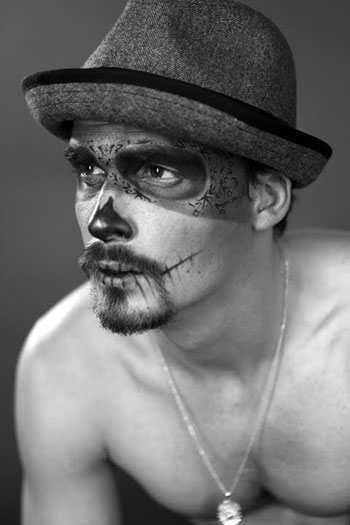 Do you shoot film? Your new work is all black & white and has a wonderfully authentic feel to it. What are you feelings on film versus digital?
I shoot film. I love film. No matter how advanced digital technology gets, it will never compare to film simply because it can never be film. With that said however, I am not against shooting digitally. In fact I used both film and digital cameras in the caliLOVE shoots. Both mediums have their advantages and their own look. I just happen to prefer the look of film.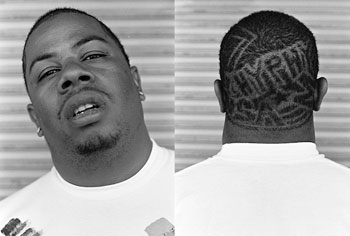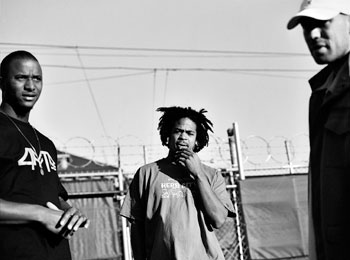 In your online bio you write, that your father gave you a camera at the age of 17 and "photography soon became your savior." Savior from what? What do you see as significant about art? Do you think art should be incorporated more into school curriculum?
The camera became my savior because I discovered early on what I was passionate about. Some people go their whole life and never discover what it is they love or what inspires them. As cheesy as it sounds, I feel lucky that I have this tool to help me navigate through out the world.
I would never have even picked up a camera had it not been for the photography classes offered at my high school. It's unfortunate that art programs are the first to get cut when budgets are low because art, of all types, is so necessary. Art gives us hope, it can make you feel good, it insights thought, encourages dialogue and can help people heal. Art should definitely be incorporated in to school curriculum more.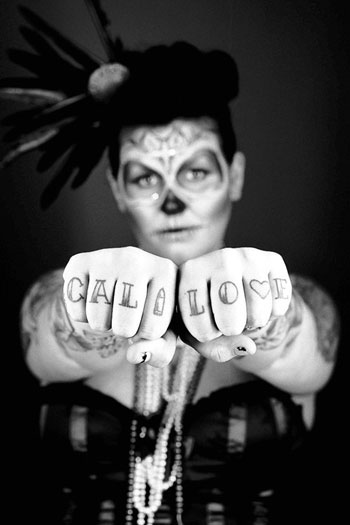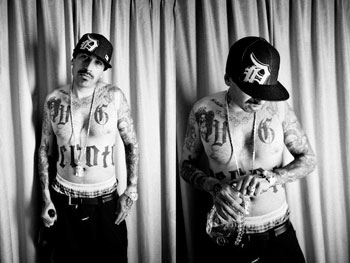 If you were given unlimited funding, what type of photographic pursuit would you undertake?
If I were given unlimited funding I would set up photo booths, a la Richard Avedon, all over the world. And shoot it all with film. I would also invite all of my homies along for the ride.
What should we look out for in the future from Amanda Lopez?
I have some things in the works but I am superstitious so I don't like to talk about things until they materialize for fear of jinxing them but what I can tell you is that in 2010 I will continue to be showing work through out the United States and shooting photos for one of my favorite magazines, The Reed Pages. I am also working with Lori Lobenstine, founder of femalesneakerfiends.com, on a book project so I'll be traveling to various cities through out the U.S. and hopefully overseas, to photograph female sneaker collectors.
In the mean time, you can check out my blog to see what I am up to. Amandalopezphoto.blogspot.com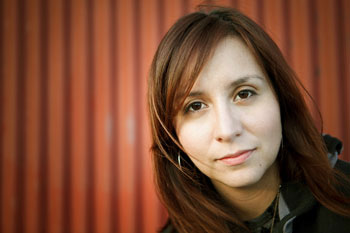 Above portrait of Amanda Lopez is by John Coyne.