Talking Photo Realistic Graffiti: Exclusive Interview with CASE
Juxtapoz // Thursday, 18 Feb 2010
1
Chris Osburn: How did you get into street art?
CASE: Back in the 7th grade of school I got my first taste for graffiti. There were some kids who sketched a hell of a lot on paper and on the school desks during lessons. It was fascinating to me and I learned to do it in the same style.
Later, when I was around 14 or 15 I got my first spray cans and started painting pieces everywhere in my little city. It did not take long to meet other like-minded individuals from my town who were doing the same thing. One of them was "Akut" who was one half of Herakut and founding member of Ma'claim crew. At this time he wrote with the name "Skan".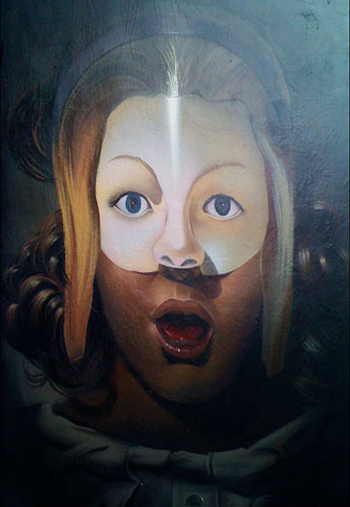 How did you come up with the name Case?
It was the first name I tagged and I have just stayed faithful to him.
Can you tell us a bit about your the Ma'claim Crew, how they differ from other crews, and how photorealistic street art differs from other styles?
Ma'claim was founded in 2000. We are four people, 3 photorealistic painters and one style painter. Ma'claim pieces differ between style (letters) and more figured description from the other crews.
Often you have the 'style' as the main content and the figurative part takes a back seat. Ma'claim is the opposite. The Ma'claim pieces always try to integrate the graffiti style into the figurative situation; therefore it is important that the style does not loose its relevance.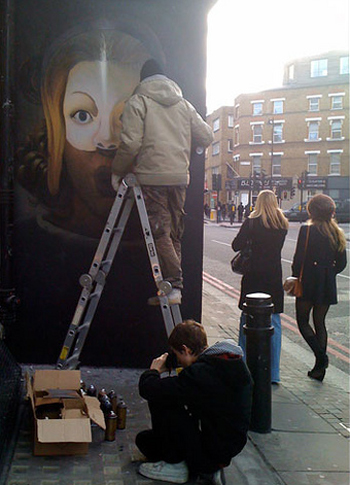 What's the graffiti/street art scene like in Frankfurt and, more generally, in Germany these days?
Everything is possible in Germany these days. The scene is more open-minded and traditions have been broken down and the cities and galleries accept many new mediums. Although sometimes this can be a good and a bad thing!
Your exhibition, "Never Odd or Even", takes inspiration from "Alice Through the Looking Glass". What attracted you to the story of Alice?
The author himself, Lewis Caroll, is a fascinating person. He was a tutor of mathematics yet the other side to him is this fantastic storyteller that we all know. An author of stories, full of wonder and irrational happenings. His free-thinking and all the odd characters in odd situations attracted me to him and his writings throughout my childhood and beyond.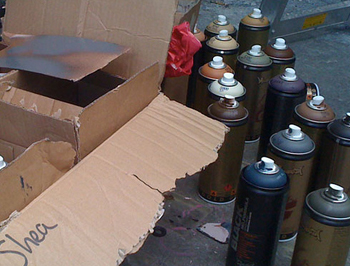 "Never Odd or Even" is your first show in London, but do you have a history with this town?
Well, I first came to London five years ago. Ma'claim was invited to paint and judge on the write4gold graffiti challenge, which was part of the Lovebox festival here. We meet some people and had a great time.
In the past two years, I've been involved in various group shows here in London and now I think is the right time for my first solo show.
CASE: Never Odd Or Even
February 19th - March 6th, 2010
Opening Reception: February 18th; 18:00 - 20.30
Signal Gallery
96a Curtain Road ?London
More info on Andreas von Chrzanowski aka CASE at sexyartcase.com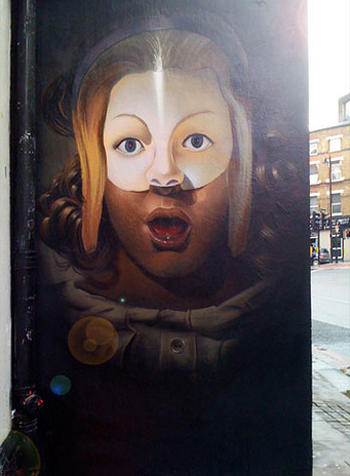 All photos courtesy Camp Barbossa.