Talking Hello Kitty with Natalia Fabia
Juxtapoz // Friday, 16 Oct 2009
1

Three Apples, the multi-dimensional art exhibition curated by Jamie Rivadeneira of JapanLA based around Hello Kitty in honor of the character's 35th Anniversary, is fast approaching. In celebration, we asked a few of the participating artists some questions about why they love Hello Kitty. We start off with Natalia Fabia (Juxtapoz #103).


What do you love about Hello Kitty?

I love everything about Hello Kitty. First of all because she is so damn cute! Kawaii!  Hello Kitty is so feminine, charming and lovable, yet so simple.  She doesn't have an expression, which is kind of intriguing. I mean, she has no mouth!  She is kind of like an iPod, just a perfect clean appealing design, but you feel like she also has a personality. Since she has been around for so long (before I was born) I feel like I know her; I've been with her through her various stages and products and she has been with me through my life.


Tell us a bit about your artistic take on Hello Kitty.
My artistic take for my Hello Kitty painting was to really show how Hello Kitty is involved in my life.  I did not just want to paint Hello Kitty doing something; that would be too easy plus it's just not my style.  I wanted to incorporate Hello Kitty in a painting that is really me and equally focuses on Hello Kitty.  So I thought painting my girlfriend Allison, who has truly been devoted to Hello Kitty for years. She has Hello Kitty tattoos and a huge Hello Kitty collection, so painting her was appropriate. I wanted the piece to be real, and doing this painting made me fall in love with Hello Kitty all over again!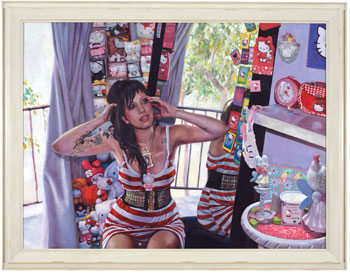 Taking into consideration you personal aesthetic, was it difficult for you to interpret this Hello Kitty work stylistically?

Actually it was not difficult for me to interpret Hello Kitty stylistically at all. Usually if I'm asked to incorporate a character or logo, it's tough because I paint so realistically and I like to show environments and situations with people. But with Hello Kitty, I knew right away what I wanted to paint and how I wanted to convey her. I wanted the painting to be real and show her in an actual environment. Hello Kitty is so tangible and she is made into so many fun and flirty goods, there was no other thought in my mind how I was going to portray her.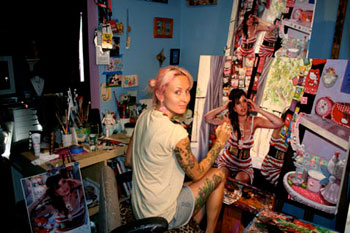 Were you a fan of Hello Kitty as a child? Like any of the other Sanrio characters?


Yes, I was a huge fan of Hello Kitty as a child!  I had a giant Hello Kitty stuffed animal that slept in bed with me amongst all my other stuffed animals. In junior high all the Sanrio lunch boxes, pencil cases and wallets were so groovy. I had Pochacco everything then! I really liked him but Hello Kitty will always be my favorite!

What is it about Hello Kitty that has made her so successful as a brand?

I think Hello Kitty has been such a successful brand because she is just totally awesome and kitties are radical! Haha. That is true but really because she speaks to people of all ages, her look hasn't changed which is really great.  I really think that because she is so simple and cute and recognizable, her image works perfectly.  She is a feminine icon, like Betty Boop or Marilyn Monroe but Hello Kitty has no drama. She is not scandalous. I just love her!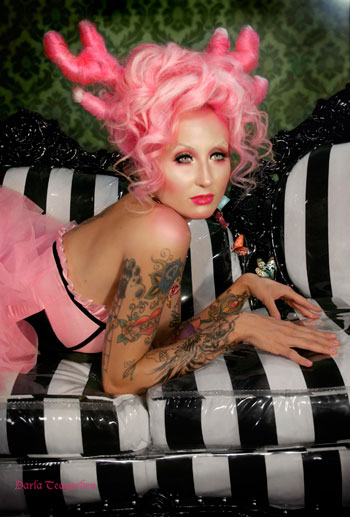 Hello Kitty Art Show Three Apples Exhibition:
Sanrio Collaborates with 80 Popular Artists
to Celebrate 35 Years of Hello Kitty
On View October 23 – November 15, 2009
Royal/T in Culver City, Los Angeles
Hours: 10am –10pm daily