Image Gallery
Tahiti Pehrson at Ever Gold Gallery
Juxtapoz // Thursday, 23 Jun 2011
1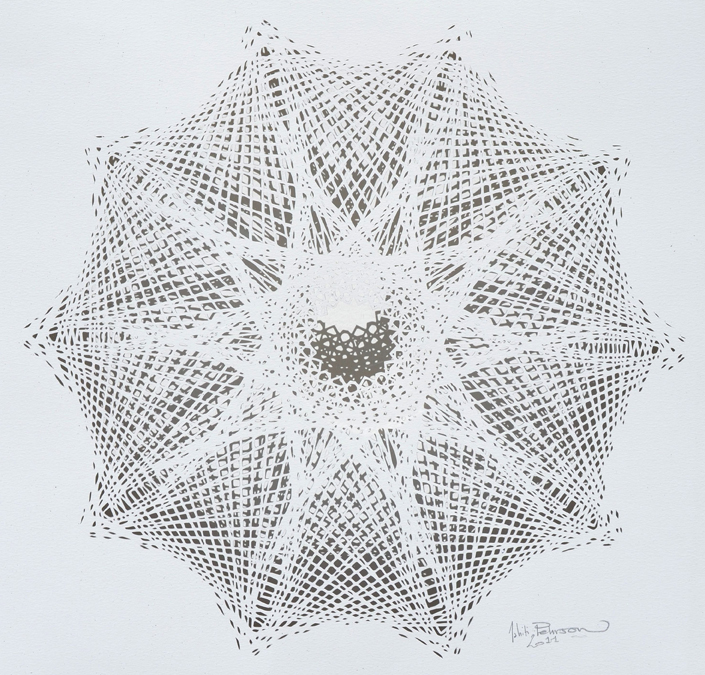 For his new body of work and first solo exhibition at Ever Gold Gallery in San Francisco, Tahiti Pehrson will be presenting layered monochromatic three-dimensional paper pieces that play off of shadows and light, creating dramatic scenes. The show,
Theta Pegasi
, is named after a star in the constellation Pegasus.
We can attest that these works are quite impressive in person. Details that you could miss in the images above and below are striking in person.
As Ever Gold notes, "Pehrson has recently shifted away from photographic imagery to that of complex geometrical patterns, referencing Guilloche patterns; a system used to produce geometric symbols seen on currency throughout the world. These works navigate the complexities and hidden meaning that are ever present in international power systems, reminding the viewer that there is always more than what meets the eye.
"Pehrson is drawn to the ephemeral qualities of working with paper. A strong gust of wind or the simple slip of the artists' hand could ruin the delicate pieces. Similar to the process of sand mandalas, Pehrson mimics this tradition's transient nature by burning select works upon completion, perhaps as an offering to the stars. Pehrson will also be presenting his work, beyond the frame, through large installation and sculptural works."
Tahiti Pehrson
Theta Pegasi
July 7—28, 2011
Ever Gold Gallery
San Francisco, California