Image Gallery
Taetrum Et Dulce @ MondoPOP Gallery, Rome, Italy
Juxtapoz // Saturday, 10 Dec 2011
1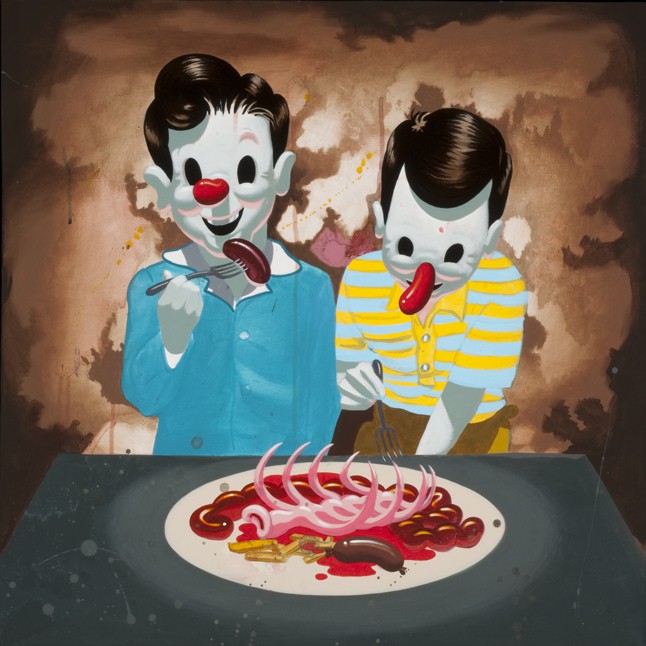 If you're in Rome this fine Saturday evening, join MondoPOP Gallery as they open Taetrum Et Dulce, a creepy and sweet-themed exhibition curated by Dan Barry and David Vecchiato. Taetrum Et Dulce showcases the artworks of 29 diverse artists from around the globe, with this being a first time for many of the featured artists to show their work in Italy.
Featuring artists include Marco About (Italy), Nicola Alessandrini (Italy), Dan Barry (USA), Felipe Bedoya (Columbia), Jana Brike (Latvia), Julian Callos (USA), Victor Castillo (Chile), Cesko (Italy), Jaw Cooper (USA), Allegra Corbo (Italy), Edward Robin Coronel (USA), Jason D'aquino (USA), Jittagarn Kaewtinkoy (Thailand), Richard Frost (USA), Charlie Immer (USA), Tiffany Liu (USA), Luis Lorenzana (Phillipines), Macsorro (USA), Malojo (France), Apricot Mantle (USA), Chris Mars (USA), Morg (Italy), Buddy Nestor (USA), Nouar (USA), Odö (France), Paola Salo (Italy), Isabel Samaras (USA), David Vecchiato (Italy), Jessica Ward (USA)
About the Curators
Curator and artist, Dan Barry grew up on a farm in rural Wisconsin. From a young age he collected objects and images to create his first artworks. At the age of 15, he became an antiques dealer. The money that Dan earned buying and selling antiques allowed him to attend a private high school and a small liberal arts college, where he studied cultural anthropology and fine art. Beyond being an avid art collector, Dan has shown his own work at La Luz de Jesus, Copro Gallery, WWA Gallery, Distinction Gallery, Curly Tale Fine Art, Mondo Bizzarro Gallery and MondoPOP Gallery. He lives and works in Austin, Texas.
Artist, cartoonist, journalist, editor and art director for MondoPOP Gallery, David Vecchiato has had much to do with the introduction of the Pop Surrealist movement in Italy. David has worked for its wider promotion on the pages of The Republic XL magazine, through curation of exhibitions at MondoPOP and beyond and via the creation of art events throughout Italy. David has shown his artworks in numerous exhibitions at galleries in Europe and the USA. He lives and works in Rome.
For more information, visit Mondopop.it/main.php.
Opening Reception: Saturday, December 10, 2011 from 7–10pm
On View December 10, 201–January 21, 2012
Via dei Greci 30 – 00187
Rome, Italy