Swoon's Musical Architecture for New Orleans on Kickstarter
Juxtapoz // Friday, 01 Jul 2011
1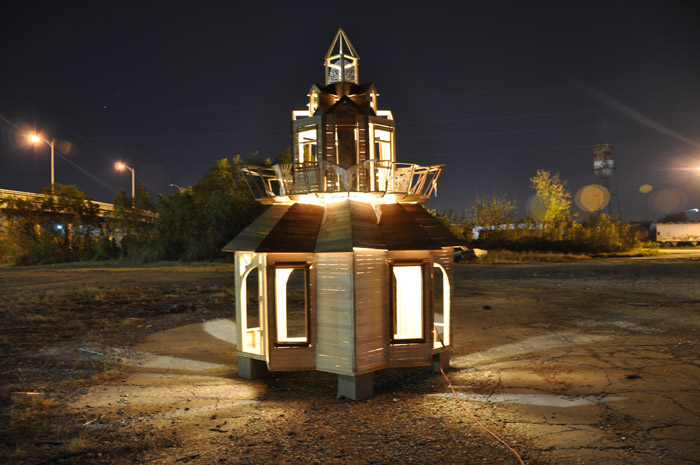 We have worked with Brooklyn-based
Swoon
before on our 10th year anniversary project in Detroit, and we are happy to hear from her now as she embarks on a new project in New Orleans. Swoon has re-imagined ?a permanent, interactive sculpture for the Bywater neighborhood of New Orleans. It will look like a house, but it will function like a musical instrument. The project is being partially funded by the Arts Council of New Orleans and the Black Rock Arts Foundation.
Right now on Kickstarter,
Swoon is looking for plegdes to bring this project to life. If you pledge money, there are a lot of things that the artist is given back to people, including the print you see below.
As Swoon told us, "the Dithyrambalina is a house we will be building from scratch on a lot in the bywater in New Orleans. The lot is owned by a member of the Airlift Collective who are organizing and producing the project. When it's open it will run as an artist residency. More importantly, it will be a larger-than-life music box that can be played to the street during block parties, as well as 2nd lines which are such an important part of New Orleans culture. Pledging on Kickstarter will help us develop the instrumentation that will be built into the house to make sure it sounds dope!"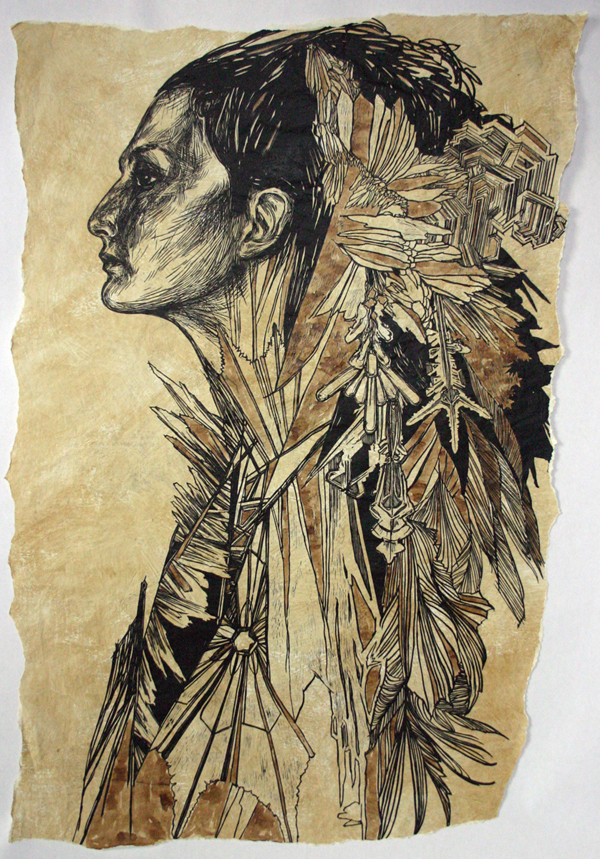 Here is the full rundown on the project:
From the salvaged remains of a decrepit Creole Cottage, the Brooklyn-based artist Swoon has re-imagined ?a permanent, interactive sculpture for the Bywater neighborhood of New Orleans. We call it the Dithyrambalina. It will look like a house, but it will function like a musical instrument. A growing group of local and national sound artists are working towards interactive instruments that can be built into its walls and floorboards so that visitors can bring the house to life through their touch. Ultimately, musicians will be invited to play the house, performing orchestrated works at block parties for their friends and neighbors. This project is for the love of New Orleans - its architecture, music, culture and its people.
Swoon has designed the look of house and we have formed coalitions with everyone from architects to salvage suppliers. The next phase of our project is to create instrumentation for the house. This Fall our sound artists will publicly test their prototypes in a temporary installation we are calling The Music Box - A Shantytown Sound Laboratory.


Why Build A Musical House?
Even before the destruction wrought by Hurricane Katrina, New Orleans had been afflicted by huge numbers of run down properties and abandoned lots. These tragic symbols are the backdrop of city-wide dysfunction, but they are also the tableau in front of which New Orleans' rich musical and visual heritage parades and performs. This project is an imaginative attempt to redress the futility of this blight by finding within it vast resources of salvageable materials. By turning our salvaged construction into a music box that is free, public, and playful we are inviting the wider community to imagine and participate in a new landscape of potential and possibility.
Your Support
Kinetic sound artists from New Orleans and across the country are coming together this fall to build The Music Box, A Shantytown Sound Laboratory. This is our testing ground for singing walls, organ floorboards, and percussion triggered by the human heartbeat.
Your support will directly benefit these artists who need time and money to develop their ideas. Interactive, mechanical art can be finicky and we need to get it right before we build the house. Our sound laboratory will be a place for collaboration, imagination, and public exploration. It is an important next step in realizing Swoon's vision of a musical architecture.
This campaign goal will help fund the prototyping of instruments for the house, but don't stop the pledges coming. We still have a house to build!
http://www.kickstarter.com/projects/1132047121/swoons-musical-architecture-for-new-orleans?ref=email