Swoon "Encampment Ersilia" in Sao Paulo
Juxtapoz // Friday, 23 Sep 2011
1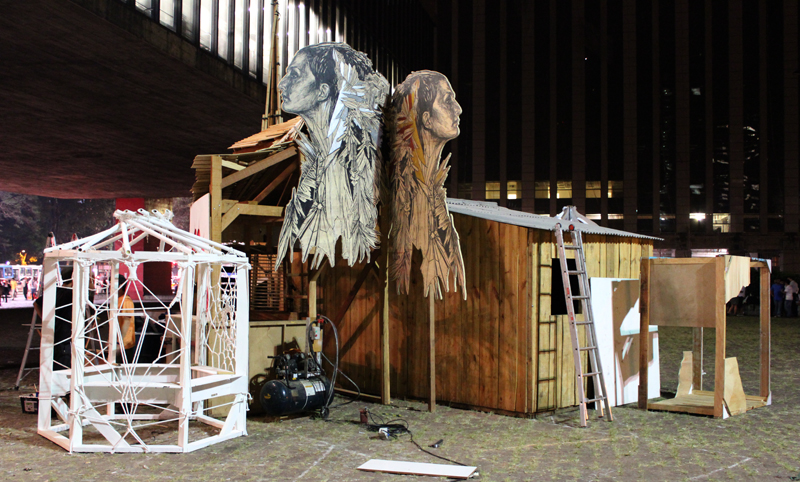 Swoon is currently working on a new project in Sao Paulo for De Dentro e De Fora called
The Encampment Ersili
, where Swoon has created a temporary city amongst the festival that has invited 8 international artists to create site-specific work in the city. De Dento e De Fora, "Inside Out Outside In," takes place at Modern Art Museum of São Paulo.
The
De Dentro e De Fora festival
brings Swoon, JR, Space Invader, Remed, and others to create installations and other site-specific works. The festival opens on Saturday, September 24, and ends in December.
Here is the press release on Swoon's work.
1 The city crumbles beneath its own weight. It flexes its pavements and bleeds from its sewers. People in places no one ever expected to find them. The buildings multiply, their materials thinner and more brittle as the city grows past the edges architects never anticipated. It quakes with love and reason. And a new city emerges, a delicate quiet song, a temporary freedom, a meeting place where words stitch a new reality and children are born in unexpected ways.
Welcome to Encampment Ersilia2. We invite you to a slice of the present and window into the future. We have come as visitors and have found treasures. We gather them together for you to discover and lead you back to the caverns and clouds from which they emerge. The city eats itself and is reborn as fertile compost.
From September 24 to December 14, the vacancy beneath the MASP will be the site of occupation. The artist Swoon will build a home for the ideas, for the strings of inspiration with which the landless people of Sao Paulo have already started to weave their futures.
The Encampment Ersilia, our temporary city and a part of De Dentro e De Fora, is an invitation to join us outside to explore the interior life of Sao Paulo. The include a series of programs that reflect work being done by those that have inspired us here. Conversations that begin here will connect Ersilia with occupations around the Sao Paulo city center — occupied spaces under the freeways, homes in empty factories, farms under the electric lines, and temporary sites of culture in the streets.
We will also invite you to join us on a series of walks through the city to view it in its current and everlasting moment of metamorphesis — Expedições para Comer Concreto. Each walk will be a mobile open meeting that tackles the metropolis and its questions, drawing a series of paths of conceptual debate and active intervention.