Image Gallery
Swoon in New Orleans: The Music Box—A Shantytown Sound Laboratory
Juxtapoz // Monday, 14 Nov 2011
1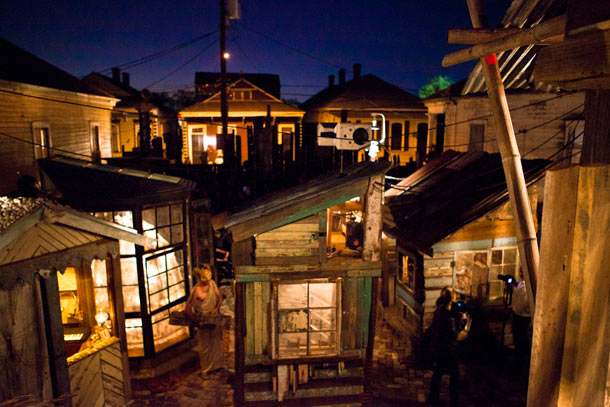 We wrote earlier this year about
Swoon's various projects in New Orleans
, and
Swoon
and various collaborators debut the The Music Box on October 22nd to coincide with Prospect 2, New Orleans' art biennale. The Music Box is an interactive installation of purpose-built shacks and miniature houses made out of New Orleans' beautiful architectural details and plentiful salvaged materials; built into in each structure is an invented instrument created by a sound artist.
The Music Box
is open through December 10 with two more performances scheduled, on November 19 and December 10.
Here is a full press release rundown of the Music Box:
Visitors can interact with this musical shantytown's singing walls, heartbeat-triggered percussion machine, organ staircase and weather sensitive oscillators. Three monthly live performances are bringing together stellar groups of local and international musicians to play orchestrated works on these "instruments." Quintron, the musician and local legend, conducts this experimental shantytown orchestra.
The Music Box is an important and exciting prelude to the building of Dithyrambalina, an interactive sound sculpture in the form of a permanent three-story house. This project is being led by the influential street artist Swoon, who is known for her community-driven collaborative endeavors. Swoon has designed the house, but will rely on collaborating artists to bring the Dithyrambalina to life.
The Music Box Participating artists:
Swoon // Quintron // Taylor Lee Shepherd // Serra Victoria Bothwell Fels // Eliza Zeitlin // Ranjit
Bhatnagar // Elizabeth Shannon // Micah Learned // Rainger Pinney & Johah Emerson-Bell // Ross
Harmon // Angeliska Polachek & Colin McIntyre // Ben Mortimer // Aaron Kellner // Ratty Scurvics //
Jamye Kalal // Frank Pahl // Andrew Shrock // Lindsay Karty // Patty O'Connor // Taylor Kuffner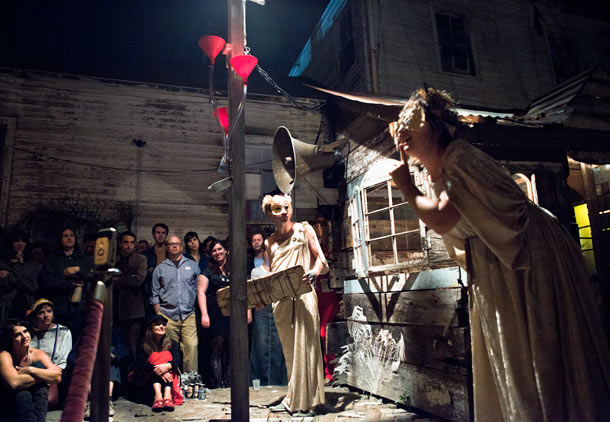 Opening hours: Fridays, Saturdays 12 -5pm or by appt. (Excluding performance weekends and holidays)
Performance dates: Nov 19, Dec 10. 2 Sets per performance. Doors open @ 6:30 and 8:30 pm. Limited seating.
Check website for details:
www.dithyrambalina.com
Located at 1027, Piety Street, New Orleans, LA 70117