Subliminal Projects Presents 'Weekend Pacifists' Opening August 22
Juxtapoz // Monday, 20 Jul 2009
1
Here's what they each have to say about the show's title:
Andy Jenkins "I work a regular schedule during the week and it's anything but passive. On the weekend I become passive, as my personal work steers me around by the hands."
Michael Myers "To me, the 'Weekend Pacifist' is about that feeling of hope and renewal that happens weekend after weekend. The weekend pacifist is about camaraderie, spirituality, gratefulness and the quest for being content in the now and for the week ahead."
Chris Pastras "I'm a pacifist who loves the weekend, so I guess I fit the bill pretty well."
Russ Pope "Weekend Pacifists? Pacified by the weekend on a weekly basis. Good stuff. Living everyday like it's a weekend, not saving the good times for two days a week."
Michael Sieben "Weekend Warriors is an album by Ted Nugent that was released in 1978. It's also a term used to describe people who follow their passions on the weekend. The phrase 'Weekend Pacifists' describes an individual who is dedicated to their passion full time thus leaving the weekend open to relaxing or taking a break from the war. Hopefully that doesn't sound too pretentious."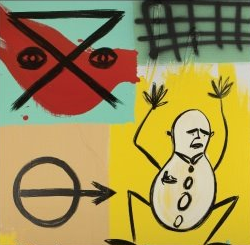 About the Artists...
To hear him say it, the crux of Andy Jenkins' current work lies in his guilt: the guilt of one human's consumption in a culture of excess. How does he channel it? The man is a creative packrat of amazing proportions. He saves every scrap of paper he comes in contact with. In 1995 he began using these notes, receipts, business cards, paper bags and envelopes in a series of works loosely entitled "Post Consumption Guilt." He continues to nurture and refine this idea of regeneration today in his current series of paintings entitled "Ugly Beauty." Most nights, you can find him hunched over his work on the floor of his kitchen studio or hunkered down behind the keyboard of his laptop. I doubt you'll see him out and abo ut town. – Carl Sanger
Michael Myers is an artist and designer living in Southern California. Michael taught himself to draw and paint from an early age. He studied graphic design for a few years at California Polytechnic State University, San Luis Obispo. In 1995 he began working professionally as a graphic designer in the skateboarding industry. Today he splits his time between painting and designing web properties from his home office/studio.
A native of New Jersey, Chris Pastras is known for a spontaneous creativity in everything he touches, primarily manifesting itself in art and skateboarding. Cofounder and longtime art director for Stereo Skateboards, he has had a huge influence on today's skate and street art scene. His sketches bring together an imaginative, forward design and a whimsical touch that can only come from a true original. Chris currently resides in Los Angeles, California. More of his work can be seen at Stereosoundagency.com and Thelovestation.com.
Russ Pope's paintings are a collision of motion and color. In Orange County, his favorite part of life is being outside with his family and spending late, lonely nights in his dirty, junk-filled studio painting to new wave, old punk, and even older blues and jazz. Art keeps Russ sane while juggling work in the skateboard industry, an overly active family, and gallery show deadlines. His inspiration comes from music, books, everyday people, architecture and his children's artwork. Their art reminds him to create without concern for outside opinion or gallery walls.
Michael Sieben received his BFA in Studio Art from the University of Texas at Austin in 1999. He was one of four founding members of Camp Fig Gallery (2002-2006) and a founding member of Okay Mountain Gallery (2006-present). His work has been shown throughout the U.S. and in Japan, London, Mexico, and Peru. Michael works as a professional illustrator and designer primarily within the subculture of skateboarding, and has been a staff writer and illustrator for the iconic magazine Thrasher since 2004. In 2009 Gingko Press will release a book of his recent work.