Studio Visit x Interview with David Walker
Juxtapoz // Wednesday, 21 Jul 2010
1
Helen Soteriou: Who is David Walker? Can you tell us about your background and how you got into art?
David Walker: I have been making art since I can remember. I was obsessed with drawing when I was a kid, my granddad painted landscapes in his spare time and I remember being overwhelmed that he could make something that could look so real, I guess he was the first person to get me into art.
I went to art college and started freelancing from there, my first live job was creating t-shirt designs for The Prodigy. I applied to university but got offered a job in a small studio designing record sleeves and party art so I took it. It was here that I learned how to use traditional techniques and the Mac which combined graphics, illustration and art.
In 2000 I started my own street wear label 'Subsurface' as a means to get my design and artwork out there, it ran for just over five years, which opened doors for me. After that I worked for other clothing brands whilst still making my own artwork on the side.
For the last three years I have just been painting for myself and exhibiting, which is an amazing position for me to be in and for which I am very grateful.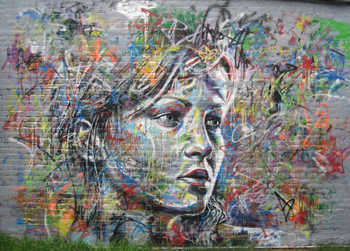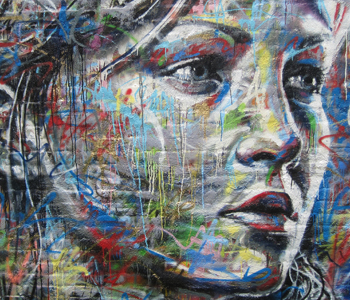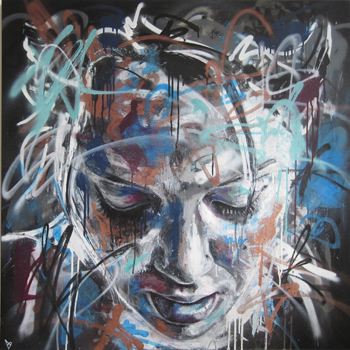 Where does your unique style come from?
It stems from different aspects I find interesting about painting. I like expressive and intuitive mark making where you disconnect and just go for it, that's the abstract part of my work, the portrait element brings out the perfectionist in me as it must be in proportion and look like the subject, this split approach helps satisfy my obsessive compulsiveness and my randomness at the same time.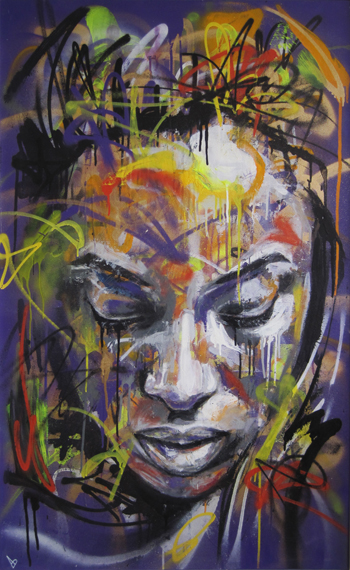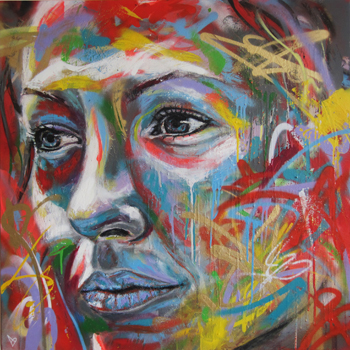 Where do you get your inspiration from?
Being in London with all its mayhem is a constant source of inspiration for me. Music is a major one, it has a direct effect on my work, I listen to it all day in the studio. Other artists also, people like Will Barras and RYCA, their attitude towards making art really inspires me. They have such a positive outlook and genuine enthusiasm that when I start getting stressed it makes me realise that you are supposed to be enjoying yourself. You're doing what you love, so have fun doing it, sometimes when the pressures on you can forget this.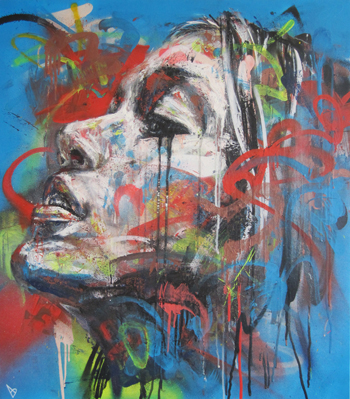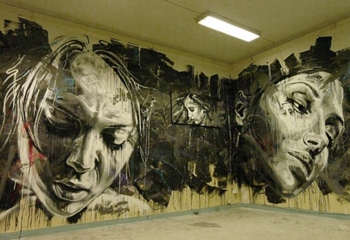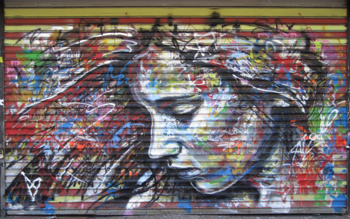 What is the Scrawl Collective and how did you get involved with this?
I've been in the collective for about seven years, it was the first of its kind in the UK, they also published two of the first books exposing the street art and alternative illustration scene here. I remember seeing them and thinking I want to be part something like this. I met the founder Ric Blackshaw at a show I was putting on around 2002 and we got talking, he liked my work and that was that. The Collective is very loose, mostly we do our own thing, we're not tied up with contracts, sometimes I won't work with Scrawl for a whole year and then out of the blue Ric will phone up and say "We have a show in Hong Kong" or "do you want to go to LA?" which is always a nice surprise. I think there will be some stuff happening soon as the 10 year anniversary is coming up.
Who are these women? Are they real people or just images that you have created?
They're all images that I find in old magazines, people's random websites, snapshots I have taken etc… I like the fact that I don't know the people in the pictures, and they don't know they're being painted. There is so much throwaway imagery nowadays that taking an image that is disposable and making it more permanent by realising it into a painting is interesting to me.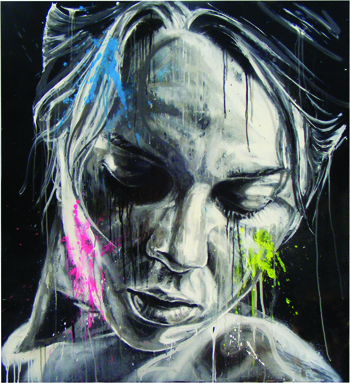 Have you had a stand-out moment during your artistic career that you can share with us?
There's been a few, usually small things that no one else would care about but, painting at the Cans 2 festival meant a great deal to me. I saw a lot of people I respect there working, Conor Harrington, Lucy Mclaughlin, Chu and many more. The atmosphere was great (maybe it was the copious amount of paint in the air), anyway I got a lot of encouragement out of the experience and The City of Westminster also put my piece in their permanent archives.
Why is street art important to you?
I just like the fact that anybody under their own motivation can make something that a lot of people will see, that is not affected by the constraints of an establishment. I think in the world we find ourselves in today it is important for everyone. I'm not saying all of it is great or even positive but whether you like graffiti and street art or not, I appreciate that it can still happen, that we still have some rebel culture in the UK, we need it.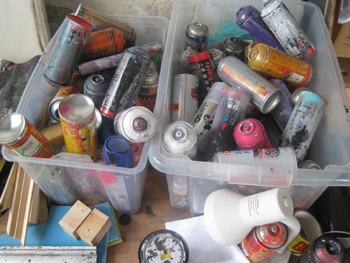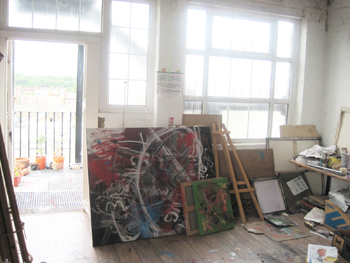 Do you have a favourite medium - walls or canvas?
I don't really have a favourite. Painting walls is a lot of fun especially when you get to talk to passers-by about the work and see how enthusiastic they are about watching you do it. I like the pressure of having to paint something quickly and people being there to see it manifest, there is no place to hide. It's the total opposite of making work in solitude with no immediate time constraints, you get different things from each.
Why do you like using spray paints?
I'm pretty impatient and it's just so immediate, it released me from the frustrations I felt when I first started using traditional paints and brushes. It also allows you to work on large and on varied surfaces which means you are not contained to a canvas and a studio, you have options. I also really like the idea of using what is seen as lo-brow materials to create something that is often mistaken for oil painting. There is some odd poetry in a portrait of a beautiful woman being made from £3 cans of spray paint.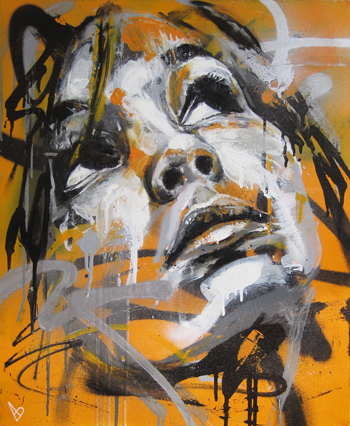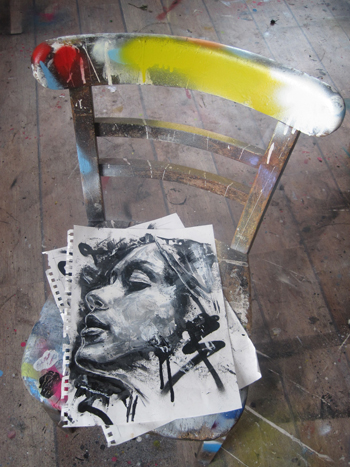 Tell me about your current show Surface Tension?
It's a two man show alongside Guy Denning at Brooklynite Gallery in New York, both of whom I have a lot of respect for. Brookynite have such an attention to detail about how they produce a show, it has been a pleasure working with them. Guy is an original through and through with a great deal of passion. The show explores our different approaches to portraiture, oil vs spray paint,, brush vs knife, light vs dark, it's a good contrast.
Where can people purchase or see more of your art?
In the UK www.artofdavidwalker.com and in the U.S www.brooklynitegallery.com