Studio Visit with Jeremy Fish in Anticipation of Ghosts of the Barbary Coast
Juxtapoz // Wednesday, 26 Nov 2008
1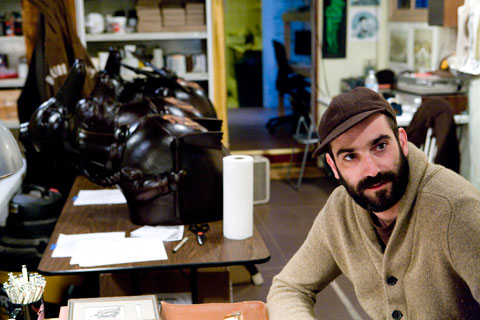 Mr. Jeremy Fish (Juxtapoz cover #71) calls San Francisco home, so it makes sense that this 'City by the Bay' should serve as the inspiration for his newest (and arguably most exciting to date) exhibit, Ghosts of the Barbary Coast, opening next Thursday, December 4, at Fifty24SF Gallery.

Juxtapoz caught up with Fish at his studio in San Francisco's North Beach, a neighborhood steeped in both diverse history and energy. After an almost 5-hour visit and talk about the rich SF history that spurred the creation of Fish's newest collection, we came away with not only a new appreciation for the city that both Juxtapoz and the artist call home, but also for Fish's incredible new work.

The paintings, sculpture, and installation work that Fish completed for Ghosts of the Barbary Coast truly takes a bold step away from past work by the artist...and we like it. Complete with sculptures carved in Indonesia and paintings inspired by the harlequin days of old-school San Francisco, it's safe to say that Jeremy Fish has truly stepped it up (another) notch in Ghosts of the Barbary Coast.

See what we're talking about in more from our studio visit with Jeremy Fish below...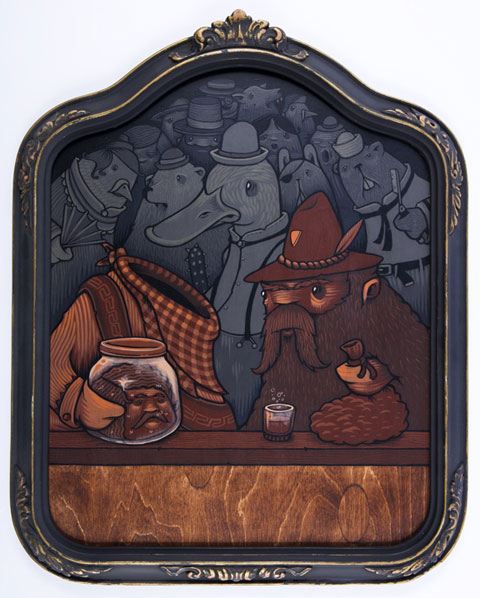 San Francisco in the Barbary Coast days of the 1850s was a crazy place. The once sleepy town's population exploded almost overnight as it was flooded with all kinds, here to make their fortunes in whatever way they could. Prospectors, prostitutes, sailors, businessmen, criminals, hatchet men, preachers, and entertainers all had their stories to tell and their reasons for being there.

In preparation for his upcoming show, The Ghosts of the Barbary Coast at Fifty24SF Gallery, Mr. Fish has done his homework. Basing his collection of work on true stories from San Francisco's history, he conjures up the spirits of the rowdy, ruthless, insane, and notorious characters that populated the City's seedy past and re-tells their fascinating and often shocking stories to a new audience. Fish also explores parallels between the Gold Rush of '49 with the modern booms and busts of marijuana farming in the 1970s and the dot coms of the 1990s. Highlights of this collection include a series of tightly executed and well-researched paintings along with amazing three-dimensional wood pieces.

Fish plans to bring some real Barbary Coast style to his opening reception with a Gold Rush-style saloon, complete with grizzly bear. What better way to pay tribute to the folks who paved the way and established San Francisco's independent and rebellious reputation?
Words by Jamie O'Keefe.
Photos by Randy Dodson.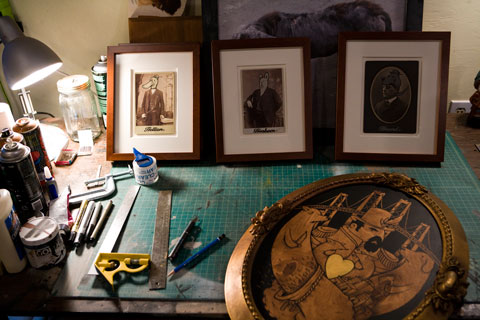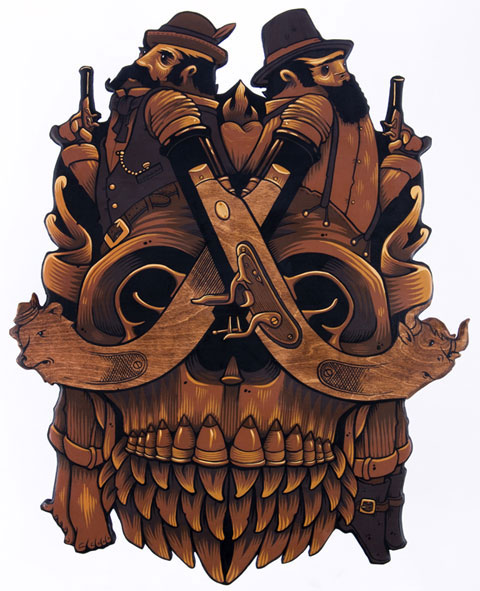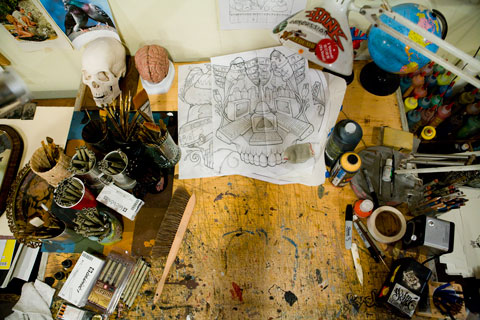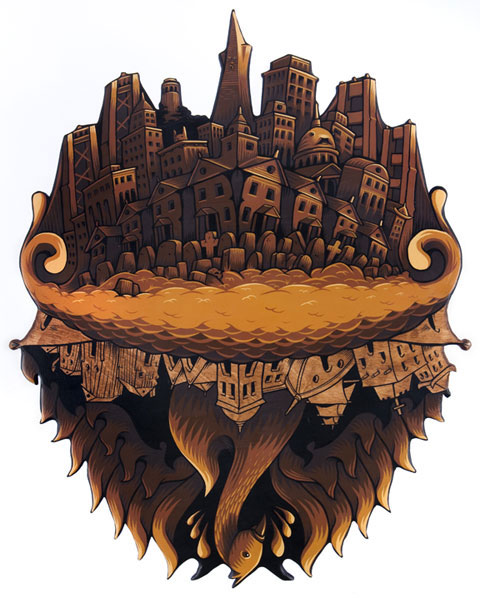 Ghosts of the Barbary Coast will be on display at the upper level of FIFTY24SF Gallery from December 4-30, 2008.

Details at www.fifty24sf.com

More on Jeremy Fish at www.sillypinkbunnies.com & www.superfishalsf.com