Studio Visit with Alex Pardee in Preparation for Letters From Digested Children
Juxtapoz // Friday, 02 Jan 2009
1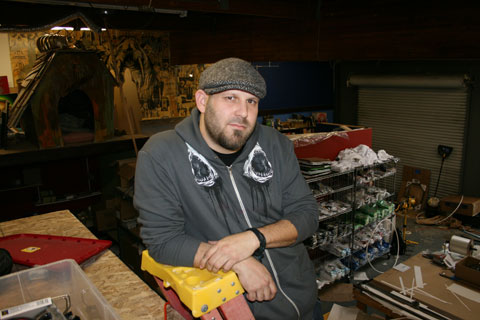 Our homeboy Alex Pardee (Juxtapoz cover #79) recently allowed us to come crash his studio and get a sneak peek at his newest work (one of our favorite pieces is shown below) for his upcoming solo show at FIFTY24SF Gallery, affectionately titled Letters From Digested Children, which opens this Thursday, January 8, 2009.

Not only is Alex extremely talented and intelligent, but he's also super nice and down to earth. Just our kind of artist! We made our way from our hometown of San Francisco over to his studio and Zerofriends art collective compound in Novato, California, which is about 30 minutes north of SF. Upon entering his studio, we were immediately greeted by typical Alex goodness: crazy masks, huge murals, colorful paintings, and oh yeah, the artist himself.

Do join us on a journey through the world and mind of Alex Pardee in our studio visit with him right here…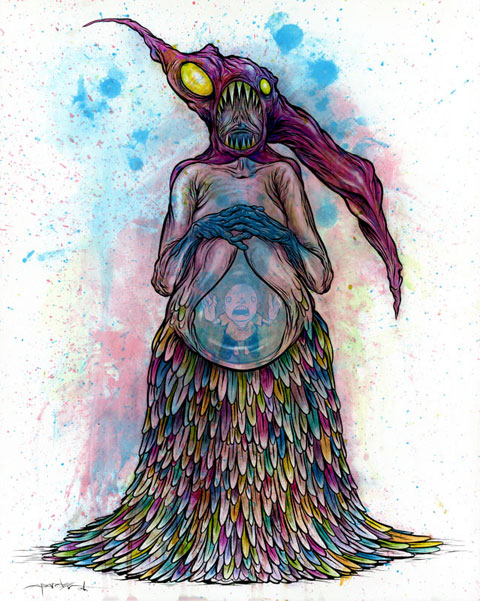 Alex Pardee is one of the hardest working guys in the industry of contemporary art. Any and all success he has achieved is no fluke. Alex has pushed, challenged, and fought his way to the top of his artistic game through sheer tenacity and a passion for what he does. All this effort is paying off, as we walk around his spacious studio space that also serves as the headquarters for his Zerofriends art collective and apparel line.


Located in Novato, California, Alex's studio could well be nicknamed his home, as the artist regularly stays up working well into the night, often until 4 or 5am. "I'm a workaholc," Alex confesses. "But I love what I do." Alex's work is more than passion, it's been a lifelong labor of love and we love what he creates.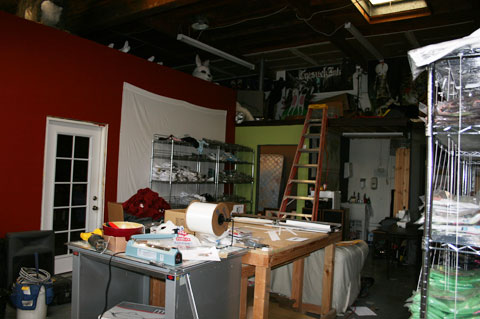 The main area of the studio and Zerofriends work space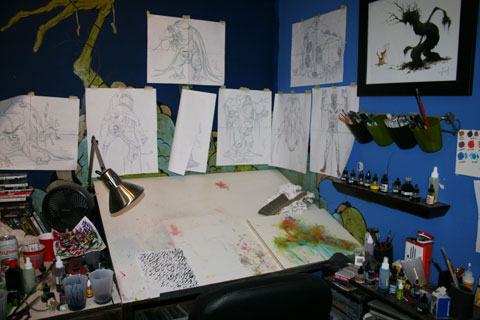 Where the magic happens: Alex's work desk with sketches for pieces included in Letters From Digested Children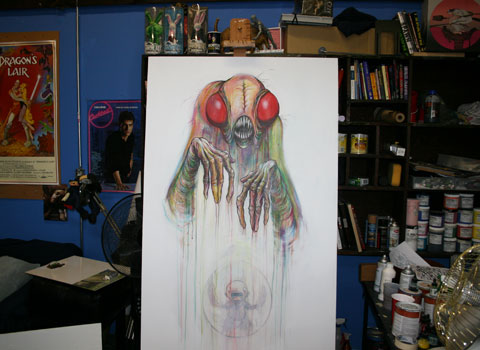 Massive newly finished painting for the upcoming solo show. Oh, what a poor, trapped 'Digested Child'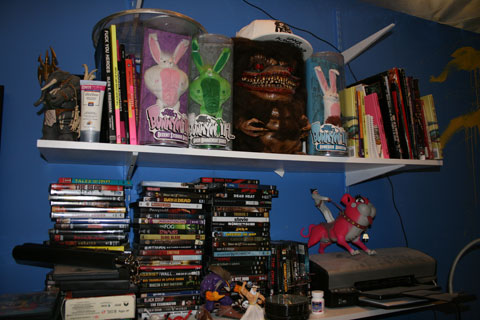 Movies, books, and Alex's own Bunnywith toys litter bookshelves in his office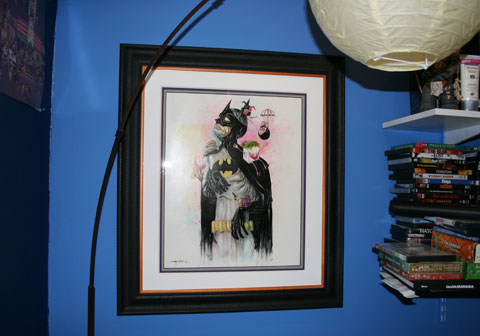 A Batman paiting by Alex hangs on his office wall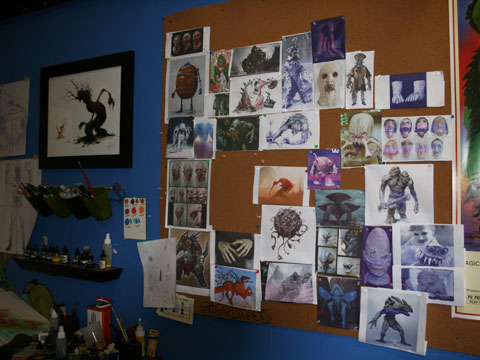 Wall of inspiration for Letters From Digested Children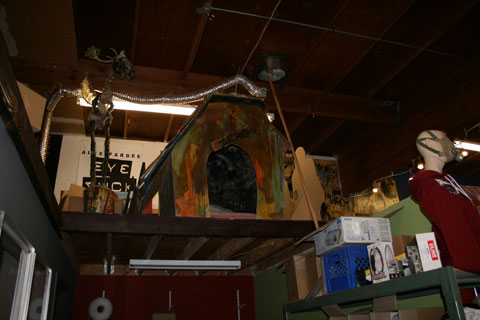 A wooden 'doghouse' created by a past Zerofriends collective member (who now resides in his own metaphorical doghouse) watches over Alex's studio space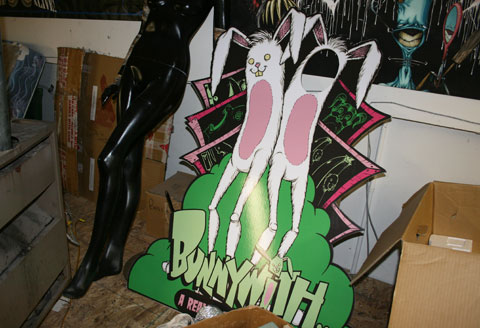 A Bunnywith prop lines the wall of the loft storage space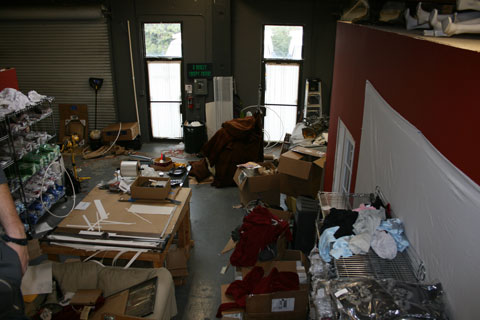 Birds-eye view of the studio while perched atop the loft are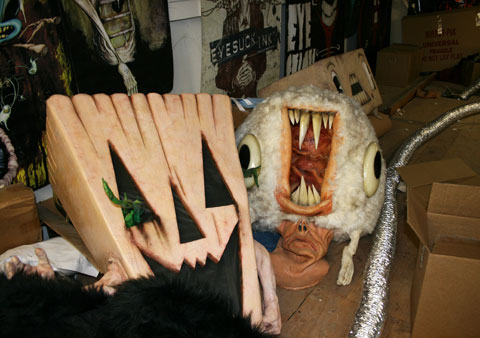 Totally and completely amazing masks from promotions for Alex's illustrations for album artwork for The Used also scatter the loft.
Does that Chadam mask in the very back look a little familar? (hint: it's the mask used in Alex's portrait when he was featured on the cover of Juxtapoz in August 2007)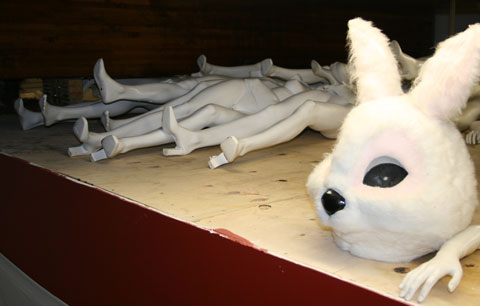 We didn't know someone else had an obsession with mannequin parts too! And bunny heads? We knew we liked this guy.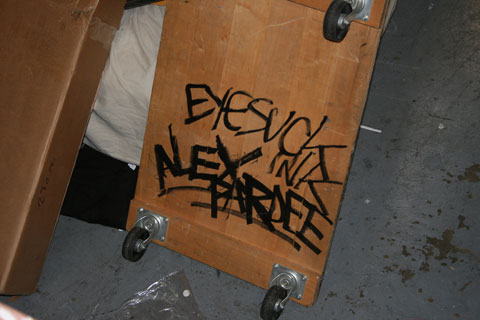 Just in case you forgot who we were talking about.
It's no secret that Alex has suffered from "severe emotional and psychological issues," and was placed on strong antipsychotic medication at the tender age of 14 to help combat his 'sickness' (which we're more apt to label an intense outpouring of creativity, but hell we're not doctors.) Alex was even placed in a mental hospital for a period of time as a teen, where he "felt completely out of place."

As we talk about the difference between illness and intelligence, and it's hard not to be struck by the artist's obvious humble acceptance of his adolescence and the coinciding challenges that many others would probably have allowed to consume them with anger, fear, insecurity, and confusion. We're not saying the average individual doesn't go through bouts of these emotions; however, Alex has been able to parlay his unique past into a sort of therapy, allowing his artwork and projects to serve as a cathartic release. "I'm happy most of the time now," he says. "I still get upset about stuff, but I think that's normal. Healthy people aren't happy all the time. I've been doing this for so long, I don't know what I'd be like if I wasn't painting and working so much. It's just what I do."

Looking at his newest works, it's plain to see that Alex's passion has taken yet another turn towards greatness. More thematically unified than previous shows, Letters From Digested Children will offer viewers an invitation into a complete world created by the artist. "I always loved Disneyland because it was like an entire experience from start to finish. Like, Space Mountain didn't just begin when you got on the ride, it began when you got in line." Similarly, Alex has an entire artistic ride planned for the top level of FIFTY24SF Gallery (complete with monster cookies…yum.) Strap on those artsy seatbelts, kids.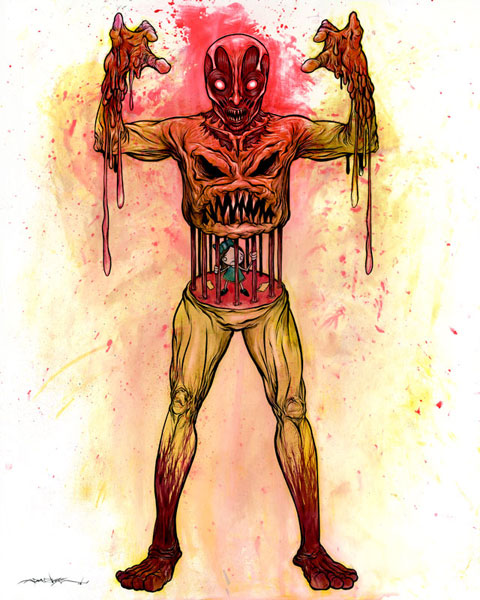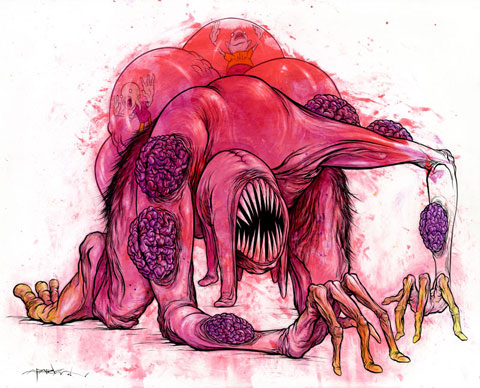 From an outside perspective, it may be easy to assume that Alex is always satisfied with his work. After all, the past few years have been more than good to the artist. Since early 2007, he's had numerous solo shows across the country, worked extensively on an animated motion picture with Warner Bros called Chadam (due out April 2009; more on all that later), moved into a nice big studio space, expanded Zerofriends, designed a full clothing line for Hurley, and much more. Yep, Alex is staring 2009 down with the face of an artist that is finally reaping the well-deserved benefits of a creator that has tenaciously brought himself up from a graffiti writer on the streets of Northern California to a globally recognized (and demanded) artist. Not too shabby.

Refreshingly, all this success has definitely not gone to the artist's head. "I still get really nervous before shows and worry that no one will show up," Alex confesses. 'It's like, you put all this work and planning into something, but you never know how it will really turn out." Glancing down at a massive in-progress installation piece (we can't give you many details, you'll just have to se it yourself this Thursday) we can confidently assume that his show will, in fact, turn out spectacularly.

The new paintings, drawings, and installations for Letters From Digested Children are all connected with an underlying story surrounding uhh…letters from children being digested by monsters. The show will include ten new intricate and colorful paintings (get a load of some above, and most below) accompanied by a letter from the half-digested child depicted in the painting written by the artist himself. "I guess that storytelling aspect comes from my background in writing and illustrating comics," Alex explains.

Looking at his newest work, it's obvious the artist has spent a great deal of time perfecting each and every piece. Collectively, the new paintings on clay board are some of his best and most polished work to date. "Every time I do a piece, it's like starting over from scratch," he says. "I never remember how I do something, so it's like a new experiment every time. [...] I never know if I'm doing something the right way because I never went to art school; it's all self-taught."

Whatever he does each new time, it works. The new paintings are a visual feast of intricate line work coupled with freer offerings of color that, when couple together, create images that seem to leap off the canvas.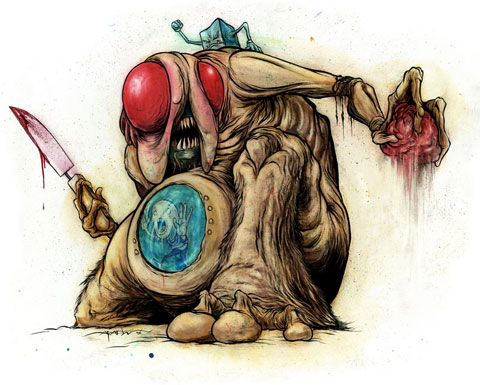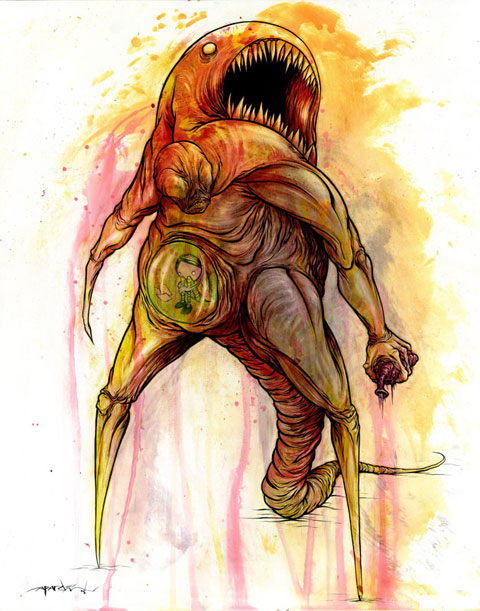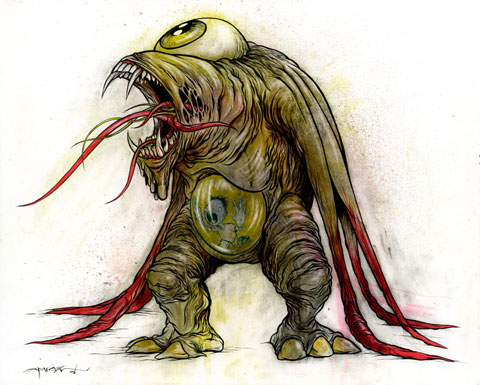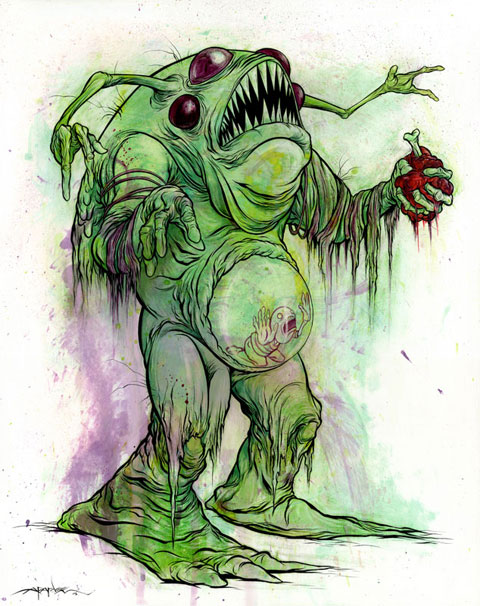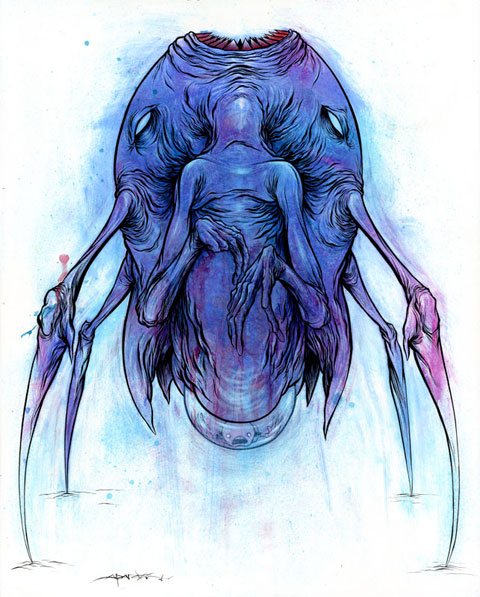 They say there's a fine line between insanity and genius. After spending a couple hours with this artist, we're apt to say Alex Pardee embodies the perfect balance of both, fusing his wild imagination with an insufferable urge to create, producing an individual (and artwork) nothing short of astounding.

Come out and see Alex's new work in Letters From Digested Children at FIFTY24SF Gallery this Thursday, January 8th, 2009. We'll all be there; stop by and say hello.

Details on Alex Pardee at eyesuckink.com

More on Zerofriends at zerofriends.com