Image Gallery
Studio Visit: Jeremy Fish in North Beach San Francisco
Juxtapoz // Thursday, 09 Jun 2011
1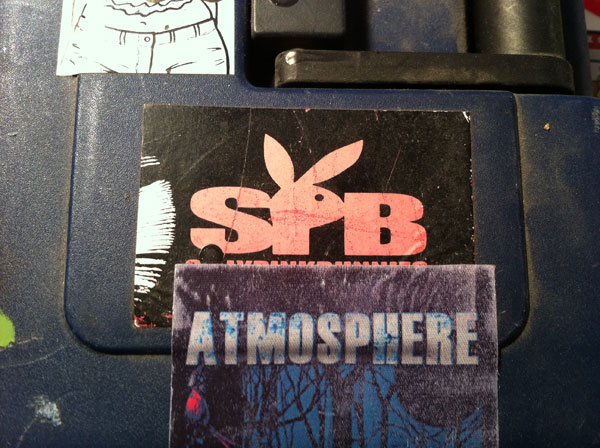 I have personally known Jeremy Fish for over five years now, lived in the same city, gone to shows of his across the country, but for some reason or another, I had never made it out to his studio in the North Beach neighborhood of San Francisco. That all changed this week as I stopped by to see what Mr. Fish (the cover artist of the December 2006 issue of Juxtapoz) had prepared for this newest solo show,
Listen and Learn
, opening at Joshua Liner Gallery in NYC on June 21, 2011.
What I have always felt separated Fish from a lot of exhibiting artists that I know is his storytelling ability. Fish can take a concept, a common thread, and flesh it out through 40 or more pieces of art for any given show.
Listen and Learn
is no exception, and I think it plays out as one of Fish's strongest shows to date: ask 40 or so of his friends and artists and musicians that he admires to tell him a story, let him illustrate the story, and allow the viewer to listen to the story as they visit the gallery and look at the pieces of art. It's an old-fashioned, but timeless concept: show the power of how a story and tale gets passed along from person to person, generation to generation.
For Liner's show, there will be headphone stations at each piece of art, so when you look at the piece from Mike Giant's story, you can hear Mike tell it. Same with Aesop Rock, same with Ricky Powell, Snoop Dogg, Scott Bourne, El-P, Ron English, and a cast of more characters that each have something unique to tell. And like I just mentioned, Fish being a great storyteller himself, packed each piece with dozens of little details that grow with each viewing and listening session. He is, in a sense, a modern Dr. Seuss, taking a strong approach of storytelling through story.
Jeremy Fish invited me over, and as he was putting the finishing touches on frames and last minute organizational steps prior to shipping work off to NYC. I snapped some photos of new works, old works, and whatever extras the man had lying around. —
Evan Pricco / Juxtapoz Magazine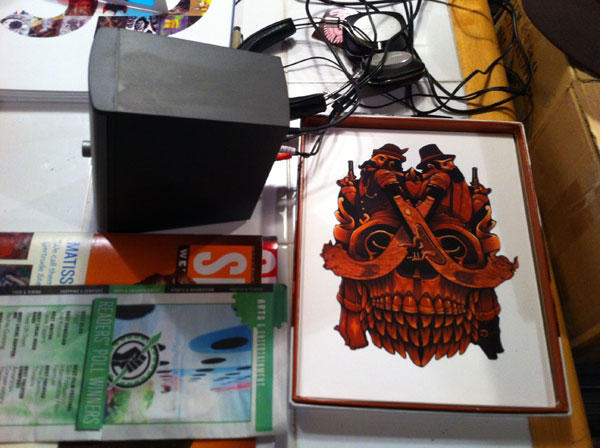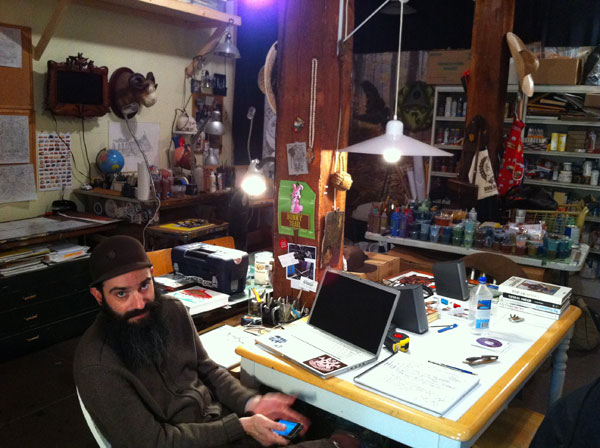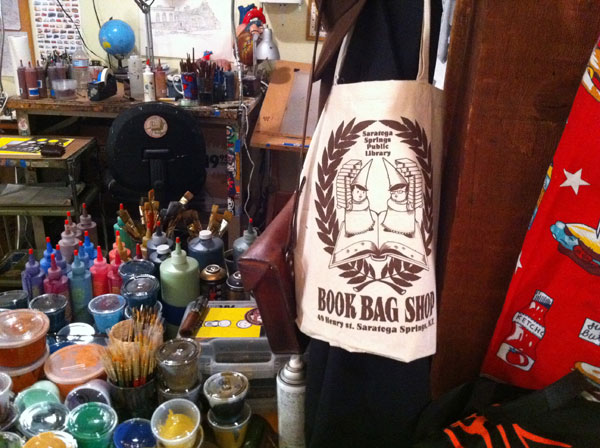 Jeremy Fish
Listen and Learn
Juen 21—July 16, 2011
Joshua Liner Gallery
New York, New York