Studio Visit: Flip x Herbert Baglione in Sao Paulo
Juxtapoz // Thursday, 29 Jul 2010
1
Flip and Herbert Baglione are veterans of the Sao Paulo street art scene. Both started adding their distinctive marks and drawings to walls, poles, or pretty much anything available throughout their mid-teens and met through the well-connected street art scene around age 18. Now in their early 30s, the pair remains close friends.
Their new studio space, which has served as their second home for the past few months, shares a wall with a renowned capoeira studio. Can you get any more Brazilian? As you ascend the staircase up towards the artist's door, you're greeted by yelling and the sweaty smell of capoeira students along with a warm smile from the studio owner, a well-aged master of the traditional athletic art form.
Flip and Herbert's studio is spacious, where the artists have figuratively sliced a long table down the room's center, allowing each their own space in which to work. A sofa offers a sitting area at the far end and bookshelves are lined with collectables gathered from their world travels, along with oddities each has fashioned or found (including a dead snake Flip preserved as well as a few found animal skulls, and of course many books).
Each artist has a very distinctive style which both are able to maintain despite working in such close quarters. Flip is increasingly inspired by Eastern art forms, experimenting with deep inks and huge calligraphic brushes from China, while Herbert's large scale, detailed paintings line the walls indicating in-progress pieces which continue his exploration of social ills through thin figures and an increasing use of sculptural accents.
The pair is jovial and friendly, joking and explaining their new pieces as we walk around the space eyeing the countless art pieces, in-progress works, and memorabilia from a lifetime of journeys. It's clear the pair, in each his own way, continue to focus and experiment with new materials and forms of expression. Always creating, make sure to keep an eye out for their upcoming works and exhibits slated for later this year.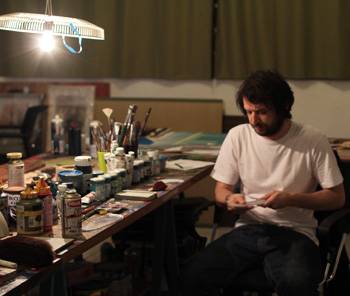 Herbert dremels in-progress cast resin feet for a new piece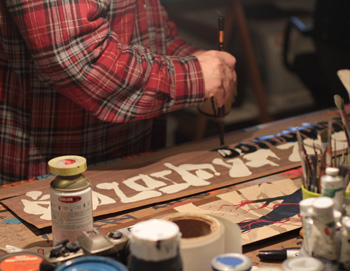 Flip shows off his calligraphic skills on paper-thin imported wood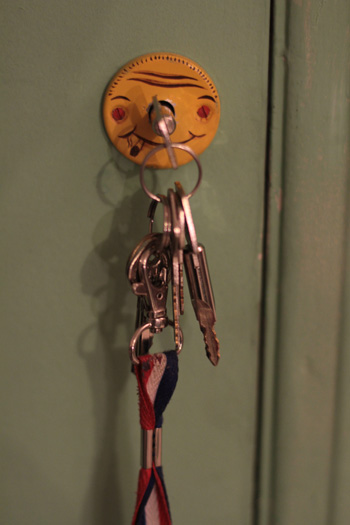 Welcome home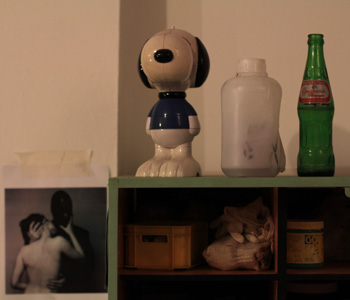 Photographs, Brazilian soda bottles, and of course Snoopy line bookshelves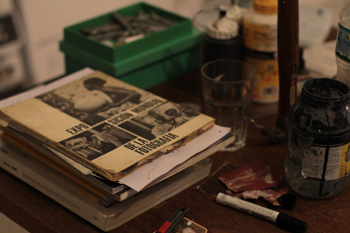 Stacks of books next to Indian inks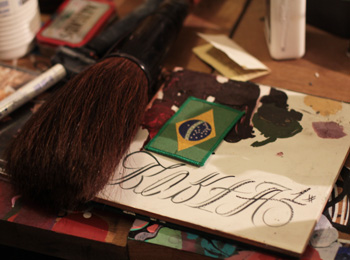 Flip's massive brushes are a sight to see; a friend brought them back for him from China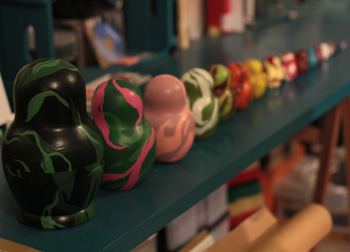 Flip's Russian dolls recently brought back from Moscow. He hand-painted a whopping 18 of the stackable wooden figures in one complete set!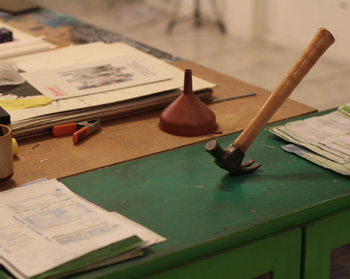 A perfectly positioned hammer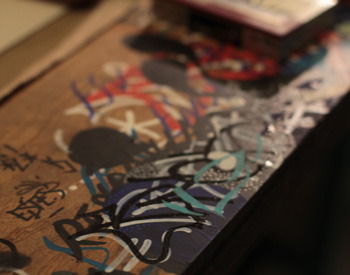 The colorful work table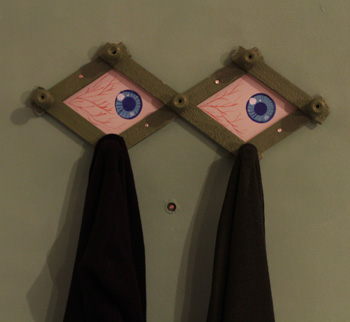 The eyes are watching you...or just carrying visitor's sweaters
More from Flip at www.flipon.com.br
More from Herbert Baglione at http://herbertbaglione.blogspot.com
Herbert Baglione also has some beautiful new limited nightstand boxes right here.
Photos by Flavio Samelo.