Studio Visit: Flavio Samelo and Jayelle Hudson in Sao Paulo
Juxtapoz // Wednesday, 11 Aug 2010
1
Flavio Samelo
and his wife,
Jayelle Hudson
is a pair of artists based in Sao Paulo, Brazil. Though their artistry differs in aesthetic and interest (Flavio's forte is structured paintings, while Jayelle is a classically trained photographer) they compliment one another akin to ways in which tangy salt brings out the rich tones of pepper, culminating in a tastier and complete dish. They allowed us to poke around their home and studio, which views more like a personal museum than simple living space.
Flavio is a native Brazilian, whose crisp paintings have been translated into a wide range of commercial projects with the likes of Nike, Adidas, and Uncommon. He is also a renowned photographer, contributing images to countless magazines and skate publications, as well as for Juxtapoz. His paintings often incorporate his photos of urban buildings and power lines all over São Paulo. He will literally glue these photographs onto his canvases, using the straight lines and angles he captures through the camera lens as a sort of base point from which to extend those angles and lines on canvas through acrylic paints, thus creating a multimedia work that explores, and pays homage, to his home city.
Jayelle is American and studied photography at the Brooks Institute in Southern California's Santa Barbara area. Her latest pieces are black and white studies of plants, trees, and braches which have been altered to reflect the original image over again, appearing as if the paper has been folded in half, leaving a perfect mirror image of itself on the other side. At times, the final images resemble Rorschach ink blots.
Aside from their obvious talent, both Flavio and Jayelle are extremely nice, friendly, and caring people. While we were in São Paulo last month, their generosity to us, as well as all the visiting artists, was almost overwhelming (one funny story involves Thomas Campbell calling Flavio repeatedly for directions while he was driving a van to the airport to make his flight).
The pair invited us into their home, which (for the time being) also serves as their studio. The place is a cozy art and plant haven. Upon opening the door, one is greeted by a small set of shelves covered in classic plastic an vinyl toys collected over the years. Take a step further and you're welcomed by four walla of beautiful framed artwork from virtually every important Brazilian artist. Because the Brazilian art scene is relatively close-knit, and most successful artists from São Paulo know one another, they trade work or support one another in buying and displaying one another's work.
From classic Onesto to a wire sculpture by Vitché, a drawing by Stephan Doitschinoff aka Calma and piece from Herbert Baglione, their personal collection is expansive and offers visitors a feast for the eyes.
As well as visual art, the pair has an impressive amount of plants and orchids, which give the entire space a natural, almost greenhouse-like feel. Take a gander inside the home of Flavio Samelo and Jayelle Hudson…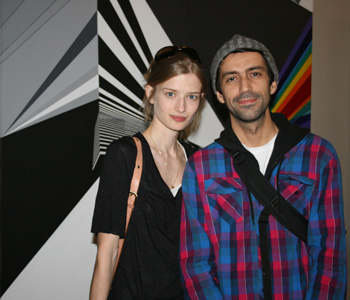 Flavio and Jayelle stand in front of the piece he has on display at Transfer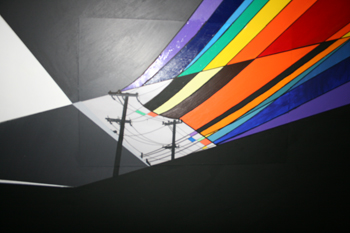 A close-up of the piece, you can vaguely make out the photograph laid underneath the paint here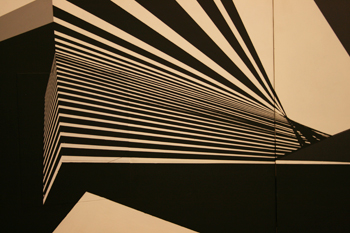 Clear inspiration from powerlines and sides of buildings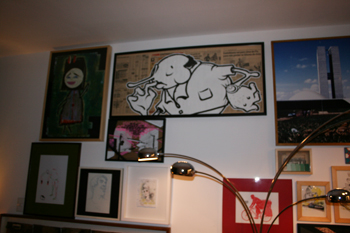 Walls of art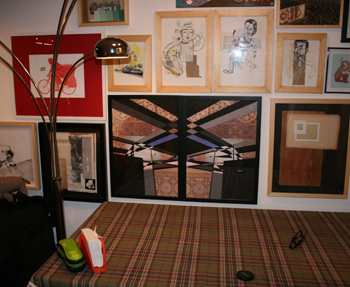 One of our favorite pieces by Flavio uses common paper used at carwashes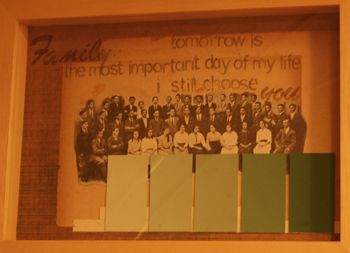 A touching work by Jayelle made for Flavio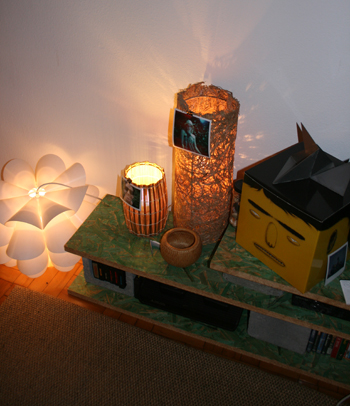 The center lamp is made of dried banana leaves from Bahia, individually handmade by banana farmers who is the rest of the plant in innovate ways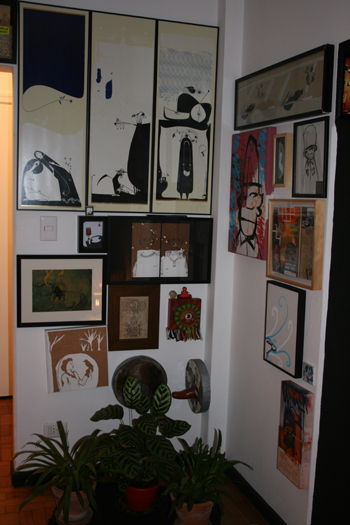 More art walls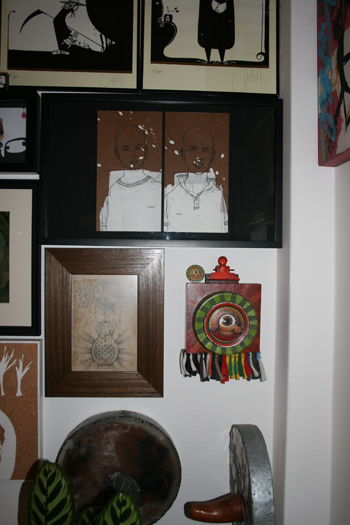 The side by side figures is a great piece by Titi Freak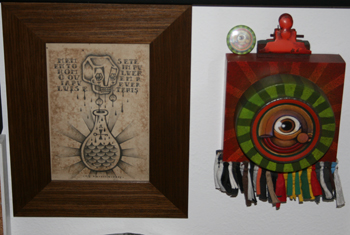 Calma's intricate drawing is on the left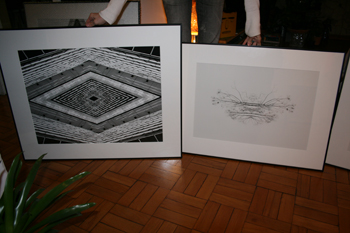 Flavio and Jay showed their photos is a two-person show, Flavio's piece is left, Jay's right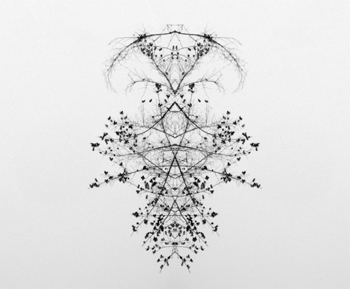 Jayelle Hudson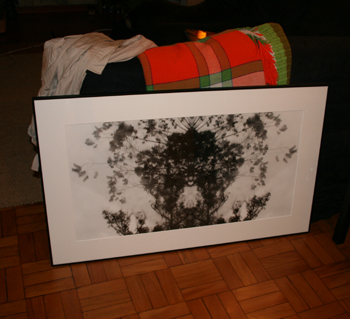 See the Rorschach resemblance?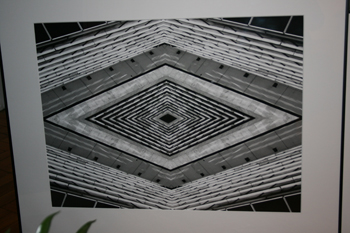 Flavio Samelo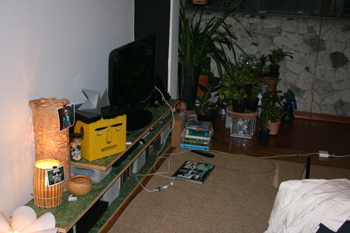 JaOs Gemeos box next to the TV...and lots of plants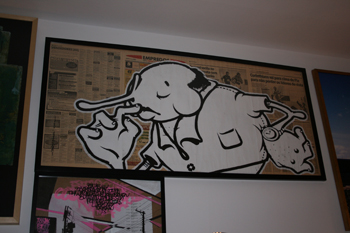 Classic Onesto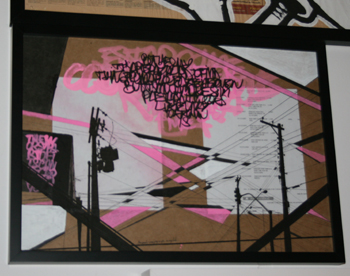 Mixed media by Flavio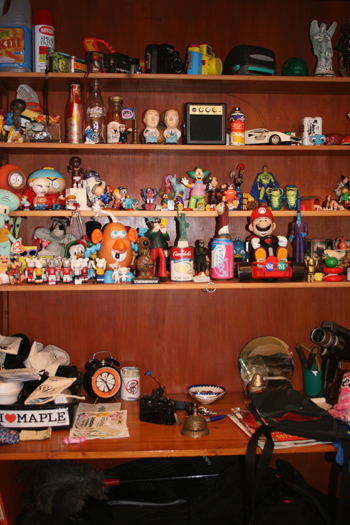 Toys!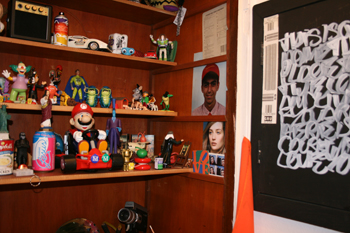 Look closely and you'll spy a great snapshot of the young Flavio in a McDonald's uniform, a remembrance of his young days working at the food chain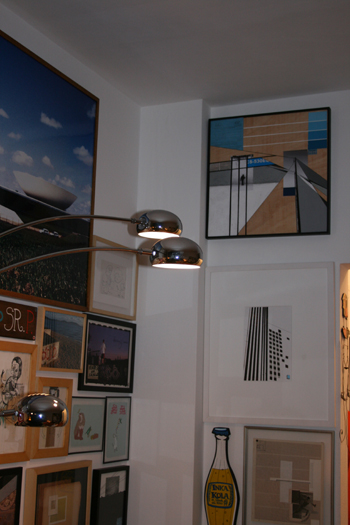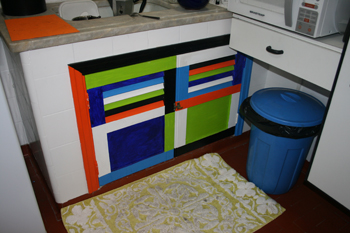 A colorful kitchen cabinet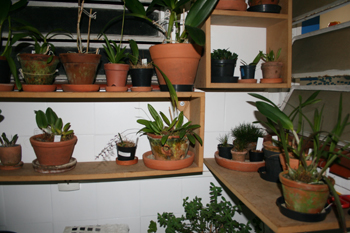 Orchid haven lives in the back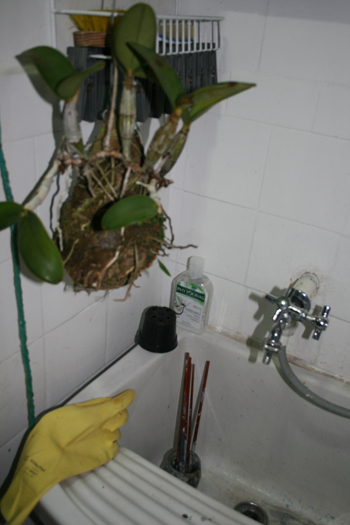 And by the sink...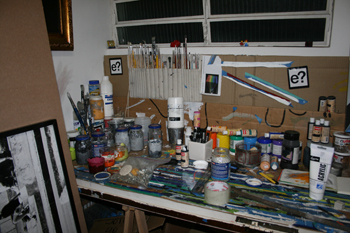 Flavio's studio space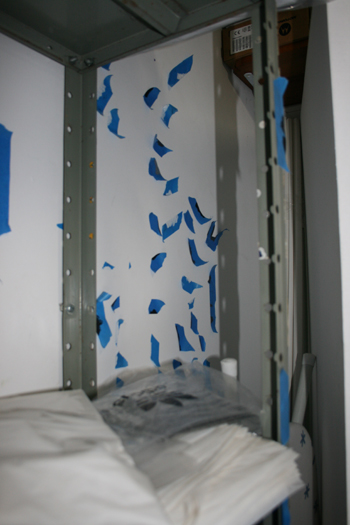 Blue masking tape is hard to get in Brazil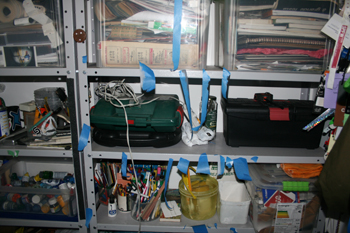 ...so don't throw it in the trash!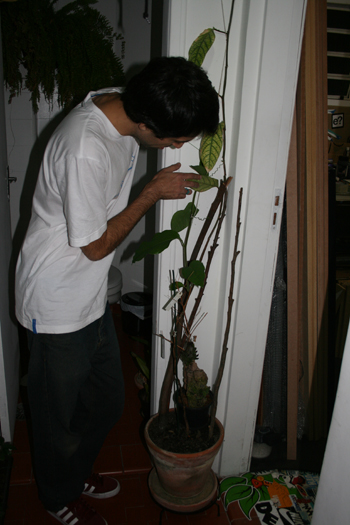 Showing off a passion fruit plant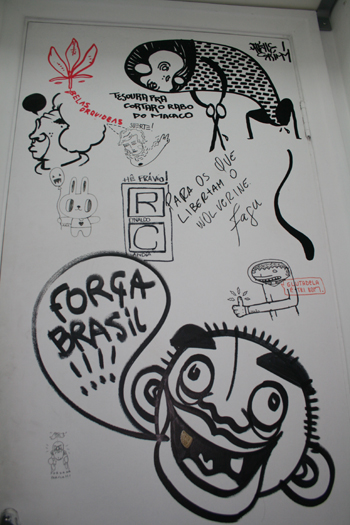 Everyone signs the bathroom door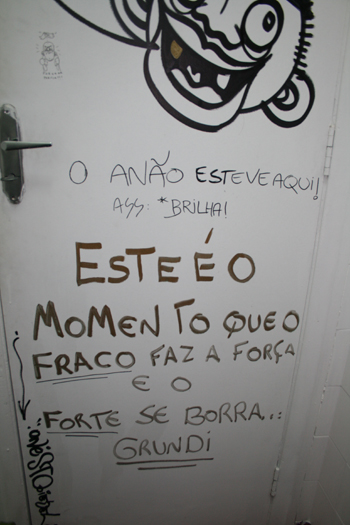 It's even better than a bathroom magazine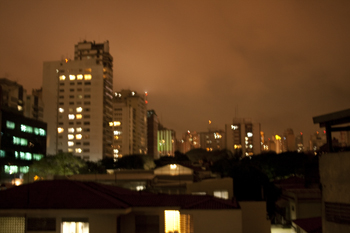 A view at the urban metropolis out the back window


More on Flavio Samelo at www.flaviosamelo.com
More on Jayelle Hudson at jayellehudson.com