Studio Visit: Amandalynn
Juxtapoz // Friday, 31 Oct 2008
1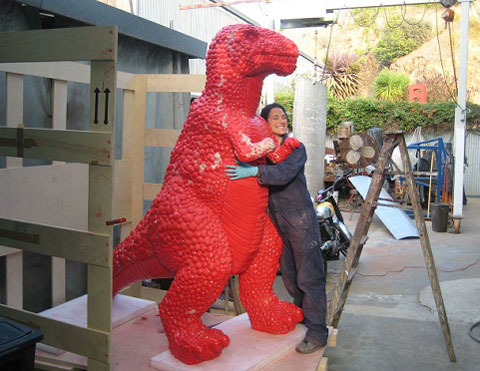 You may know artist Amandalynn from her involvement with The Seventh Letter, or perhaps from her recent solo show move A head at Carmichael Gallery in Los Angeles (exhibit work shown below,) or even her insane custom car paintwork for Underground Colors. Or what about her sculpture restoration projects for the MoMA? (Her recent dinosaur restoration shown above.) Oh, and we almost forgot about her new line of hats and accessories for Goorin Bros' 1333 Minna line. If nothing else, we hope you've gotten to catch a few of her signature green-skinned ladies on the streets of San Francisco.

If it seems hard to define this multi-talented artist, that's because it is. Crossing genres, age groups, interests, and mediums, Amandalyn is a lady with drive, talent, and the rare ability to co-mingle the two to consistently push boundaries and shatter expectations. Amandalynn recently allowed us to stop by her studio (actually, make that three studio spaces) in San Francisco.

We started off the day with a visit to Underground Colors, where Amanda works painting custom car and motorcycle parts. Talk about badass. Though Amanda's artistic interests developed at a young age, the past decade of her life has well prepared her for the demands working in a custom auto paint shop and as a sculpture restorer, as well as clothing designer and painter. These jobs aren't easy, but Amanda embraces them with enthusiasm and an approachably tough attitude she developed over years of school, hard work, hitting the streets with fellow Seventh Letter members, and a lot of self-discovery.

Amanda was born in Pennsylvania and always possessed an artistic curiosity. An early painting teacher, Robin Grass, shared his knowledge and style of painting with acrylics, as well as a love for the world of fantasy. Fantasy, the macabre, and Victorian era influences remain strong in Amanda's work. Mixed all together, the outcome is a decisively cohesive combination of the tough and delicate, the old and new, the streets and the studio.

Amanda moved to San Francisco ten years ago to attend Academy of Art, where she majored in Children's Book Illustration. An unlikely choice, as Amanda also had dreams of becoming a tattoo artist- a dream which led her to cross paths with notorious artist Norm. "From there," she says, "I met everyone." By everyone, Amanda is referring to all the most prolific and active graffiti artists in San Francisco, which would later develop into the infamous Seventh Letter. She soon moved into a "graffiti den" on Webster Street, going out night after night to hit the city streets alongside her graff-obsessed roommates. All this while attending art school and holding down a job to support herself.

"I have this vivid memory of sitting in my bedroom with a forty between my legs, an art history book in my lap, and everyone else just raging outside the door while I was trying to study for a final exam," Amanda told Juxtapoz. Art history and beer? Sounds like a great combination to us. Bottom line is, no other female artist working today has been able to hold her own alongside the male-dominated world of renowned graffiti artists like Amanda has for the past decade.

After art school, "I was a bit lost" she says. "I didn't know what to do and I kept trying to make my art cute because I had majored in children's book illustration, but I kept making darker stuff. Finally, Norm told me I just needed to start painting." This advice led Amanda to do just that: pick up a brush and work through her feelings of confusion through the therapy of paint.

It worked, as the more Amanda painted, the better she felt. Others picked up on her talent, and she was offered more jobs, one of which was painting a set for a Bette Midler production with Prairie Prince Studios. The rest, as they say, was history. Working on the set is where she first picked up an airbrush. "I haven't stopped using airbrushes or sprayguns since," she comments. This experience led her to work with mural painting studios, and how she eventually got involved with Underground Colors, where she works to this day.

Throughout her professional endeavors, Amanda continued to stay true to the streets. "I love all those guys," she said, referring to fellow Seventh Letter members. "I've painted, housed, fed, bailed out…you name it, I've done it with them." This intense introduction to the world of underground art on the streets has obviously helped her fine art career, as Amanda continues to show her fine art paintings on a regular basis. Her last major solo show, move A head, at Carmichael Gallery in Los Angeles included live floral work by friend and artist Renee Fontana. The effect was stunning. Amanda's gorgeous acrylic on canvas paintings festooned with Renee's live flower creations solidified Amanda as an artistic force to be reckoned with in the cutthroat world of gallery showings.

Sipping a beer alongside Amanda in her backyard, it's obvious Amanda lives and breathes (at times, literally) art. No longer seen as a solely a street artist, Amanda is determined to exhibit her multi-faceted talents and interests in venues as broadly varied as the mediums in which she works. From motorcycles to jewelry, canvas to walls, Amandalynn is here and shows no signs that she will ever stop killing it.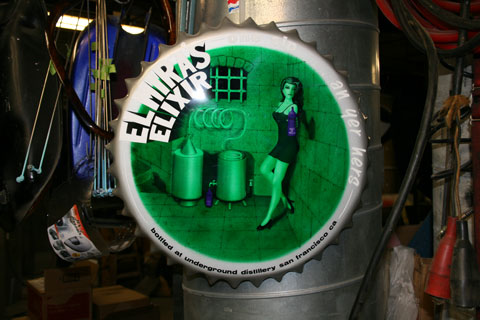 This hangs at San Francisco's custom motrcycle restoration and paint shop, Underground Colors, where Amanda works alongside Pete the Painter and Prairie Prince.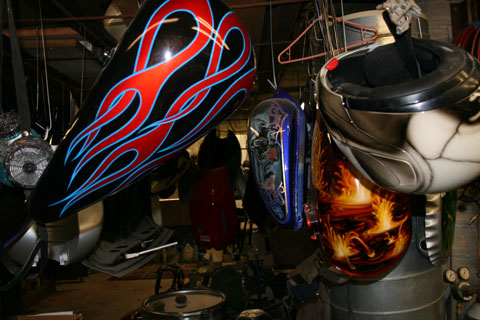 Amanda paints anything Underground Colors customers want custom painted, like these finished parts and helmits hanging in the shop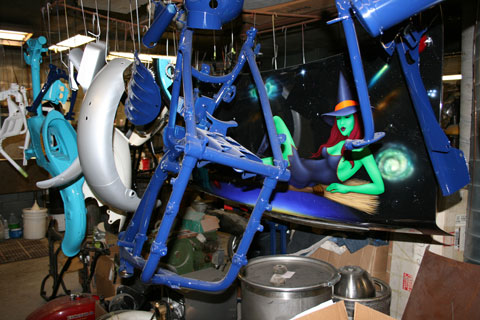 One of Amanda's signature green ladies was commissioned by a customer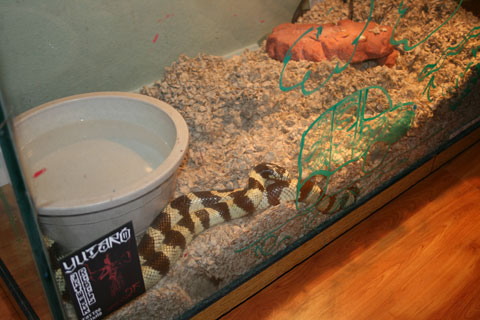 After the shop, we headed over to Amanda's house. She owns two snakes and a black cat as pets.
This is Al, who had been Alice for years before they attempted to mate "her" with a male snake. Lets just say, there were no baby snakes made that day and Alice was quickly re-named Al.
A gorgeous gas tank customized by Amanda sits on her bedroom wall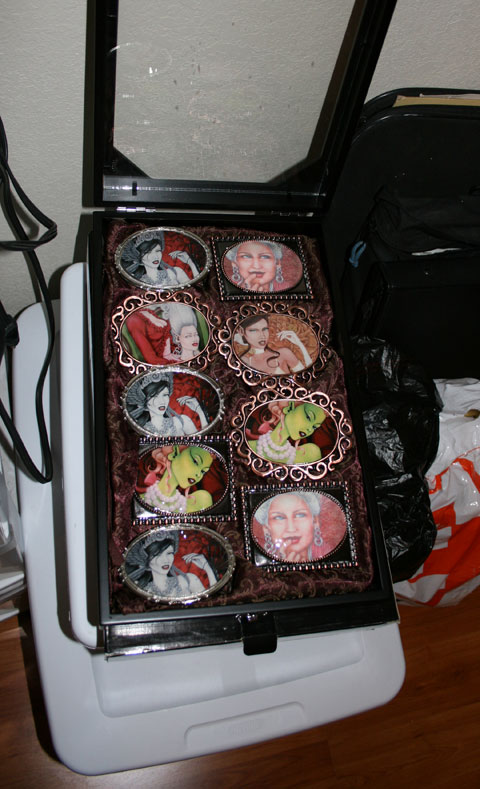 She recently started experimenting with custom belt buckles. Using imagery from her recent move A head show, Amanda created some dope buckles, a few of which she still had at home.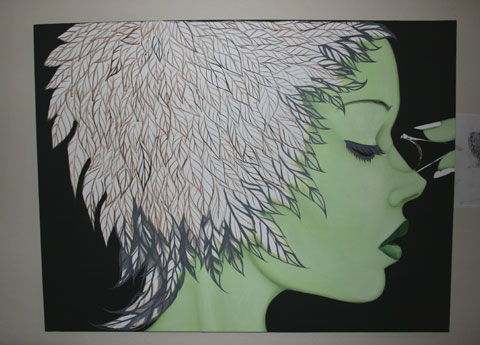 In-progress painting in Amanda's home studio space. She tends to paint her females green, not only because she likes the hue, but it deters viewers from attaching a race or ethnicity to her creations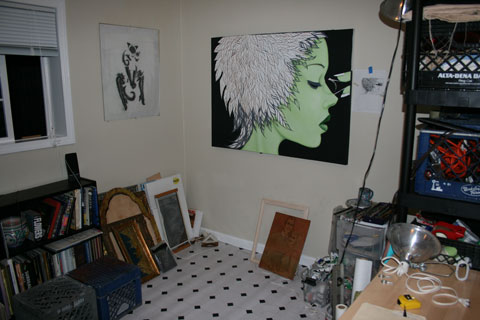 A look at the corner of her home studio area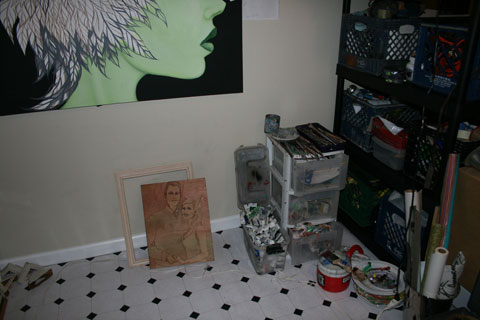 An in-progress painting lies on the floor- a gift for a friend's upcoming wedding.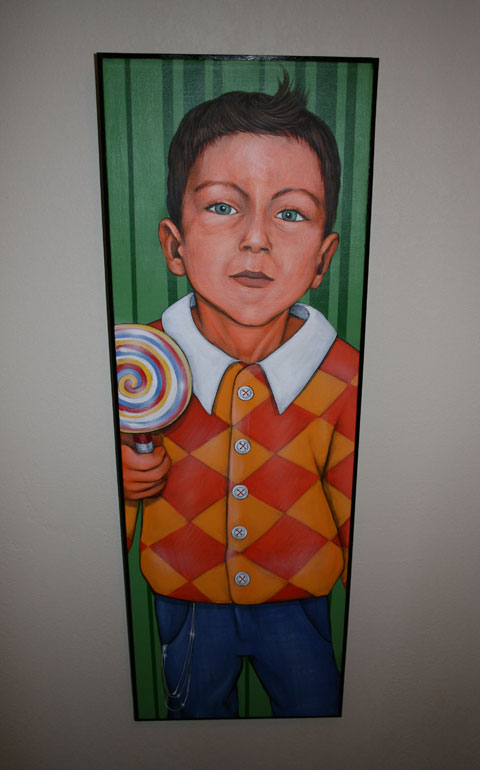 One of the few pieces of her own work Amanda has on display in her home. Justus the Lollipop Kid is from her recent Wicked show with fellow Seventh Letter members Norm and Reyes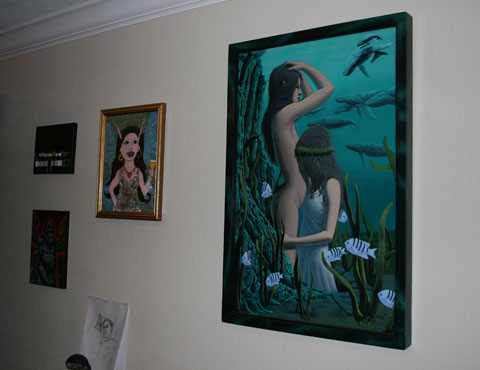 Work by Robin Grass (an early painting teacher of Amandalynn's) hangs over her bed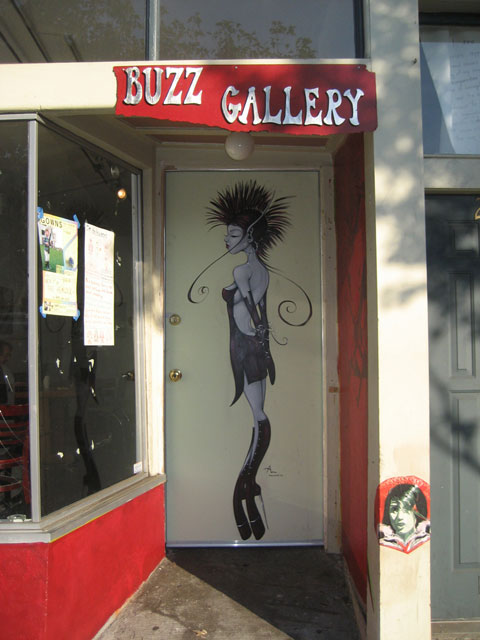 The day after our studio visit, Amanda went over to Oakland to paint ths commissioned piece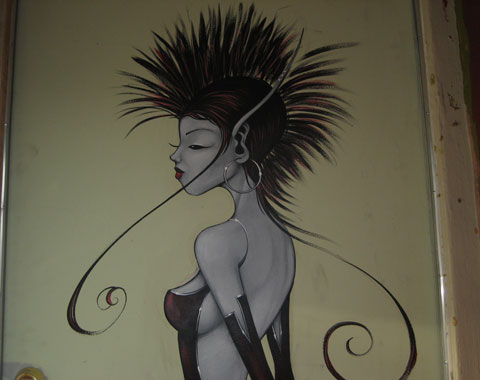 Close up look at the newest Oakland lady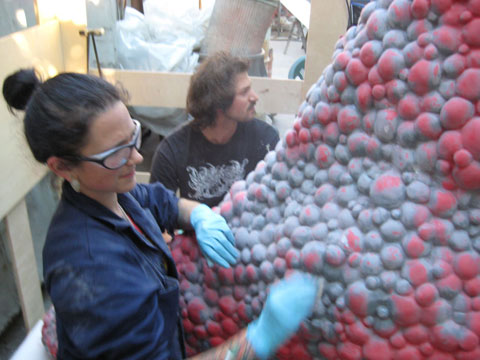 Amanda was asked by the SF MoMA to restore a massive multi-million dollar red dinosaur sculpture titled Made In China.
Refurbishing this type of sculpture required Amanda to work every day for four weeks. She first puddied all the raised bumps on the dinosaur's body and then sanded them all down to a smooth finish.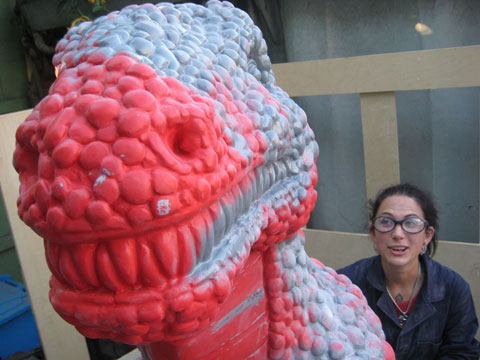 Looking fly with the Dino before it's totally refurbished. Even the coolest of girls know you need to protect those eyes when working around heavy machinery!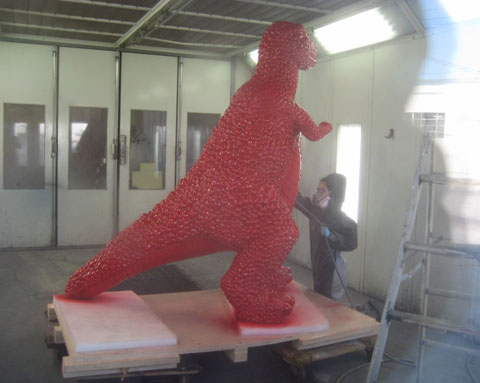 Amanda used a spray gun to coat the entire dinosaur bright red. This kind of painting requires a space suit...sort of.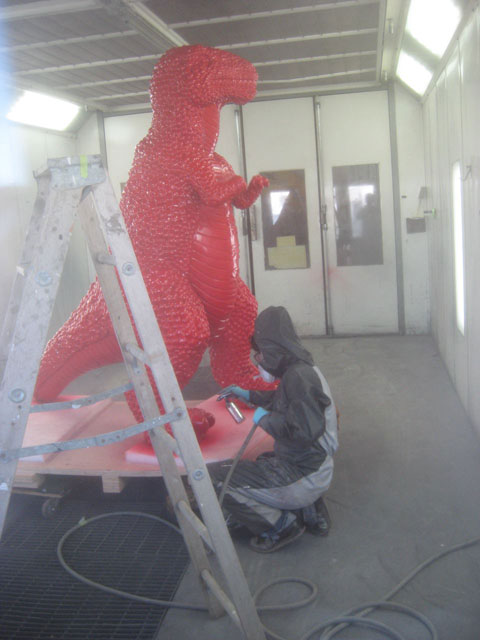 Amanda continues to paint away after all the work to the structure is completed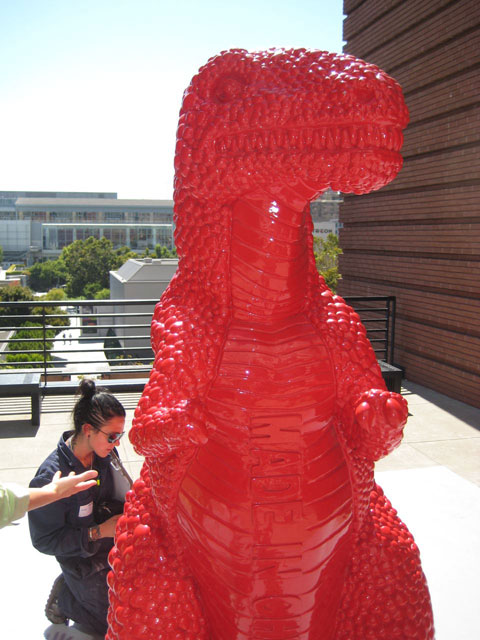 The near-completed and oh-so shiny Made in China Dino at the SF MoMA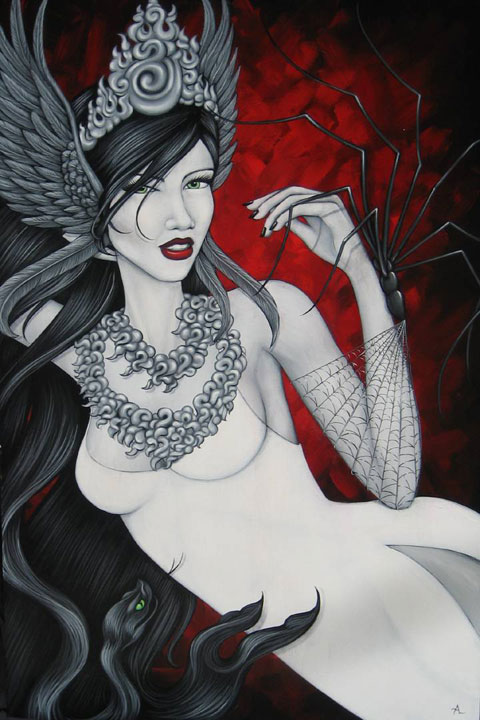 Ereshkigal from the recent move A head exhibit at Carmichael Gallery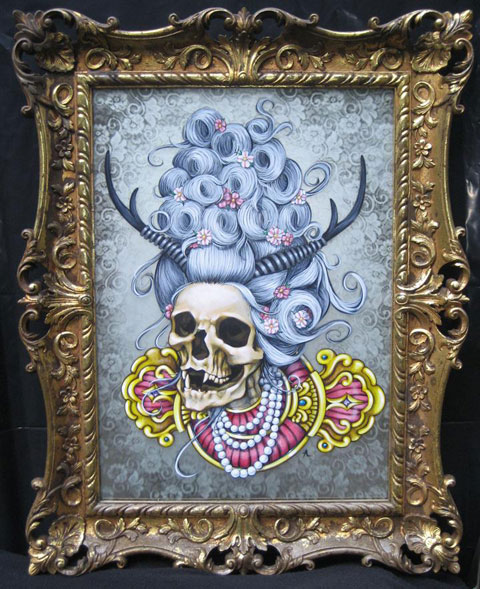 move A head painting from move A Head show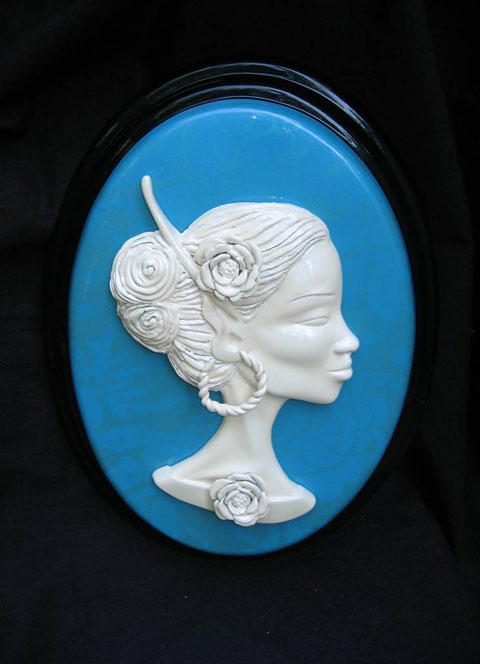 Blue Cameo from move A Head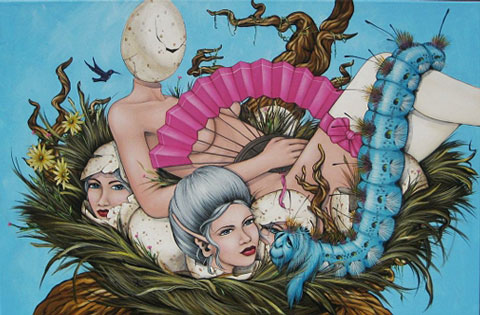 Treenuppers painting from move A Head show
More on Amandalynn at www.amandalynn.biz