Strange Fruit: New Works by The Date Farmers
Juxtapoz // Wednesday, 26 Aug 2009
1
Originally from Indios, California, the two attribute their paintings, collages, and three-dimensional pieces to inspiration from Mexican-American traditional values and contemporary west coast culture. The artists look to graffiti, Mexican street murals, traditional revolutionary posters, sign painting, prison art and tattoos for their influence.

The Date Farmers prefer to use scavenged materials, often found near their desert homes in southern California and nearby Mexico. "Using stuff that was thrown away is Mexican ingenuity. People's idea of art is that it's really expensive and [made of] nice materials, but found objects are so abundant, they're much easier and freeing for us."

Exploring a range of emotions, from humorous to disturbing, "Strange Fruit" is influenced by "the everyday stories, social politics and myths that take place and unfold around us on a daily." The show represents the wide spectrum from which they draw inspiration, and the duo uses materials that allow them to be resourceful, yet abundant with character.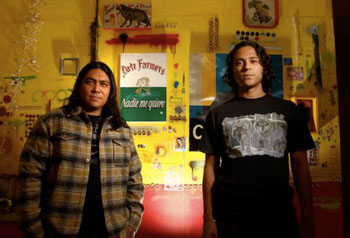 The Date Farmers have had International gallery exhibitions in Tokyo, London and Stockholm. They appeared at the 2008 Democratic National Convention in Denver, Colorado for the Manifest Hope Gallery. ??

Strange Fruit features new works on display at FIFTY24SF Gallery from September 3 – September 24, 2009.??

More on The Date Farmers at thedatefarmers.com