Steve "ESPO" Powers in Copenhagen: Mural at US Embassy + "A Love Letter For You" Screening
Juxtapoz // Tuesday, 29 Oct 2013
1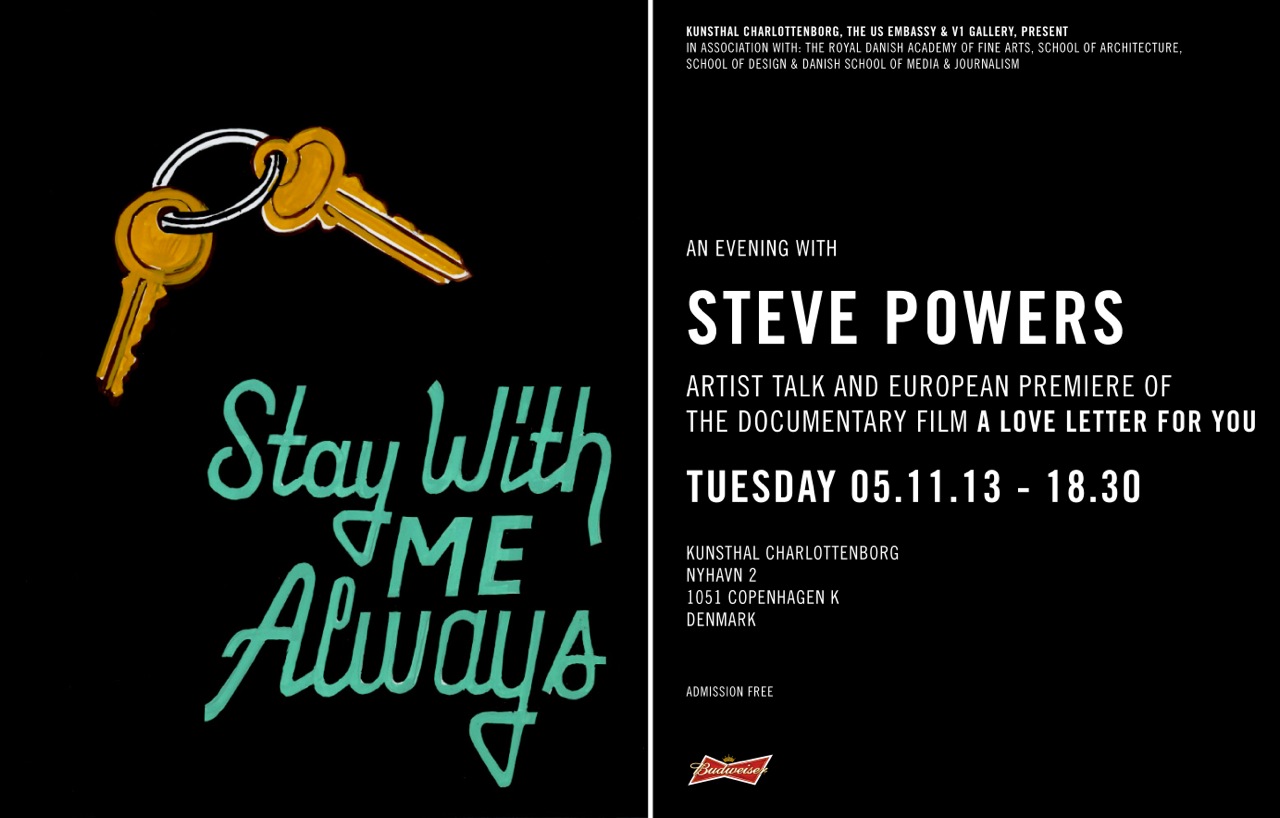 The Copenhagen scene continues to be an epicenter in Europe, and our friends at V1 Gallery have been doing their part with great curation and projects. The V1 team has worked with the US Embassy in Copenhagen to have former Juxtapoz cover artist, Steve "ESPO" Powers, create a large-scale, 55-meter long public mural in front of the embassy to be completed on November 6, 2013. While Powers is in Denmark, he will be part of a talk and screening of his film, A Love Letter For You.
"We wanted to do something different. The long, grey temporary construction wall in front of the Embassy building site provided us with a perfect opportunity, and V1 Gallery helped us identify just the right artist. With his mural, Steve pays tribute to a Danish icon, Hans Christian Andersen, whose stories many Americans grew up with, myself included" says Emily Ronek, Cultural Attaché, at the U.S. Embassy. "I am really excited about this, and I hope the thousands of Copenhageners who pass by the Embassy every day will enjoy this as a token of the great friendship between Denmark and the U.S."
Steve Powers found inspiration for the new work in Hans Christian Andersen's fairy tale The Red Shoes, a story about vanity and redemption, themes that easily connect the 19th century with the 21st century. Steve Powers engages the complexity of The Red Shoes in a contemporary context, in a poetic, reflective, and humorous manner.
Also, the information for the screening...
AN EVENING WITH STEVE POWERS AT CHARLOTTENBORG, NYHAVN 2. COPENHAGEN. NOVEMBER 05. 06.30pm – 08.30pm. Presented by Kunsthal Charlottenborg in association with The Royal Danish Academy Of Fine Arts, School of Architecture, School of Design and The Danish School of Media & Journalism. The European premiere of the documentary "A LOVE LETTER FOR YOU" followed by an artist talk with Steve Powers.