Spike Jonze short film for Arcade Fire's "The Suburbs" details announced
Juxtapoz // Monday, 07 Feb 2011
1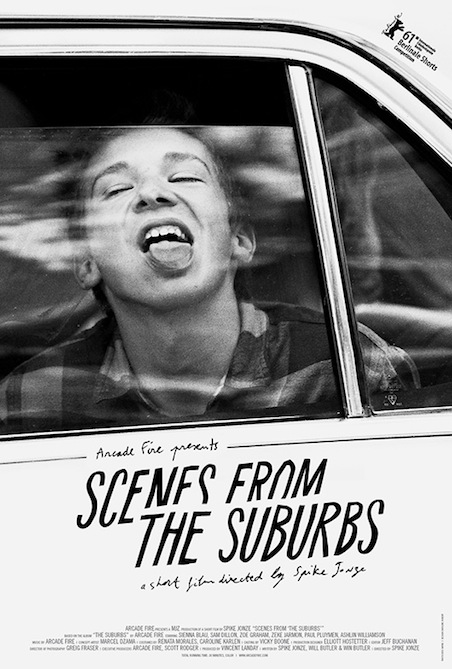 A bit of music in the arts news. Spike Jonze (
featured in Jux n100, May 2009)
, worked with Grammy-nominated Arcade Fire (yes, Grammy-nominated) on a short film for the Montreal band's 2010 release,
The Suburbs
. If you grew up in the suburbs, this album may have resonated with you. It resonated with Spike, and he made a short film about that resonation.
Scenes From the Suburbs
is the name of the film, a 
30 minute short co-written by Jonze and Win and Will Butler of Arcade Fire. The film's poster is above.
According to the
Berlin Film International Festival,
where
Scenes
will premiere this week, t
he film
"expands the music video into a film without abandoning the structure of a clip. The future has become reality. And the threat lies in the proximity of the military. Memories of a past summer."
And, "A group of suburban youths. Back then, in the summer, so long ago. They couldn't leave town because outside the country was at war and the military controlled life and all gateways. The teenagers wander aimlessly about town. Winter is a long way off. And love and longing and friendship still mean-- everything."
A few months ago, Spike Jonze released this music video/trailer for the track "The Suburbs." It was good. And now that we know it was a trailer, we are more excited to the extended
Scenes From the Suburbs.
Thank you to
Pitchfork
for the head's up.