Southern Exposure's 11th Annual Monster Drawing Rally this Friday
Juxtapoz // Wednesday, 23 Feb 2011
1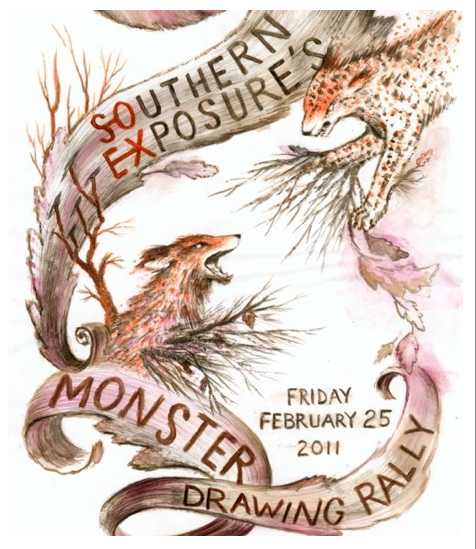 San Francisco's
Southern Exposure
will be hosting their
11th Annual Monster Drawing Rally
this Friday night (Feb 25th), with 130+ artists set to participate. As Southern Exposure explains it, "The evening will consist of four one-hour shifts that each feature approximately 30 artists drawing simultaneously."
Here is the full rundown about what the Monster Drawing Rally is all about:
Demystifying a process that usually takes place in the privacy of the studio, the Monster Drawing Rally allows spectators to observe artists in the act of creation in the public domain. In keeping with Southern Exposure's mission to provide an environment accessible to art and artists, the Monster Drawing Rally sets the stage for extraordinary interaction.

Providing the basic necessities of the drawing practice--pencils, charcoal, pens, markers, ink, and paper--Southern Exposure creates the context while the artists create the content of the drawings. The evening will consist of four one-hour shifts that each feature approximately 30 artists drawing simultaneously. As the drawings are completed, they will be hung on the walls and made available for purchase for $60 each. The Monster Drawing Rally provides a unique opportunity to watch a drawing come to life, and to purchase a work of art minutes after its completion. Proceeds from the event provide direct support for Southern Exposure's Exhibitions and Artists in Education Programs.
One thing we know should be a reason to go out,
Jason Jagel
will be in charge of all DJ duties, and he has a very good taste in music. And here is the big list of artists, including
Sarah Smith
, who did this year's flyer:
Zina Al-Shukri, Teppei Ando, Sarah Applebaum, Mara Baldwin, Steven Barich, Mark Benson, Bert Bergen, Michelle Blade, Brad Borevitz, Val Britton, Luke Butler, Eric Cabunoc, Jon Carling, Iris Charabi-Berggren, Beatriz  Chavez, Mia Christopher, Claire Colette, Lisa Congdon, Gina Contreras, Jaime Cortez, Taylor Crawley, Mia Cristopher, Alberto Cuadros, Hugh D'Andrade, Ryan de la Hoz, Robin Denevan, Tina Dillman, Katie Dorame, Jessica Eastburn, Lafe Eaves, Jeff Eisenberg, Alicia  Escott, Yukako Ezoe Onodera, Kristin Fialko, Rachel Foster, Angela Fox, Madeline Fried, Alison Frost, Matt Gordon, Veronica Graham, David  Grant, Scott Greenwalt, Larissa Greer, Gilbert Guerrero, Maggie Haas, Michael Hall, Julie Henson, Queena Hernandez, Terry Hoff, Alexander Jackson, Lance Jackson, Ian Johnson, Judy Johnson Williams, Kara Joslyn, Jennifer Kaufman, Alison Kendall, Mike Kimball, Amelia Layton, Sean Leake, Carey Lin, Sam Lopes, Michael Louis Young, Juan Luna-Avin, Marina Luz, Kelly Lynn Jones, Martin Machado, Alexis Mackenzie, Monica Martinez, Yuki Maruyama, Mike McConnell, Gaelan McKeown Hickel, Honey Mcmoney, Masako Miki, Serena Mitnik-Miller, David Molesky, Paul Mullins, Carson Murdach, Fred  Nocella, Erik Parra, Nathaniel Parsons, Marina Perez-Wong, George Pfau, Steuart Pittman, Ferris Plock, Jennifer Poon, Basil Racuk, Jasmine Rae, Michelle Ramin, Phil Ross, Zachary Rossman, Zachary Royer Scholz, Alena Rudolph, Chris Russell, Alice Rutherford, James Sansing, Jovi Schnell, Brian Singer, Allison Smith, Gareth Spor, James  Strickland, Amber  Stucke, James Tantum, Kevin Taylor, Sarah Thibault, Linda Trunzo, Trevor Tubelle, Kelly Tunstall, Gina Tuzzi, Jamie Venci, Ben Venom, Annie Vought, Josh Warren, Virginia White, David Wilson, Andrew  Witrak, Jenifer Wofford, Lena Wolff, and Nichole Wong.
February 25, 2011 6:00 PM - 11:00 PM
Donation: $10 & up
Location: Verdi Club
2424 Mariposa
(between Potrero & Hampshire; 17th & 18th)