South Park Celebrates 14 Years Of Smart Humor x Animation
Juxtapoz // Thursday, 25 Mar 2010
1
The simplistic characters we've grown to love on South Park are reminiscent of paper cutout animation. However, except for the pilot episode, which was produced using cutout animation, all episodes of South Park are created with the use of computer software.
The South Park team is notorious for their fast turn-around, which allows them to satirize very current topics and events in politics, pop culture, etc. In yesterday's interview with Terry Gross on Fresh Air, the creators admit that they routinely stay up all night before a new episode airs to complete all animation and writing.
As opposed to the pilot, which took three months to complete, and other animated sitcoms, episodes of South Park take significantly less time to produce. Using computers as an animation method, the show's production staff were able to generate an episode in about three weeks during the first seasons. Now, with a staff of about 70 people, episodes are typically completed in one week, with some in as little as three to four days. Nearly the entire production of an episode is accomplished within one set of offices. No wonder it's so good.
Hear the full interview with South Park Matt Stone and Trey Parker on Fresh Air here.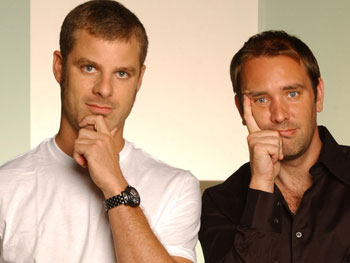 South Park creators Matt Stone (left) and Trey Parker