Sonny Gerasimowicz brings Empty Promises to Known Gallery
Juxtapoz // Wednesday, 17 Nov 2010
1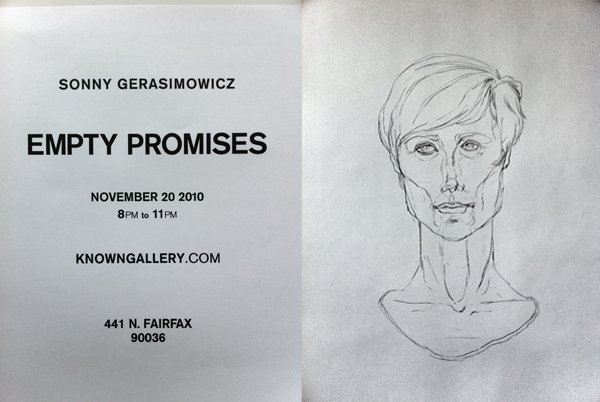 All you need to know right off the bat about Sonny Gerasimowicz was that he was the
Art Director of "Where the Wild Things Are."
That film was 99.9% awesome art direction (well, it was also a beautiful film with great overall direction from Spike Jonze), therefore there happens to be a lot of buzz and interest in Sonny's solo show at
Known Gallery
in Los Angeles.
It may also help to understand that Sonny happens to have a famed moniker, COAX, from AWR
.
Again, helps get the buzz going.
And Spike Jonze had this to say about Sonny:
Sonny geris is an orphan. Born of unknown desent in the high desserts of barstow, he has roamed the world in search of his true identity and purpose. A man always in flux, the only time his mind felt at peace was the one time he did heroin. It made him very angry that heroin was so good. Oh I guess he also finds momentary peace right after sex. His mind is quiet for about 30 seconds before it starts back up into the hum of self doubt and self flagilation. Ummmm... and he's a artist I suppose. Sonny geris loves drawing women's asses and sad bears.
That should be enough for now. Pictures to come. "Empty Promises" opens Saturday, November 20. 
SONNY GERASIMOWICZ
EMPTY PROMISES
NOVEMBER 20 - DECEMBER 11


Show opens November 20th, 2010 8-11pm

KNOWN GALLERY
Los Angeles, California