Sneak Peek at Juxtapoz August Issue: Dr Lakra
Juxtapoz // Thursday, 22 Jul 2010
1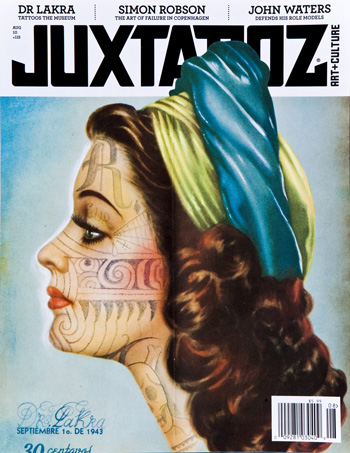 We are very excited to present an early look at our forthcoming August issue, whose cover features Mexican illustrator and tattoo artist Dr Lakra. Dr Lakra melds the past with the present to expand boundaries of fine art into new and exciting directions.
Trough tattoo art and museum shows, Dr Lakra defines the multi-platformed and unpredictable evolution of what outsiders have branded the "Juxtapoz" school of art. Other featured artists include John Waters, Dennis McNett, Basko Vasco, Beau Roulette, Simon Robinson, and Ariel Schrag.
This issue is about breaking out of the mold and exploring the many destinations guided by artistic talent and curiosity.