Smother Your Mother with The Date Farmers
Juxtapoz // Friday, 02 Apr 2010
1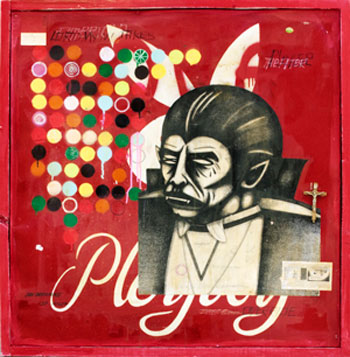 Smother Your Mother, an exhibition of new collaborative works by Armando Lerma and Carlos Ramirez, known collaboratively as the Date Farmers will take over NYC's Jonathan LeVine Gallery next Saturday. This will be the second show at the gallery for the Coachella Valley based artists, and will feature a site-specific installation.
In Smother Your Mother, the tone of the work shifts focus toward themes of mental neurosis, confronting dark fears and the compelling quality of the visually or conceptually grotesque—like the irresistible need to look at a car wreck or pick at a scab.
The artists say that some of the ideas conveyed are spiritual, while others are just stories, "…Christ, the devil, nightmares, candles, saying I love you, shape shifting into animals, running back home, smoking a cigarette that you found, the fear of getting your ass kicked, being mad about nothing, telling the truth in disguise." Of the found materials used in their work, the unwanted and discarded, they say "we just make it wanted again. Ugly is beautiful."
The Date Farmers continue to develop what has become their signature aesthetic, incorporating found objects into their assemblage works which include aspects of collage, hand-painted typography, and cross-hatch drawing techniques.
The work contains elements influenced by graffiti, Mexican street murals, traditional revolutionary posters, prison art, tattoos, and sign painting, while often combining familiar pop iconography and corporate logos with figures from comics, folklore and Catholicism. The artists use this language to create shadow-box dioramas and three-dimensional sculptures as well as two-dimensional pieces. Working on recycled metal signage and other alternative canvases, the pair create a dynamic dialogue between the subject matter and the materials themselves, resulting in vividly colorful imagery layered in rich texture and symbolism.
ABOUT THE ARTISTS
Armando Lerma and Carlos Ramirez joined artistic forces after meeting at a Coachella Valley art gallery in 1998. In 2001 they entered the Los Angeles gallery scene as the Date Farmers with a show at New Image Art.
Using found materials such as discarded signs, wood and corrugated metal, their work echoes Mexican-American heritage rooted in California pop culture. Through their unique cultural perspective as American-born Chicanos, the artists explore topical subjects with profound simplicity.
Their work has been exhibited in museums such as Oakland Museum of California, Laguna Art Museum and Palm Springs Art Museum. In 2008, the artists' Crying Playboy exhibition at Jonathan LeVine Gallery was the subject of a short documentary program, which aired on the Current TV cable network.
Date Farmers
Smother Your Mother
Solo Exhibition
April 10—May 8, 2010
Opening Reception:
Saturday, April 10, 7—9pm
www.JonathanLeVineGallery.com