Sixeart to Exhibit in Sao Paulo
Juxtapoz // Tuesday, 11 Aug 2009
1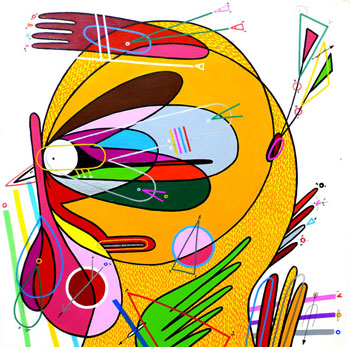 In 2008 the Spanish artist Sixeart achieved international fame by participating in Street Art at the Tate Modern in London, along with Brazilian artists Os Gemeos and Nunca, French photographer JR, United States collective Faile and Italian creator Blu. Today, his works are shown in Spain alongside those of Miró, Chillida and Tapies.

"Sueñan las Gallinas con ser Humanas" is series of 13 new pieces on paper made exclusively to be exhibited in POP/ROJO®artspace Sao Paulo from August 11th – September 5th, 2009.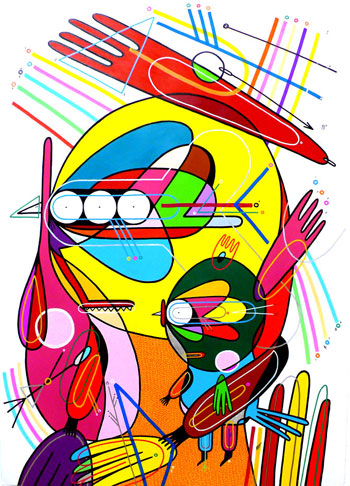 About Sixeart
www.sixeart.net

Sixeart is a multidimensional artist who expresses by his colourful works a unique universe through different artforms.
Sixeart started his artistic trajectory in the world of graffiti in the late 80s.

In the beginning he was simply tagging the streets of Barcelona, which led him to develop his own personal graffiti style.
In the mid 90s he started experimenting with sculpture and painting until in the year 98 he felt the need to have his own Studio.
Having his Studio he has been able to establish himself as a plastic artist.

Sixeart expresses through his childlike style, his experiences of the urban landscape, the city's melancholy, his preoccupations regarding the evolution and its consequences, the genetic manipulation- the romanticism for the world that's left behind, the images lost in the passage of the time…

He is influenced by the urban landscape, his city Barcelona and its social popular culture, the first Spanish painters that he has been admiring since he was a little boy and the mother nature.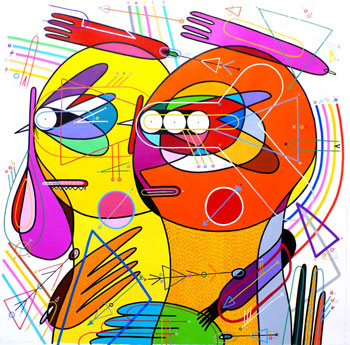 Sixeart is a Barcelonian artist who began his days with the graffitti, being able to consider it him like a veteran in our country, and that without never leaving it, has been evolving towards new techniques with which to express its world and its art. Children and animals are recurrent in their work. Its style is either reconocible by all those that we followed to him, without or sometimes surprises to us with different works or between if.

Sixeart is, without a doubt, plastic original, fact and right thanks to he himself: "I am self-taught, never I have made a course of anything, I began painting graffitti and soon it came all the others". It did not have it difficult, it has the sufficient imagination and inspiration either: "Sometimes you see something that inspires to you and you work to shape it in a paper, other times you limit yourself to work and is there where they leave the ideas to you. It depends on the moment, the situation, the series and your mood ". Many factors that they give as result evil a colorista work of ñoñería: "My drawings are a little acid and much people see things that I do not see in them; I believe that they are easy to include/understand for many people and who those that either has once seen them second or know that they are mine. Most important he is indeed that, if you do not have an own style or a line that you define it as yours you are empty ".

Its work intimately is bound to its Barcelonian nights and the street, in which never it has let work. Every time greater has known to unite that street baggage with a profesionalización than it has taken to him to collaborate in the world of the fashion and the design of interiors and in stores, advertising agencies and marks of all type: "I would like to continue doing what I do; to continue painting pictures, going to exhibitions, doing exhibitions, selling designs... I want to follow ahead with which now work, that comprises of me. Hobby is not none nor is only tried to gain the life to me, is something that forms economically, sentimentally and emotionally part of my life ".

Faithful to himself, never has separated from his origins and their own selection of letters and personages. If you are of Barcelona you will have run into with something of his in more than an occasion. That you have liked or do not depend on you: "I imagine to all type of people to whom it likes my work although there is no an average term: you like or you do not like. If you like you think that he is very colorista and figurative and if you do not like surely seems to you too infantile. There is no an average term in my work ".