Signing Prints with David Choe in SF
Juxtapoz // Friday, 19 Sep 2008
1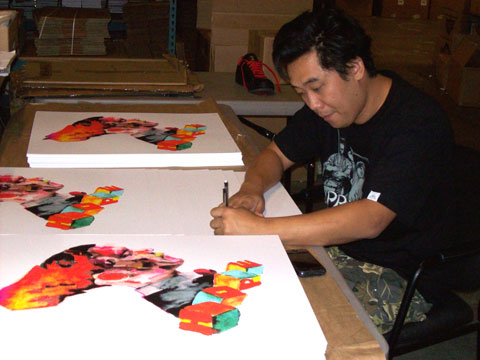 David Choe (Juxtapoz cover #72) just stopped by the Upper Playground headquarters in San Francisco to sign and number two of his brand new prints, so we decided to stop by and kick it with this legendary street and fine artist for a minute. Hey, we figured he may want some company; signing and numbering a total of 400 prints isn't exactly the highlight of an artist's career (the numbering part was more of a challenge- wouldn't you lose count after print number 176?)

Literally in SF for 10 hours before jetting back to NYC to prepare for yet another exhibit, Choe laughs as we ask him how all the traveling has been treating him. "Shitty," he said. "I threw up on the plane over here and I have to get back on another flight in a couple hours."

Hell, for a guy that's been jailed for months in Japan, shot steroids in their arm to run across the border, hitch hike to Alaska, swim in a river in Africa, and paint with their own blood, what's another cross-country flight? Nuthin' that's what- especially when you're a badass like Choe.

Carrying on our conversation, Choe suddenly asks, "Hey, how do I get a subscription to Jux? I don't have one." Considering this prolific artist has been on the cover of Juxtapoz (January 2007) we figured we could help him out, just this once.

"I never get anything for free from companies I work for unless I ask," he continues. "So I ask." Needless to say, we hooked him up.

Idea: If you want to try and grab some much-sought after David Choe attention, try sending him some cool stuff so he doesn't have to ask anymore. Well, that is if you can catch this globe-trotting artist before he takes off to kill yet another gallery opening, art installation, or interview.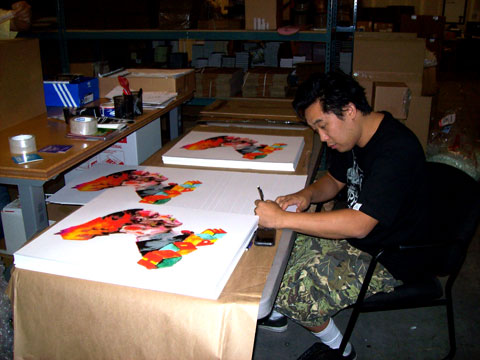 "Shit, I think I messed up on that one!"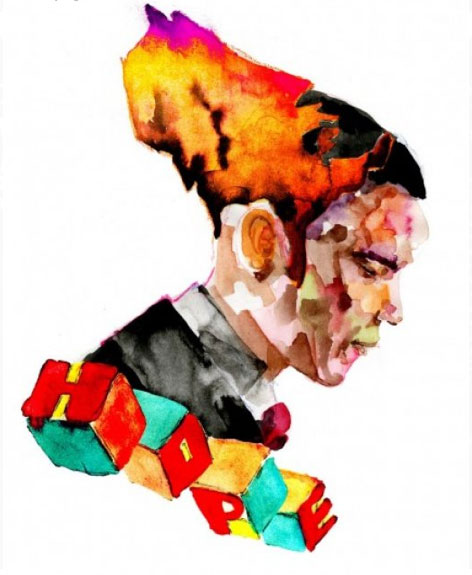 This is the special Obama print David Choe designed and was signing. Grab your copy online here.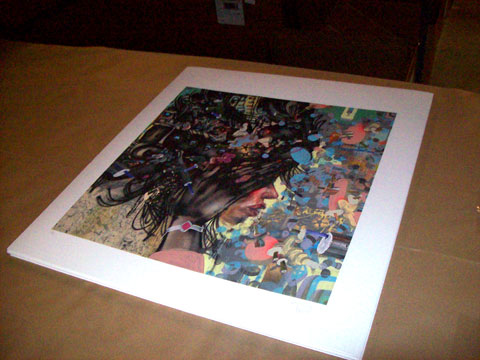 The other stack stunning of prints waiting for Choe to autograph. "I have a guy that takes awesome photos of my work with this crazy hi-tech camera that doesn't even exist yet. It's got like, 6,000 mega-pixels. The print looks even better than my painting!" Choe jokes.

Some how we doubt that, but they did look pretty dope.
More on Mr David Choe at www.davidchoe.com