Show Review: John Van Hamersveld's Career Retrospective, Post-Future
Juxtapoz // Wednesday, 11 Mar 2009
1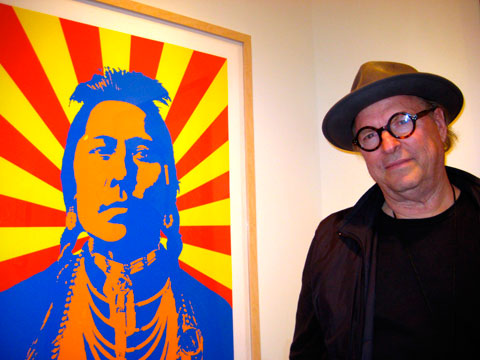 John Van Hamersveld is a purveyor of culture. That's why he is the current subject of the latest career retrospective, Post-Future, now on display through April 4th, 2009 at Los Angeles' Subliminal Projects.
The artist is known for his simultaneously futuristic and vintage looking graphics, which provided the impetus for the show's title, Post-Future. If you know anything about the '60s and the influence of such luminaries like Jimi Hendrix, you can thank (in part) Mr Hamersveld for popularizing those icons with his eye-cathing poster images.
"A great artist like John is rare, simply because he has lived through a period of time that many artists don't make it out of alive," writes Juxtapoz contributing writer, Trina Calderon. Read the entire show review below...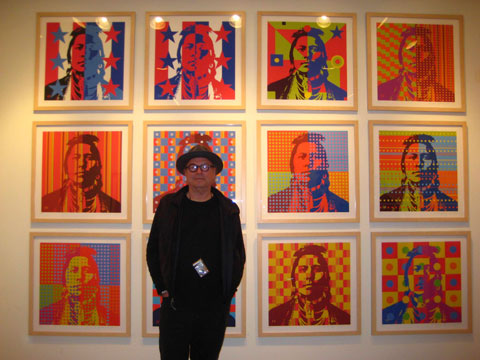 POST – FUTURE
MAJOR RETROSPECTIVE
BY JOHN VAN HAMERSVELD
EXHIBITION DATES:
MARCH 6TH - APRIL 4TH, 2009
SUBLIMINAL PROJECTS GALLERY
1331 W Sunset Blvd
Los Angeles, CA 90026
E: info@subliminalprojects.com
P. 213.213.0078
Backstage with John Van Hamersveld
Words and photos by Trina Calderon
A great artist like John is rare, simply because he has lived through a period of time that many artists don't make it out of alive. A Retrospective at this point is to be expected and because his work is so cool, it is also to be appreciated.
This is one of those art culture lessons that you read about in books and may not feel connected to because not only are you much younger but you may have never taken this many drugs. Well, go on with your straight edge or sober self, but know that there is an entire school of imagination that came from a very different time than 2009.
The artists who used drugs as a creative tool are a class who gave us some of the most unique and imaginative imagery. Color and pattern were never more respected and the 1960's vibe is still being recycled in fashion, photography, and even the most current graphic design.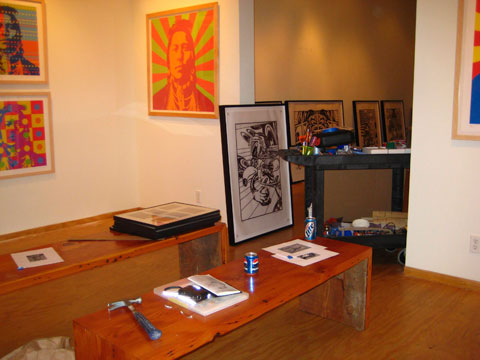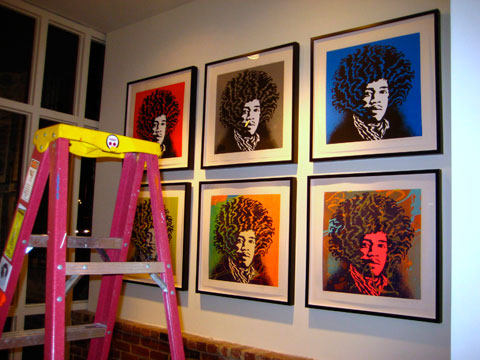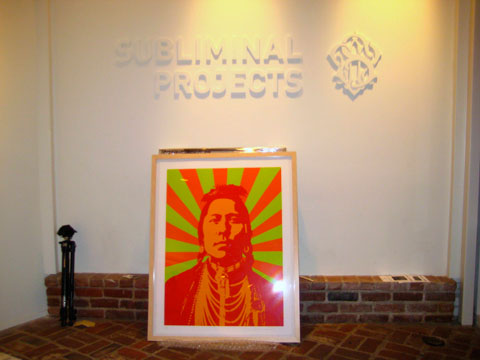 John has a personal process he puts into his work. Album cover art like Exile on Main Street was a result of collaboration with Mick Jagger. The singer was so involved that it is his actual handwriting on the cover. John played a word-image metaphor game with Grace Slick to come up with the bomb image used on the cover of Crown of Creation.
There was also a lot of hash, LSD, and mescaline involved in his process. He shared with me, "Eric Clapton puts it this way, 'drugs basically opened you up and things went a lot faster than they normally do.' Therefore, what you learned in that was probably something you never learn in any other way."
In the 1950s John moved to Dana Point and hung out at Torrance Beach with all the other local surfers. He befriended fellow surfers Rick Griffin, Hobie Alter, and Bruce Brown, and it was those relationships that helped him build a career in drawing and graphic design.
The poster he created in 1964 for Bruce Brown's movie, The Endless Summer is undeniably his most iconic image. His colorful, psychedelic style grew when he moved to the eastside of Los Angeles and founded Pinnacle, a concert promotion and production company he started on a grant from Chouinard Art School. He designed the advertising posters for the music concerts, aka Happenings, that Pinnacle put on from 1965 -1969 at the Shrine Auditorium in Los Angeles.
This scene is where musicians like The Grateful Dead, Jefferson Airplane, Jimi Hendrix, Buffalo Springfield, Velvet Underground, and so many others played some of their very early legendary shows. Five years later, in 1970, that scene died. The amazing culture of experimental art, music, and love took a fatal nosedive (harder drugs, violence, and the law). It was resurrected in the nastiest of ways - big business swooped in and purchased it for resale.
John has seen it all happen in the music business. He was hired by Brown Meggs, the VP of sales at Capitol Records (who signed The Beatles to Capitol) to be an art director and created some of the most well-known and creative album cover art of our time – Magical Mystery Tour (The Beatles), Skeletons From the Closet (The Grateful Dead), and Hotter than Hell (Kiss).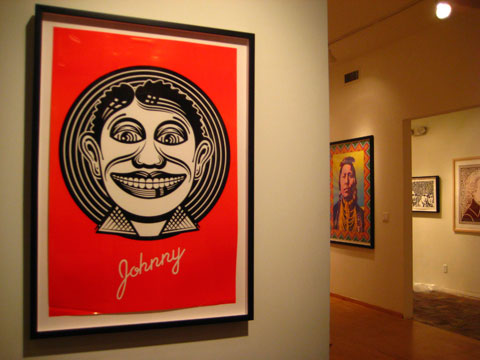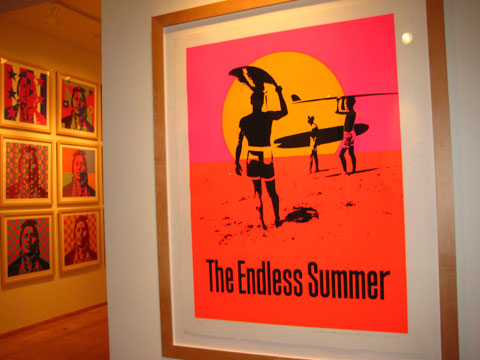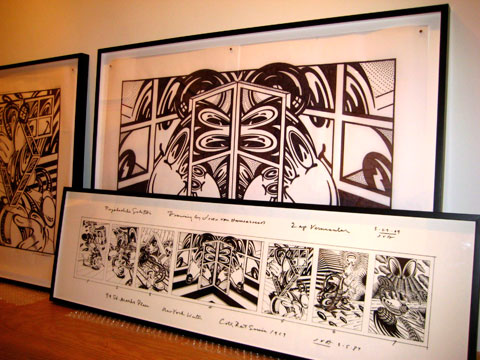 "That period for the 12 x 12 square was just a frenzy of all these graphic designers crashing through to design one thing after another to get attention…the record cover became a cultural symbol. People would have all these elaborate album covers, zippers and two-fold, cut, and die-cut. The price of the album cover was the whole packaging that sold for something like 3 to 5 dollars, and that goes all the way up to 1975. Then they start talking about tapes and then they start talking about CD's.
"By 1978, '79, '80, that completely eliminates the cultural symbol that we once knew - it is reduced down to a little piece of paper and a jewel case. So, then from there it becomes more important to people to watch TV and see bands, and to then go buy whatever product. Again, it's a machine culture just dragging the culture along, and as the machine culture gets deeper and deeper invested in it, it just pushes out the culture that was once there and designs its own culture, and that's what we are suffering today. It's a vapor culture. You just download it onto your iPod. One single, and there's nothing there."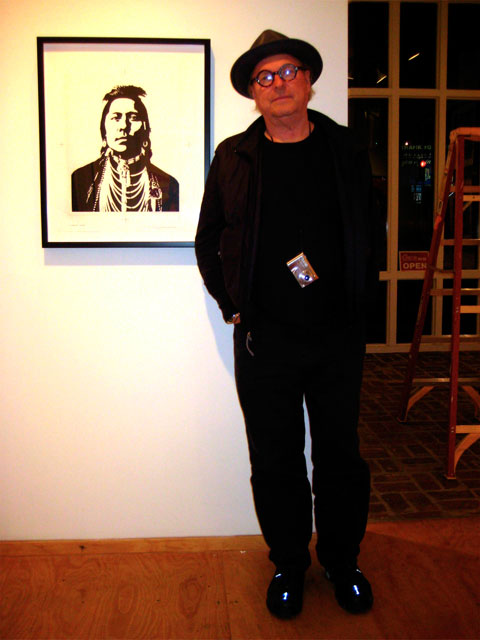 This show is a collection of moments in John's 40-year career. He showed me a master plan of thumbprints for what he hopes to someday show - a more complete retrospective with 16 rooms! He did work this idea into the space at Subliminal.
There is a room of his mouse drawings, a Pinnacle Indian room, and in the entrance there is wall of Jimi. In that first salon, an Endless Summer print also hangs and an original Johnny Face poster – the famous image he created after a mescaline trip that prompted a big life cleanse for John. "This character arose out of my unconsciousness. I made this spiral, and I set this drawing on it, and said 'oh god, look at this vibe.'" Johnny Face is actually the inspiration for The Rolling Stones tongue logo too. Pretty dope.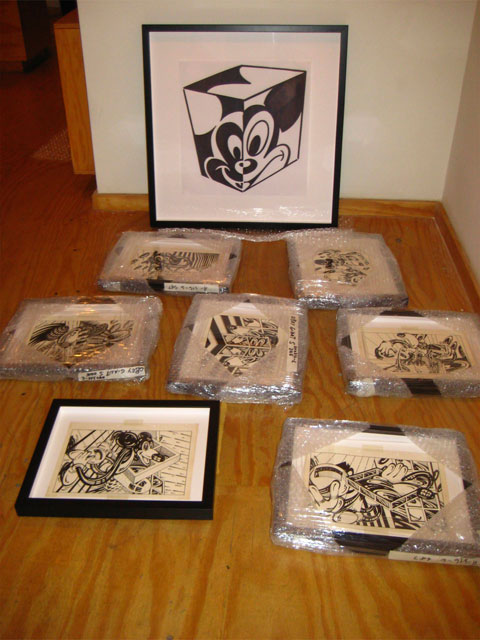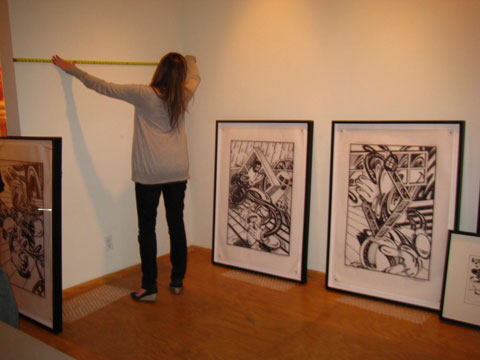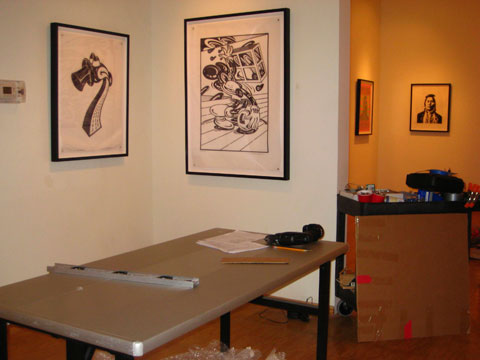 The mouse drawings are a special treat to see. Some are original drawings from the infamous hash party nights John spent at 99 St Mark's in NYC. Others are larger re-hand drawn images of the famous illustrations on vellum. John remembers doing the original drawings well. "I very carefully had these sheets of paper that I had bought in London and these new pens that were sketch pens. I had never really used a sketch pen, normally I was always drawing with Rick Griffin and we always used these Rapidographs. With this new pen I was able to have a different kind of control in those kind of drawings. I would do a little bit at a time, so each drawing was not done in 5 minutes and it's not done in 2 hours. They are days that it takes to just getting a piece of it done. It's been amazing actually going back and redrawing it."
The title of the show was taken from his company name. "It's the principle of it. The past is future as future is past. We have no future, we have the present - so this is post-future. True? There was post-modern, and modernism. I just feel that post-future is really what it's all about." Meaning, he is a man of the moment.
The opening was packed and there was a line outside. The hipster kid scene was on hand getting a lesson while there were definitely some veteran artists and enthusiasts in the house. Of special note, the bar served Pabst Blue Ribbon, and I think that is just an old school way of staying humble, another characteristic of the '60s.
"I was very lucky to come from a culture and be in the arts and entertainment culture - somewhat authentic, not that everyone around it was, and to make some images that had big thoughts in them. I just look at that as really a great experience that I once had."
For more information on Post-future, please visit www.subliminalprojects.com