Show Review: Fairytale of Berlin at Scion Installation L.A.
Juxtapoz // Wednesday, 04 Feb 2009
1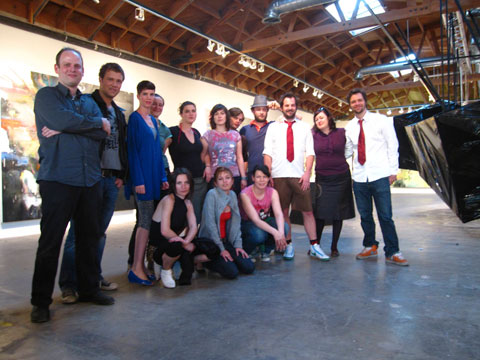 Fairytale of Berlin
By Trina Calderon

January 17 - February 14, 2009 (just extended an extra week!)

Curated by: Janine Bean and Matthias Bergemann

Scion Installation L.A.
3521 Helms Avenue (at National)
Culver City, CA. 90232
310.815.8840


In Germany, things are a little different. It's fair to say they like it a little darker than most, and by that I do not mean their chocolate. Janine Bean and Matthias Bergemann came out to Los Angeles to curate Fairytale of Berlin and they brought some of that German darkness to the white walls of Scion:Space. Specifically, they enlisted several different artists that are from Germany and some who work in Germany today – Erik Andersen, Paula Bogati, Vanessa von Heydebreck, Franziska Klotz, Mari Lou, Iva Vacheva, Ingo Mittelstaedt, Christl Mudrak, Irene Pätzug, Thomas Stüssi and the duo of neulantvanexel, Marian Neulant and Axel van Exel.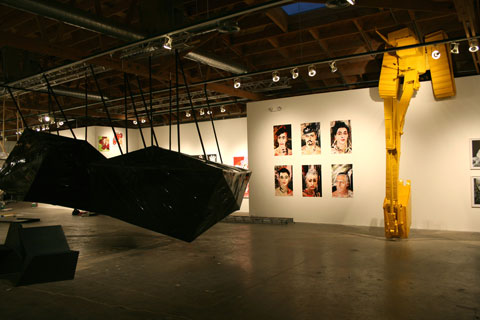 Janine and Matthias explained to me that Berlin has a attracted many artists and what they wanted to show us is how this has created a mix of both aspiration and reality. There are so many niches to the Berlin art scene and many of these artists would normally not have the opportunity to show together. Matthias said, "We were trying to get not really established or unknown artists, who came to Berlin with a lot of expectations. Mainly because they know Berlin is a town where a lot of artists are going and do good. They came, and a lot of them are developing a career, but it's hard to do, because there is an establishment that is hard to conquer and compete with and breakthrough somehow. You have galleries that are well known and not so known, and it's the same with artists - there are a few that are having good business and others that are left behind. The clients that come don't realize them often, so that's the sort of differences we wanted to give expression to."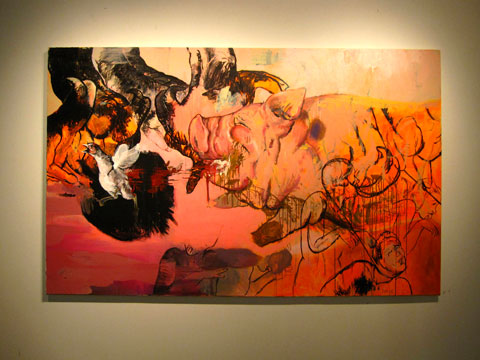 Janine added, "The second thing is, we have artists that studied in Berlin at big art schools there, and the interesting thing in Berlin is you have different attitudes. You have these artists that go to these art schools and they have these networks, and they do projects and it's a little academic sometimes.

"So, that's why I wanted to bring a little variety in here too. I think an artist who does really good work doesn't have to go to a big art school…because academic artists from art school are really good, but they are like a group. It's hard to get in there, it's like a click, so some artists, take Paula Bogati –she's very interesting, born in Romania with Hungarian descent, lived in Canada as a child, then moved to Berlin a few years ago – she's very cosmopolitan – a little bit the same with Mari Lou and Vanessa von Heydebreck – she's from Canada – and there is one guy from Switzerland. They would never meet in Berlin, but here it's a chance to bring them together. They would not really work together in Berlin and here they have to and I think it was really good.

"I think the foreign artist sometimes really has a problem, with how the artists work and finding them. Of course you can find cheap studios, but in the end to find a gallery, it's like everywhere. You need to know the artists in the gallery. We found these artists from other artists."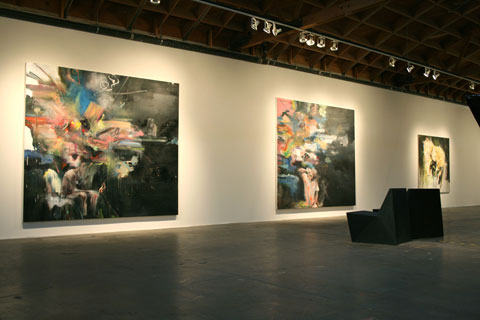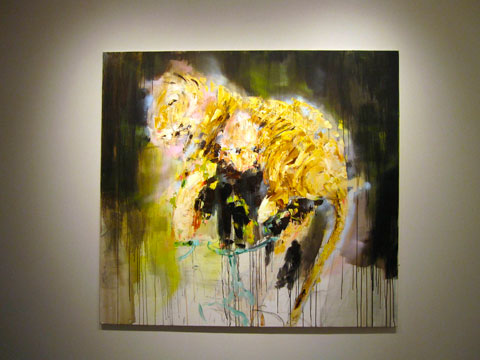 The curators are very passionate about the artists in the show and why they were chosen. They created a modern fairytale theme for them to be inspired by and it really came to life. Janine expressed her fondness of German musician/writer E.T.A. Hoffman and how he Erik Anderson's paintings. He has two enormous pieces in the entrance of the space that really speak of that German despair but because he uses bright colors – pinks, yellows, greens – he brings some fantasy to it. This is just the beginning of the fairytale created in the show.

Franziska Klotz features three paintings in her ethereal style with surreal subjects. A small man carrying a tiger on his shoulders, a French bulldog sitting upright and fully dressed, and another large 2 panel piece that has a mountainous backdrop with footballs players congregating and an old lady in a robe with big glasses in the foreground. You are like, 'what?' Exactly. And it's the way she mixes spray paint with pastels and uses soft colors that makes it so magical and unique.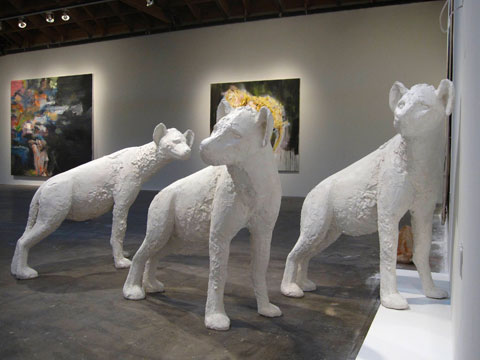 Another amazing piece is a small group of life-size hyenas sculpted by Irene Pätzug. Janine commented, "She (Irene) is really good. She is a sculptor, but in a very interesting way she is working with rooms too. She wanted to have the hyenas come together with the background. They are watching TV over there, even though there is nothing on the TV for them to see. You know, they are hyenas, and no one like hyenas. I never found anyone who likes hyenas – but they are here, and they are very photogenic, friendly and quiet." It's the variety of angles that you can get when you approach them that makes them so entertaining and inspiring.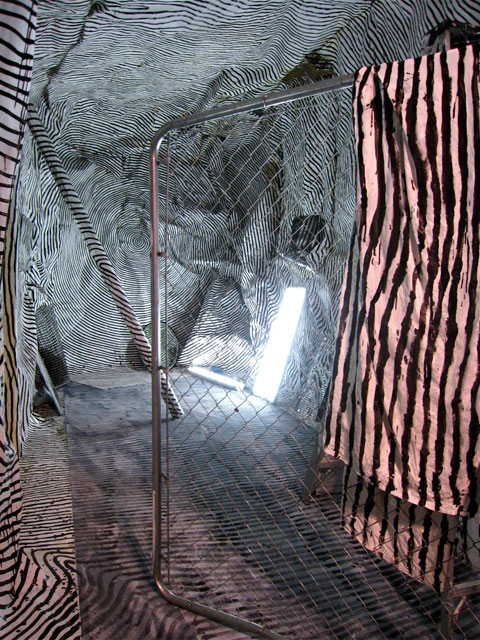 Installation is big part of the exhibition. Christl Mudraks made a large "Zona Los Angeles" room. She painted a black spiral onto some thick butcher painter she painted white and attached everywhere in the entire room. She placed mirrors and lights about it and really created this Twilight Zone effect that looks as though you are falling through some warp in space and time. It is inspired by Tarkovsky's "The Stalker" and is so amazing for many reasons, the simplest being that she hand painted the entire thing and her line work is awesome, and took her all week to prepare!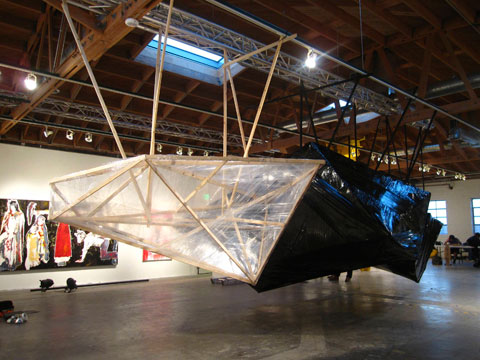 The duo of neulantvanexel, Marian Neulant and Axel van Exel, installed two large hanging pieces that dominate the gallery space. The guys, who apparently share the same brain, told me, "In the beginning it was one piece, and then we got the idea, hey, we cut here and here a little bit, and add something here, so it was growing. It was not the picture of what we had in mind. We bought some fabric and tried it and did not look like how we wanted it. It's a process. Now it's a bit nice, because they are completely the same, but this big black one has a little bit more pigment…The other one looks so light and friendly, and this looks so dark and strong, but made in the same way. Instead of a landscape, we thought about a flying landscape. It's really a lot of interesting moments."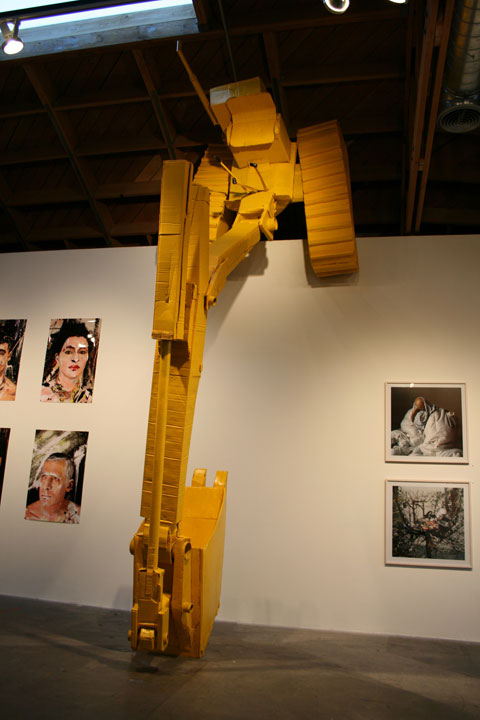 Thomas Stüssi, originally from Switzerland, created an enormous piece in cardboard and inverted it against a large wall. His fairytale is about having a larger than life tractor, something every boy wants. "I wanted to have a tractor like this. To position it upside down, the first idea came because I thought, would a real one be able to do it? I asked some guy and he said no, they can't. The machines are not able to carry their own weight. So I thought this would be a nice symbol."

Matthias added, "This is a questions of physics, space and time. We look very normal, but what if it wouldn't? A real tractor couldn't do that, so it actually defies physical laws." Stüssi was influenced by Los Angeles like the other artists, so he painted it a bright yellow. Just another bright color to add to fairytale.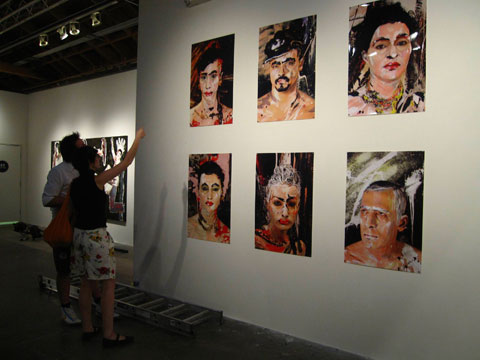 Fairytale of Berlin will run thru February 14, 2009 at Scion Installation L.A.
Details at fairytaleofberlin.com


Fairytale of Berlin opening evening