Show Recap: Vaigos y Reinas by Retna x Max
Juxtapoz // Tuesday, 29 Sep 2009
1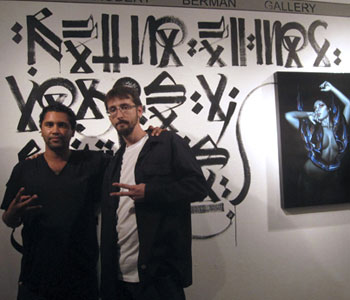 Vaigos y Reinas
Curated by Brett Aronson
Robert Berman Gallery
September 26 – October 17th, 2009
Words and photos by Trina Calderon


In their first collaborative exhibit, Latino painters Mac ("honorary Mexican") and Retna display several amazing pieces that clearly show how well their individual talents complement each other. The exhibition, Vaigos y Reinas, which translates to Vagrants and Queens, is a retrospective of these two young artists, offering a chance to see examples of artwork from their past, work they share, and solo work of the present.

Mac's precise photorealist technique and Retna's abstract brushwork and calligraphy are unique in agreement, and create detailed and elaborate imagery. This, in combination with their passion for the beautiful woman as their main subject matter (the Queens) has made these street artists (the Vagrants) into kings of the art world.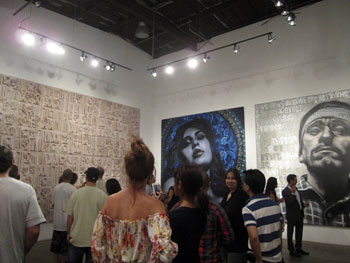 Neither artist has had typical art school training. Mac's Mother was a painter and he explained his education was around the house. "I grew up seeing her art and there was art books all over the house. No, I didn't go to art school. I took some life drawing, but I grew up with all these different art books from classic artists. It was really good stuff, and that was like art school for me."

At one point he was convinced he was going to be a comic book artist, but something else took his interest. "Around 8th grade, my friends were already getting into graffiti and so that got me into it. I had seen this book called Subway Art and it was very influential. It looked like a lot of fun. The combination of seeing stuff that, although it really wasn't that old, but to me, that stuff from the 70's and 80's seemed old and really cool and having friends that were out doing it, that did it."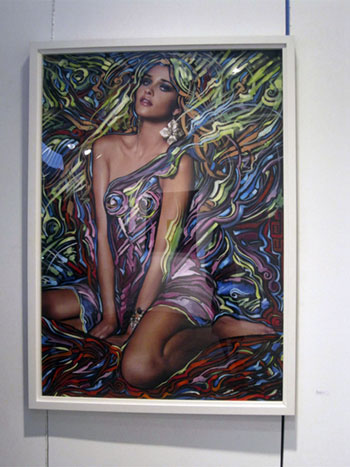 Retna, on the other hand, was involved with graffiti from a very young age and he attributes a lot of his influence to his counselors in school and gang graffiti. "I picked it up in 3rd grade. I failed all art classes because, man, as soon as I got into graffiti that was my passion. I was 8 yrs old. Imagine this, your counselors, at a private school, they were all gangsters from Santa Monica, 13th St. I look back at it now, and they would do my name and in blocks, and they influenced my art work. They were 18 yrs old, and we would go on field trips, and were in an after school program, CYO, together. They would purposefully do the whole freeway. They would do these Santa Monica blocks knowing we would be on the bus. One of them would be like, 'You have marker?' For him to ask me that and let me tag on the bus with them, it meant a lot." However, Retna didn't last long at that school. "I got into a lot of trouble with the nuns there. But, my penmanship comes from the nuns because I had to study it, and then I became the forger for all the kids at school. I won awards for penmanship in California back when I was in the 6th grade. I could replicate a lot of things."

For those of you that don't know, the power of graffiti is that many people can see it – especially if it is on something that moves. Mac explains that he first saw Retna's work on trains. "I had seen a couple trains that he painted. There was a Union Pacific engine that he had a piece on. It was purple and it was really twisty and really dope. It didn't look like other pieces I had seen. It had a certain something to it. Seeing the train graffiti and that standing out, I was keeping an eye out for what he was doing. Then I saw he was painting these fashion posters, taking these ads of girls and painting something on it. I was already painting girls, because that's what I do. I paint people. I like painting faces and figures and the hardest thing for me personally to do is paint women. I like the challenge. I'm painting these women with spray paint on trains and walls and he's painting around these women, these photos of women, doing these dope designs, and embellishments. It just seemed like a cool idea. I guess we met technically in TJ in 2000 or '99, but we didn't actually first paint together until 2003, and even then it was like painting side by side. I don't think we didn't start painting together, combining our stuff until 2004."

Dominating the first gallery is the painting Gracias a la Vida, a breathtaking celestial image of a woman. It is Mac's classical approach to the female figure and her beauty combined with an emotional aura added by Retna - waves of color, stars, and hieroglyphic calligraphy. This meeting of the minds is how they work. According to Mac, "We'll pick out the photos we like after our photo shoots. We'll pick out a color scheme, and get the image figured out, and sorta plan it out. But not everything, because you have to leave some stuff open."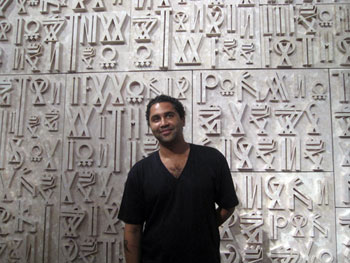 Retna shared how they chose the title for the show. "The title Mac came up with. I write 'el vaigo de la calle' (vagrant of the street) a lot. I wanted to call the show Mano y Mano (hand and hand) meaning we both work together. It almost sounded like it was too conflicting, like we're fighting, mano y mano. That's why we didn't go with that one. My Mom has always called me a 'vaigo de la calle' because I would always hang out in the street. I would never be home. Mac came up with this term, called vaigos and reinas, and I liked that. It's like the vagrants, which we always look at ourselves like these vagrants yet we want these queens. I don't know what these queens are - beauty, the person, it's a lot of things. But, sometimes it's like we are these little street kids that don't deserve anything, so it made sense.

We can keep this street idea with these vagrants and like this hierarchy with these queens, this elegance, having this balance right in between and meshing them together, so it's not overtly trying to be better than everyone. You can be on this pedestal, but there's people down here, and we can figure out where we could be together in some weird way. That could just be an analogy for just wanting to be in the gallery because we are like vagrants and maybe the gallery's the queen."

Highlights of the show are several of Mac's intricate photo-realist paintings, along with Retna's gigantic sectional hieroglyphic wall piece, Mi Sonido Callejero, made of paper and extended polyestyrene. These two artists show no signs of boundaries. They are serious about their individual work and their work together. I only see them pushing it farther and killing it on the streets and in the galleries.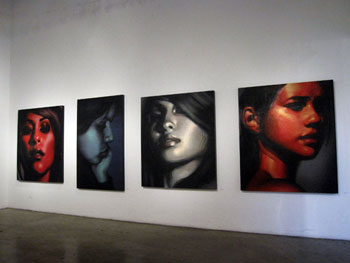 Mac paintings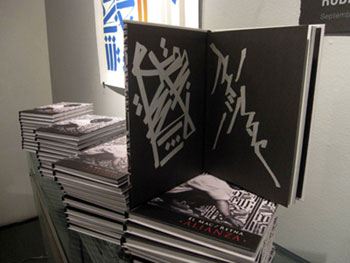 Alianza Book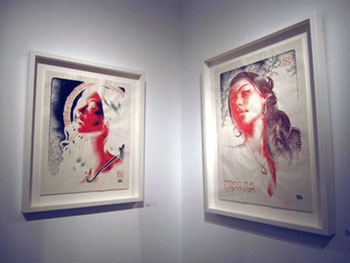 Mac works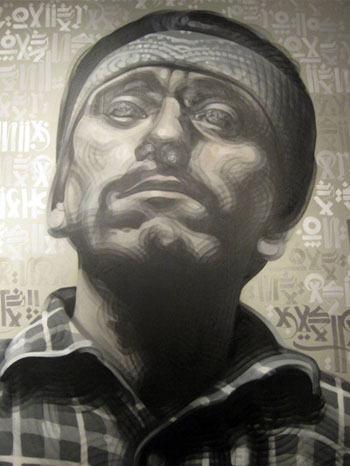 Vaigo detail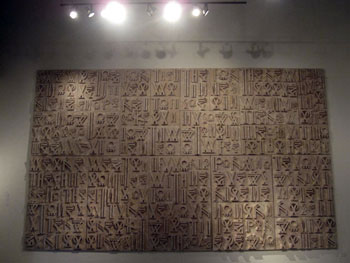 Retna translated the hieroglyphics from Spanish to English:
We are the children of the stonecutters, the scribes
We stand on the line for finding our culture, breaking barriers
If you ride with me, I won't leave your side
For years I wrote my name on the wall
I'm going to write you a letter from my street sounds
We look for the queens of an old time
We are the vagrants who have survived
For years I broke the law to find I lost my mind
The time has come for me to regain my consciousness standing on my feet
There will be days when my letters will light the path
Into my afterlife of my father until the end of time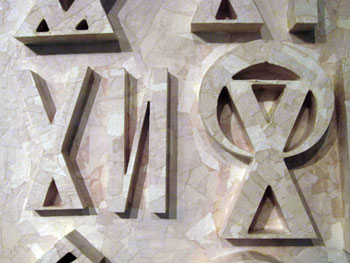 Wall detail
Retna & The Mac?
Vagos y Reinas?
Robert Berman Gallery
September 26 - October 17, 2009??
www.robertbermangallery.com