Shooting Gallery in NY for SCOPE, Day 1
Juxtapoz // Monday, 02 Mar 2009
1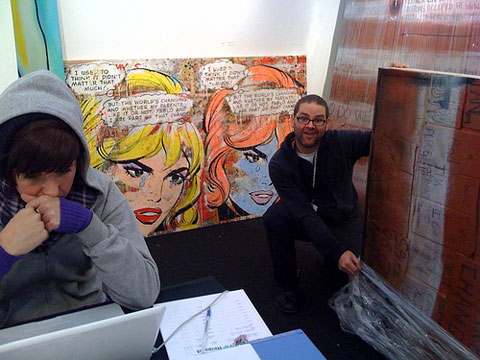 The art fair SCOPE NY is fast approaching, and with it comes the hectic process of shipping artwork, setting it up, and taking care of all those last minute details that always seem to crop up.

While right in the midst of this whirlwind process, our friends at The Shooting Gallery sent us over some in-progress shots of them setting up today for the fair in New York.

"We are in New York and freezing our asses off!" they write. "It snowed last night, and though very beautiful, it got old fast." You know what doesn't get old fast? Great artwork. And when you're exhibiting pieces by the likes of Ron English, Greg Gossel, and Erik Foss, you know you have a stellar lineup.

See more shots of the set-up debauchery here: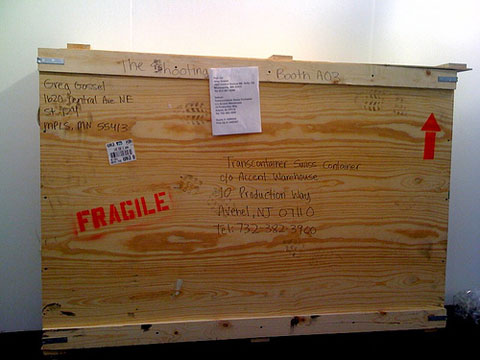 One big package (of art)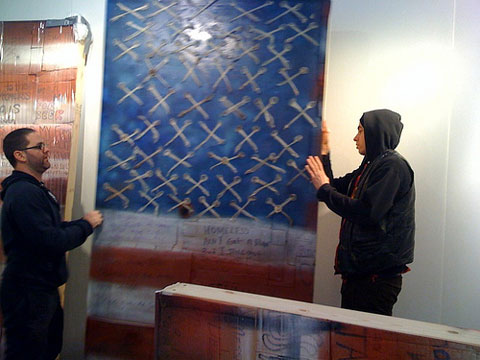 Assembling portions of a massive flag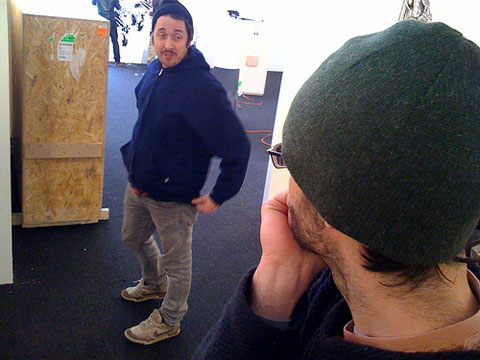 Pondering...posing?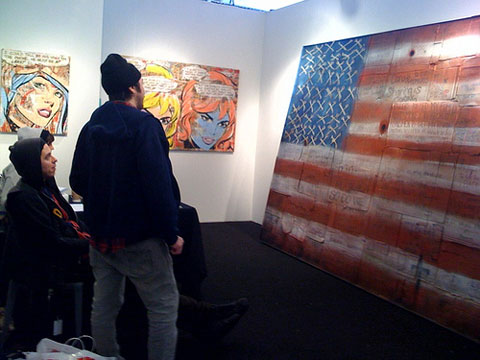 The flag in all its glory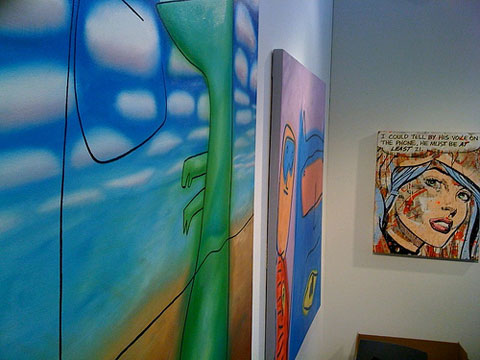 Colors are pretty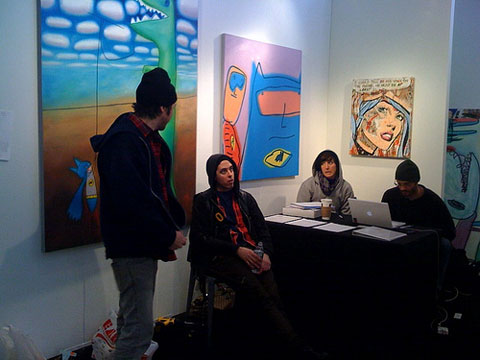 Faces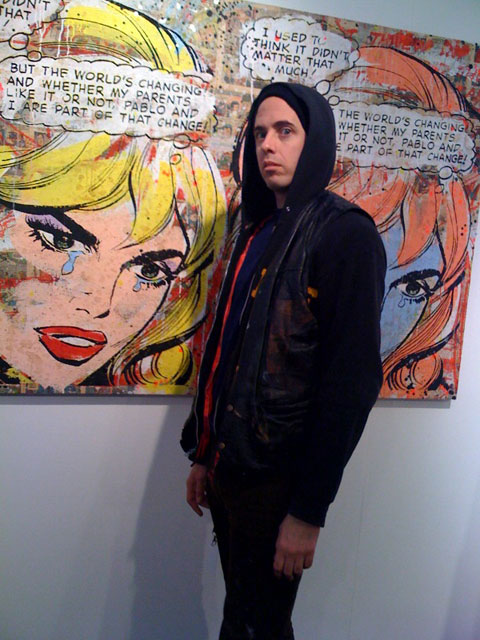 Erik Foss in front of a Greg Gossel piece
SCOPE NY will run from March 4 - 8, 2009. More info at www.scope-art.com
About the Artists:
Erik Foss
Erik Foss is a New York based artist who is interested in social political expressions in art.

"Erik Foss locates the fearful symmetries lurking within the miasma of pop culture at the nexus where representation and witness converge. With the raw vernacular of the streets, Foss makes fine art fodder of the smug complacency and delusional democracy by which our failing empire lulls itself to terminal sleep.
How else might we read his bold re-imagining of our national emblem, the American flag, as a composite of needy pleas and desperate amusements culled from the signs of begging homeless? His is the itinerant semiotics of national shame reeking behind spectacle of patriotic glory." – Carlo McCormick
Ron English
Ron English is a contemporary pop artist who explores popular brand imagery and advertising.

In 1991, Ron made twelve paintings, based on drawings that his wife and her brothers made when they were young children. Later those drawings served as inspiration for paintings made by children aged 3 to 5. The three paintings in this exhibit are Ron's replicas of those children's paintings.
Greg Gossel
Greg Gossel's background in design is displayed in his work, through the expressive interplay of many diverse words, images, and gestures. His multi-layered canvases illustrate a visual history of change and process.

Statement on Recent Body of Work:

As of late I've become increasingly interested with the mechanical reproduction of silkscreen printing, in contrast to the expressive use of paint and other mediums. With this most recent series of work, I've tried to push that contrast. Beginning each piece with a hand-pasted collage of vintage girlie magazines, comic books, and magazine advertisements on canvas. I then experimented with multiple layers of large-scale silkscreen printing, along with various applications of acrylic, spray paint, and graphite. Throughout the process each piece is weathered by sanding down the surface, and building depth with various washes and enamel. The imagery in this series is more complex, and takes on a narrative quality absent in previous work.