Seasonal Change: Festival Cinq Saisons 2010
Juxtapoz // Saturday, 23 Oct 2010
1
The small town of Chaudfontaine, Belgium, in collaboration with the Les Ateliers d'Art Contemporain association looks at its environmental policy on the protection of biodiversity and natural sites through this beautiful and environmentally sound installation festival.
The above clothespin piece is titled Skin 2 by Mehmet Ali Uysal. The sculpture addresses the interaction between the nip of the upper layer of the lawn, lifting it up by a clothespin six meters high. The artist plays with scale and proportions: 'we travel the universe in Gulliver's [Travels] to remind us that we walk on skin that is called planet Earth.'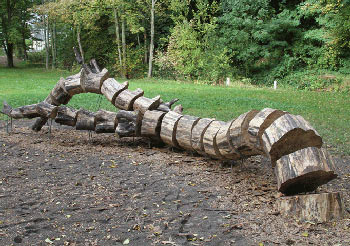 The Arbozotus
by Marvayus
The sections of a fallen tree - because it posed a danger to visitors - are the backbone of an almost complete tree from another time. In the manner of skeletons found in museums of natural history, metal rods supporting the installation, giving all the curious status of precious object. Returned in the supine position, near the trail, part of his column vertebrate invites you to sit down.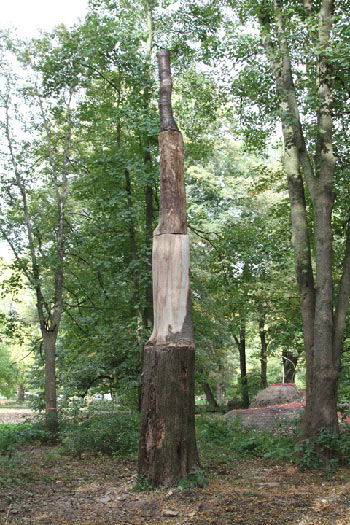 Babel Plant
by Bob Verschueren
From four felled trees - oak, beech, Norway spruce, and birch, the artist piled the logs into one tower plant to give a second life to dead wood. Verschueren imagined this work as a metaphor to remind us that every species of trees evoke their own language of signs that we must appreciate and respect.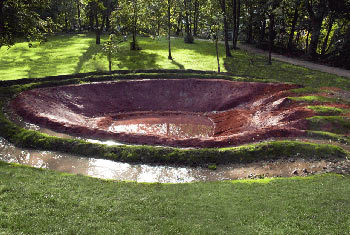 The Pond of the Heart
by Werner Moron
Coming out of the sci-fi craze of James Cameron's Avatar, the artist has decided to imagine a heart by giving it a virtual volume, weight, girth and height. Time will reveal the work's full meaning. 'This hollow heart was created by the impact of a fall and will gradually receive water, fauna, and flora.'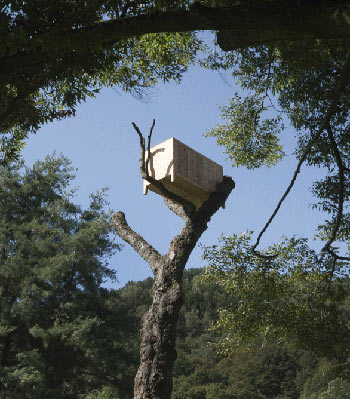 Squatting
by Bob Verschueren
Imagine a cloud of starlings returning home. The artist installed a dresser high up in a tree, questioning whether birds would enjoy and/or accept to live like us? According to ornithologists, the species would appreciate the new dormitory.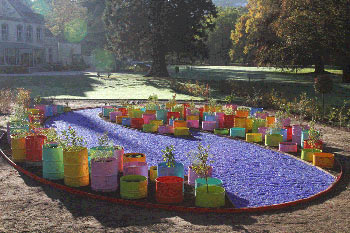 Garden Cycles
by Dimitri Xenakis and Maro Avrabou
What will we do with the barrels from oil when this non-renewable energy source is gone? The artists offer an alternative: reuse these barrels to accommodate four categories of plants: water, aromatics, perennials and shrubs. Their plot depicts the seal of the double arrow recycling. It invites visitors to walk around on a carpet of blue glasses.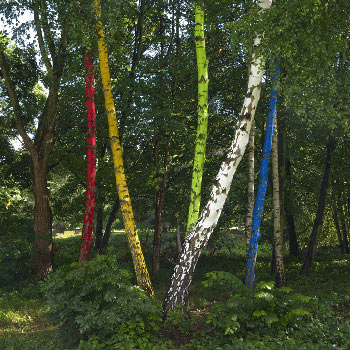 The Five Seasons
by Marvayus
Marvayus seized the opportunity of an existing group of birches, posted at the roadside, to discuss the Festival logo of the 5 Seasons - consisting of a sequence of color sticks. The analogy is obvious, the trees seem almost to have been planted for this purpose.