Scott Campbell explains why he burned his entire sold-out art show
Juxtapoz // Thursday, 11 Nov 2010
1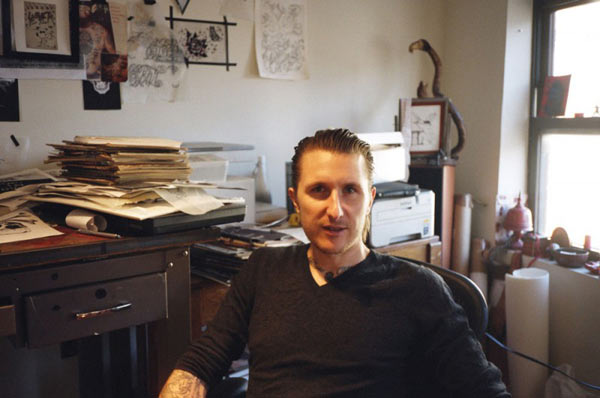 The other day, we told you that NYC-based tattoo and fine artist, Scott Campbell,
burned his entire sold out art show in Mexico after a dispute
with the gallery director. We didn't know the exact reason why, but we knew some generalities. Now, Scott Campbell speaks to
Interview Magazine
about the whole incident.
Apparently, Scott was told before the show that there was going to be a vodka sponsor, but the logo was not going to placed front and center on anything to do with the show. That was not was ended up happening:
In Scott's words:
I got there and it was like, a full-on vodka commercial. Banners everywhere. On the invitation, the name of the company was at the top, printed larger than my name and the name of the show.

I bit my tongue. I was really happy with everything we made for the show, and proud to show it [in Mexico]. Everybody showed up for the show and was very positive about it. The show sold out; they had never had a sold-out show before. I think their heart's in the right place, but I think when they started seeing dollar signs, I think when they started doing the accounting, they got a little bit ahead of themselves. The main guy I was dealing with started to get a little bit too pushy. All of a sudden took the position that I owed them.

He kept bringing up, repeatedly, the dollar amount of the show. He kept talking about how they had made me money. But I could have made this work, and sold it out of my studio to my collectors, without giving them a cut, and saved myself the trip. I was there because I love Mexico City. I sent him an e-mail saying I wanted to keep things cool, and I thought he was being a little pushy and for us to just ride out the rest of the show.

Essentially, I had some issues, and when I confronted him with these issues in what I felt was a productive way, he came back with a personal attack. Really childish name-calling. I can't work with that. If we're all focused on a common goal, then we're communicating, but as soon as somebody takes it to a competition of egos... I'm not going to entertain that.

Then the show got burned. Literally. Read the full interview with Interview and Scott here.