Roy's Nike Motel No-Tell show
Juxtapoz // Tuesday, 01 Sep 2009
1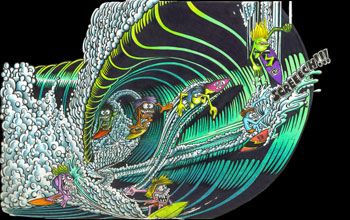 A new generation of Lowbrow artists are coming out from behind the flame jobs and Tiki heads to enjoy unprecedented fame, including renowned surf artist, Roy Gonzalez. Nike 6.0 is showcasing a 30 year retrospect of original Gonzalez work to close out their summer series at the "Nike Motel No-Tell" in San Clemente, CA, September 5th through 20th, 2009.
For over thirty years Roy Gonzalez has been an icon in the action sport industry's art and design circles. He has created some of the most definitive and well-known images of the surf, skate and music industries. Vivid and humorous, Gonzalez represents the best of the underground art world that inspired him as a kid growing up in Southern California.

Moving from the underground to mainstream, his 'Signature Series Roy Gonzales' for Fuel TV (the number one television network covering the lifestyle and culture of action sports, now seen in 26 million homes) recently won the 2008 Gold BDA award in the Consumer Image Publication Advertising category.

Jumping off the page of the famed Gonzalez Monster Island series and onto the stage is the resurrection of the band Johnny Monster and the Nightmares to perform at the invitation only exhibit opening on September 5th. The Nightmares had a large Southern California following with their award winning Rock & Roll Surf shows in the before their break up in the early 90's. Today videos of Nightmares shows are a favorite of You-Tube audiences around the world. Gonzalez has resurrected his creation in real life once again as all the original band members reunite for his Motel exhibit opening extravaganza and the following night at OC Tavern.
More info at www.themotelnotell.com