Image Gallery
Best of 2013: Ron Mueck
Juxtapoz // Monday, 30 Dec 2013
1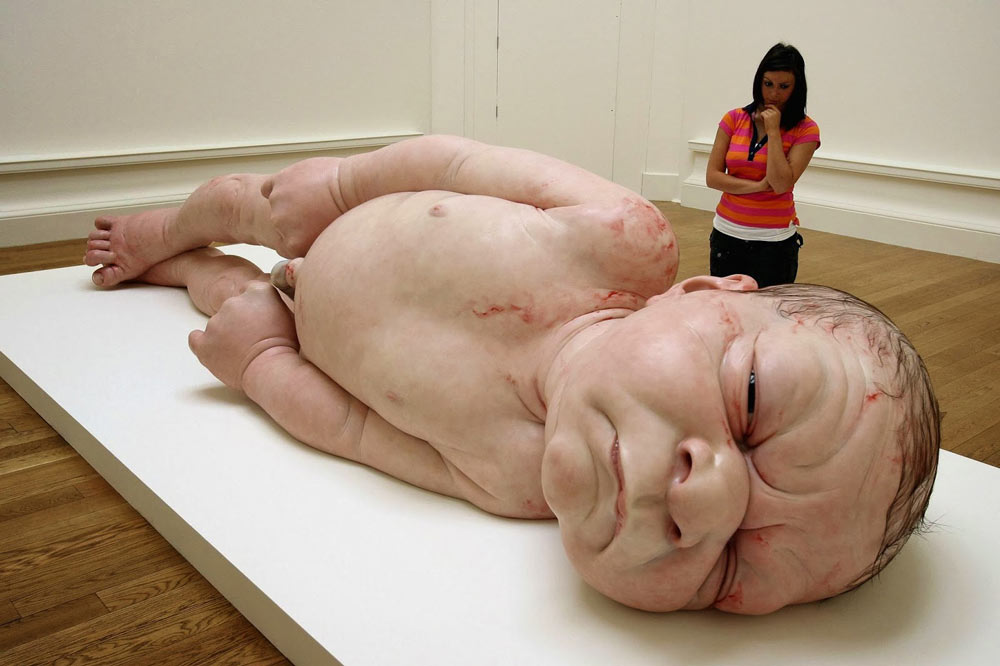 Originally published on November 18th, 2013: Ron Mueck, whose larger-than-life hyperreal sculptures have seen huge success in the past year with his incredible show at Fondation Cartier pour l'art contemporain in Paris saw his exhibit travel to Fundación Proa in Buenos Aires on November 16th. It will continue on to the Museum of Modern Art in Rio de Janeiro in March of 2014.
From 16 November until February 23, 2014, Fundación Proa presents the first exhibition in South America by sculptor Ron Mueck . Conceived by the Fondation Cartier pour l'art contemporain, curated by its director, Hervé Chandès, and its associate curator Grazia Quaroni, the show continues its tour to the Museu de Arte Moderna do Rio de Janeiro from March to June 2014 .
Ron Mueck is part of the sculptural tradition where the human figure is depicted, although the subjects, materials and techniques used by an author make it original, innovative and contemporary. His sculptures captivate scaling in dimension and realism of the characters, whose gestures expressed subtly situations full of life and mystery.
A mother and child, youth or adult couples ranging between stress and calm, a naked man in a boat drifting are some of the images that are part of the exhibition. Works enclosing a vital and profound interiority yet express the artist's obsession for the truth and perfection of his technique.
Mueck uses materials such as resin, fiberglass, silicone and acrylic paints to faithfully reproduce every detail of human anatomy and build sculptures that thematize life and death. His works evoke a kind of realism that is both intimate and monumental. At different scales, the artist enlarges or reduces dramatically the size of the body to create situations that move the viewer. "His sculptural vignettes come from scenarios that has no beginning or end, are intermediate and uncertain scenarios that do not exist outside of its incarnations unique as objects who are alone," wrote Robert Storr for the exhibition catalog.
On behalf of the Fondation Cartier pour l'art contemporain , Grazia Quaroni will be in Buenos Aires with availability for interviews and meetings with the press.