Rojo Nova Event: In Progress Krink Photos x Video from Sao Paulo
Juxtapoz // Monday, 12 Jul 2010
1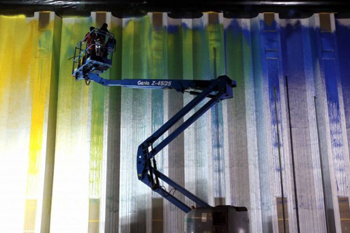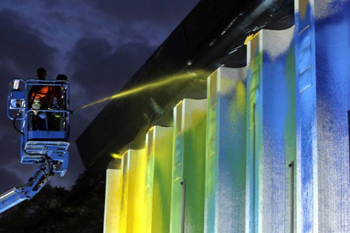 Official info from ROJO NOVA site:
®NOVA Contemporary Culture
®NOVA is a new kind of creative event, open to public, which takes over MIS, Museu da Imagem e do Som in São Paulo, Brazil, and presents live collaborated work in progress processes by more than 100 selected artists from around the world, featuring live art, music & audiovisuals; performances, video screenings, round tables, workshops and many unpredictable social consequences. 7 weeks of non-stop serious art fun. An interactive, full-environmental experience utilizing color, light, textures, music and design, in the form of collaborative and integrated compositions by more than 100 artists from around the world. From hand-made illustrations to large scale murals to modern digital art; moving image to multimedia convergence, art will be made without the limitations or restrictions of traditional format and will rely heavily on the magic of live improvisation. During this constantly evolving and mutating exhibition, the creative process are to be witnessed as an ongoing work in progress rife with experimentation, challenging traditional and contemporary techniques and the bending of modern technology. Only for the happy, the gifted, the curious and the open minded.
Artists confirmed:
Fuck Buttons, Sin Fang Bous, Tunng, Mark Jenkins, Kit Webster, Quayola, Tofer Chin, KRINK, Rebecca Ward, Yochai Matos, Mario Zoots, Chicks on Speed, B.Fleischmann, Modern Witch, Mulheres Barbadas, Maya Hayuk, Koen Delaere, MOMO, Ryoichi Kurokawa, M.Takara3, bRUNA, Max Hattler, Hans Appelqvist, Soley, Bradien, Fibla, Roll the Dice, Objeto Amarelo, NOIA, Vidderna, Spike Jonze, Advanced Beauty, Rostarr, Zeitguised, Jeffers Egan, Base-V, Matt M Moore aka MWM , Cesar Pesquera, Ljudbilden & Piloten, Shima, Noriko Okaku, Anna Taratiel aka OVNI, Sosaku Miyazaki, Lolo, Flavio Samelo, Robert Seidel, 310k, Cristopher Cichocki, Lucy McRae, Highraff, 88, Zezão, Gustavo Gagliardo aka DEFI, Talita Hoffmann, Javier Longobardo, Heiko Tippelt, Coletivo Suspenso, Bruno 9li, E*Rock, Taras Hrabowsky, Wyld File, Jimmy Joe Roche, Andrew Benson, Renaud Hallée , Emanuele Kabu, James Roper, Protey Temen, Filippo Minelli, Yoshi Sodeoka, Kari Altmann, Rosa Menkman, Alex McLeod, Paul Seen, Kouichi Okamoto, Christiane Wöhler, Volker Schreiner, Julian Rosefeldt, Emile Zile, Takafumi Tsuchiya, Jacob Ciocci, Carsten Nicolai, Paul Simpson, Tom Scholefield, Maxim Zhestkov, Julia Oschatz, Thorsten Fleisch, Barbara Hlali, Philipp Hirsch , Karsten Schmidt, Minivegas, Mate Steinforth, Robert Hodgin, Yves Netzhammer, Daniel Burkhardt, Astrid Rieger , Bjørn Melhus, Timo Katz, Joern Staeger, Jan Verbeek, Fernando Sarmiento, Tomas Garcia, Alex Peverett, Jelle Feringa, Marc Kremers, Pandapanther, Thomas Traum, David OReilly, Carl Burgess, Universal Everything... and few more surprises still to be confirmed.
7 weeks on non-stop serious art fun. Only for the happy, the gifted, the curious and the open minded.
On view through August 15, 2010
MIS. Museu da Imagem e do Som de São Paulo.