Roger Kuntz: The Shadow Between Representation and Abstraction
Juxtapoz // Friday, 20 Mar 2009
1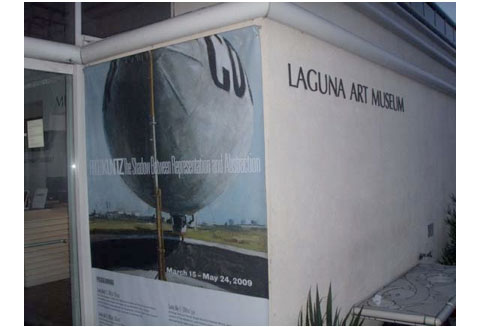 Greg Escalante in collaboration with Nathan Spoor dishes on Laguna Art Museum's latest exhibit: ROGER KUNTZ: The Shadow Between Representation and Abstraction.
"This exhibition examines Kuntz's work in the broad and full sense, realizing his place as an artist of import in both a national sense as well as exploring his role in the Southern California art scene of the 1950s and 1960s," writes Greg Escalante.
"To begin with though, I really should explain that in order to attend one museum show of this caliber, one must suffer the curse of the current art world. That being: having too many art events that open at the exact same time, far apart, and with only so many to attend realistically. I had on my calendar to see Gregg Gibbs, not to mention an exquisite slide show at a prominent Santa Monica artist's house. Also of excitement was the plan to see Chris Lundy's show. But then I realized that the Roger Kuntz exhibit was opening in deep Orange County, curated by Susan Anderson. As Susan was the co-curator of the Rick Griffin exhibit at the same museum with Doug Harvey and myself, I knew that's where I had to be."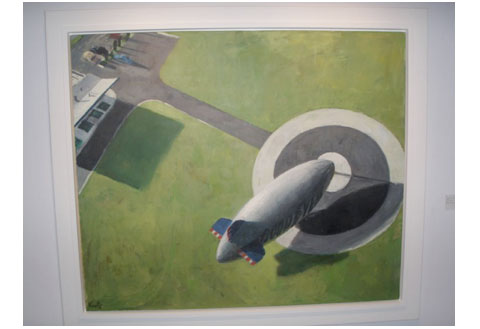 Roger Kuntz is long overdue for a proper retrospective of his work, as few outside of deep museum world have heard of him. His paintings are masterful creations whose subject matter ranges from excellent to genius.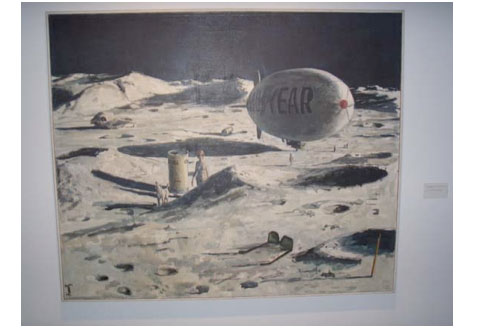 Possibly the best of his work, and most Juxtapozian, are the ones that deal with the Goodyear blimp on the moon. Aside from the curious notion that a contemporary 60's painter would become so enamored with the blimp, he painted numerous versions of trips to the moon.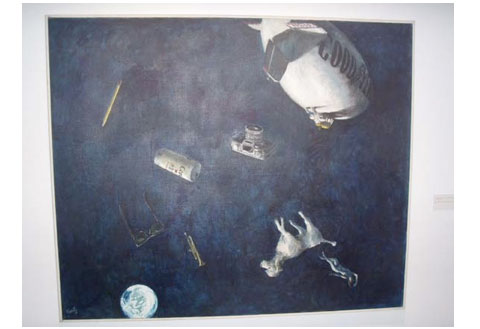 These alone have everything necessary for greatness: pop and surrealism hand in hand in a stark abstract art world.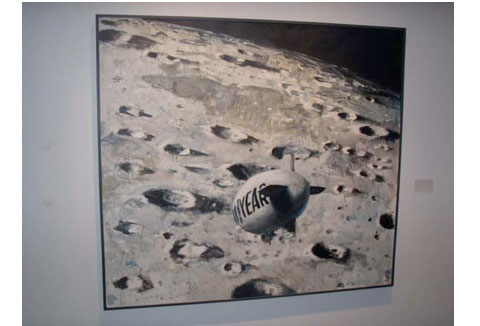 The first time I heard of Roger Kuntz, who died in 1975, was on a surf trip to Rincon with Bolton Colburn, then rated the # 1 surfer in the U.S. We stopped at a gallery in Montecito near Santa Barbara as Bolton who at the time was registrar of Laguna Art Museum and was very knowledgeable about where all the cool art was hidden. I remember at the time being so bowled over that Roger was painting friggen Goodyear blimps on the moon!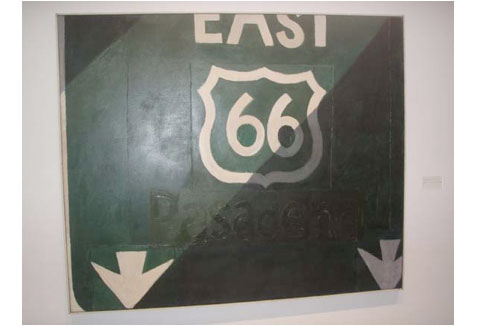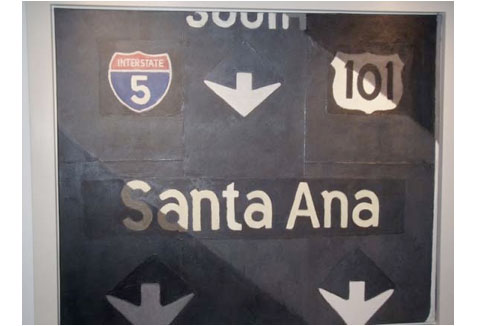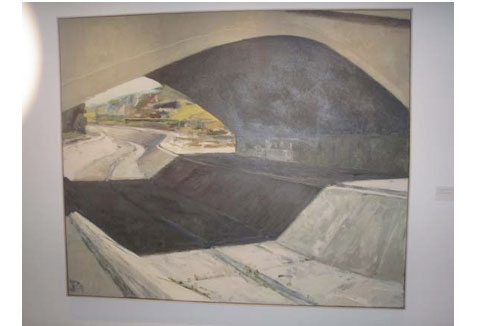 It may sound strange today, but Kuntz was embracing the freeways that were popping up all around Southern California in the 60's. He was tying the abstraction of the fleeting regime into a new figuration, and was doing it in a successful manner that got him major attention.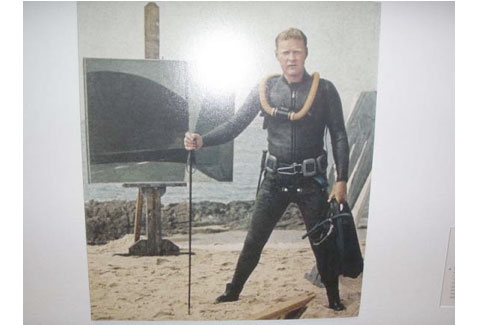 In fact, LIFE magazine did a special edition on California and focused on 5 artists, Roger Kuntz, Stanton McDonald Wright, Robert Irwin, John McLaughlin and Billy Al Bengston .In 1962 using this picture of himself (above), with one of his then-famous freeway paintings and his diving gear right in a nice cove in Laguna. Pretty cool image!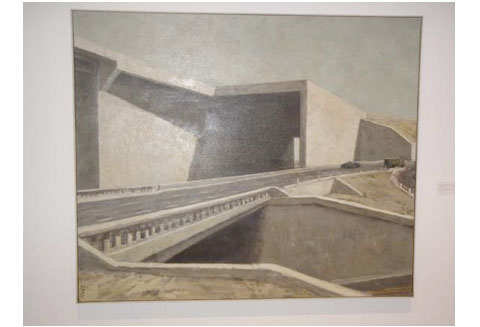 Most of the paintings you're seeing here were painted in the 1960s.
Kuntz's classic art philosophy was that since abstract expressionism had played itself out by 1950, a new representational art needed to be brought back into painting that would communicate and engage the viewer.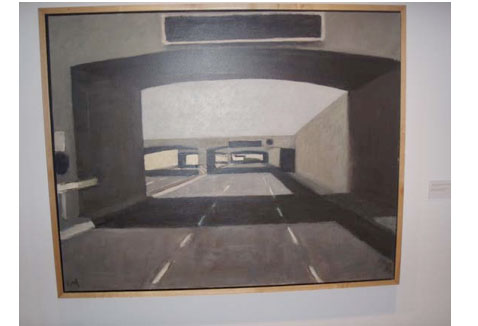 Kuntz was painting these images with the text 20 years before we saw Ed Ruscha enter the scene with his text pieces.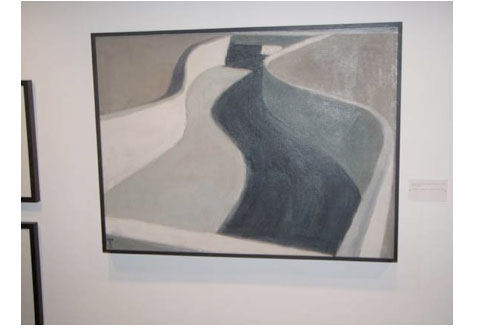 It's a triumph that he's got a posthumous museum exhibition, featuring his most prominent and influential works. Makes sense that it's taking place at Laguna Art Museum since Kuntz worked an lived in Laguna and had served as a board member.

Also of note are past ground breaking exhibits featuring Sandow Birk, Rick Griffin and The Juxtapoz Factor exhibits, and look forward to the upcoming Jeremy Fish exhibit.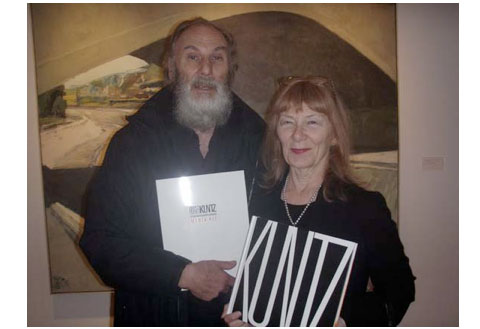 I also highly recommend the exhibition catalogue that the museum has published, and so far the only place to retrieve said treasure is the Laguna Art Museum. Shown with the book in this picture are (from left): George Hermes, assemblage artist in MOCA's permanent collection, and Sue Henger, major book editor with several to her credit on Last Gasp alone.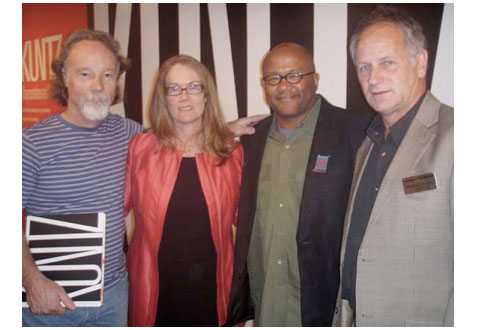 From left:

Gordon McClelland- Author of the first Rick Griffin book, art collector/dealer and avid Kuntze fan.
Susan Anderson - Museum Curator and former director of Laguna Museum.
Garland Kilpatrick - Award winning designer of many books, including the Kuntz exhibition book
Bolton Colburn - Museum Director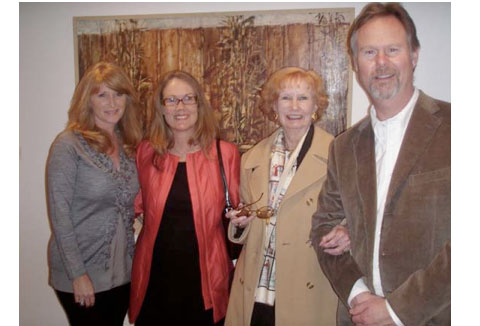 From right:
Anton Segerstrom - 5th generation Californian, art collector, surfer and pillar of the O.C. and L.A. art community.
Anton's art patron mother, who is rarely seen at big art parties these days.
Susan Anderson - Curator of the exhibition.
Anton's wife, far left, Jennifer Segerstrom.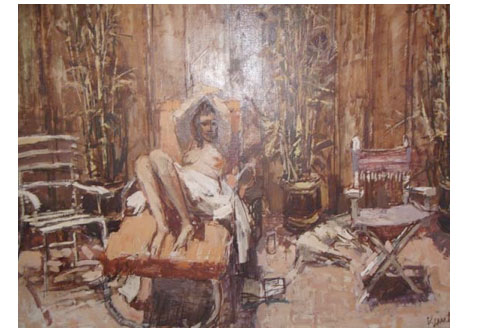 This painting hung on the Segerson's mantle all during Anton's childhood he said it was odd and wonderful to see it finally hung in a museum repatriated with so many of it's lost brothers and sisters.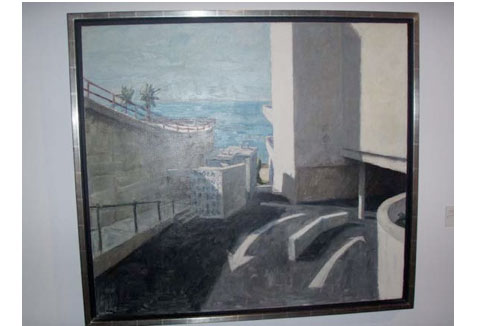 Check this early Kuntz architectural masterpiece. Bolton mentioned this as his favorite in the exhibit as he sees this view and building every day just a few blocks down from the museum and looks almost the exact same as in the 60s.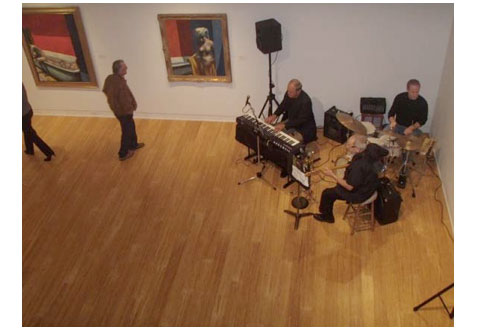 A view of the live music warming up in the early moments, before they had to clamor for a view of the rest of the room.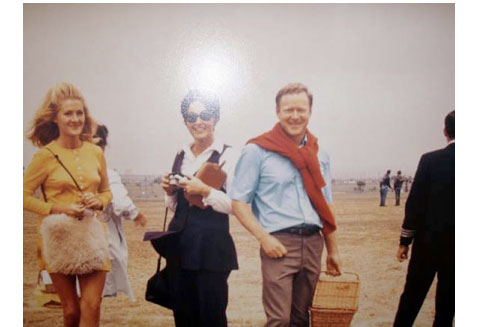 Early photo of Roger with his wife and special friend.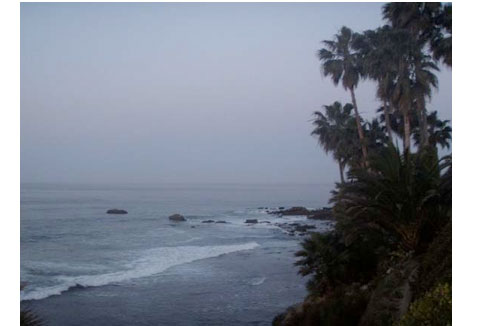 And as we depart the opening, it is such a nice treat to see what the ocean is doing, since it's literally right outside the museum.
Also a great place to contemplate what an important artist Roger Kuntze is and be stoked that this well put together retrospective and catalogue may finally elevate Roger to his rightful place atop the pantheon of modern art.